The refrain, seemingly constructed deliberately to boost t-shirt sales, first resurfaced in Columbus at the start of the 1996 season after a lengthy absence: We don't rebuild. We reload.
Humility has seen better days, but gameday gear has never claimed to lack pretension.
It may have been braggadocious, but it wasn't untrue: John Cooper's Buckeyes were forced to replace three of the first 14 picks of that year's NFL draft, which included the beloved Heisman Trophy winner, the surprise Biletnikoff winner and one of the best tight ends in school history from an offense that scored 475 points.
Plus, per usual, a bunch of other guys just like any other year. A step back in 1996 was thought to be inevitable.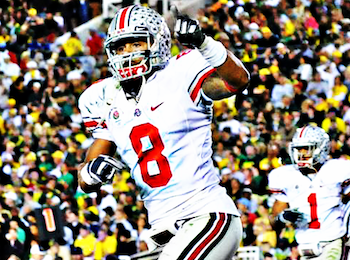 Yet after just two games, those Buckeyes had somehow scored 142 points while allowing only seven in sending Mark May into a seemingly endless, scorned tantrum. By the end of the 1996 season, Ohio State was Pasadena's champion and had beaten three top-five teams en route to its #2 finish.
From August of 1995 until August of 1999 when the bottom finally gave, Ohio State wasn't ranked lower than 12th during any regular season. Cooper's Buckeyes just kept reloading until their run expired. Then Jim Tressel arrived for some quick rebuilding.
The successes of the 1990s looked meager compared to what he accomplished over the following decade. All of those same lofty finishes, in multiples, but kindly paired with the bowl victories and Wolverine pelts that were so elusive under Cooper.
But there was still none of that dreaded rebuilding, just glorious reloading. So much reloading.
Five Buckeyes were drafted in the first round following the 2005 season (which is now an outright Big Ten title year, thanks to Penn State's troubles). An astonishing nine Buckeyes were taken in the first four rounds, yet Ohio State still started the following season ranked #1 and kept it until that Florida thing happened in Glendale.
You're still quite familiar with what transpired in each of the seasons that followed 2007: More of the same reloading until the bottom gave again spectacularly last season, just as it did back in 1999. It turns out that 2011 was one of those dreaded, rare rebuilding years.
Which brings us to 2012, a season that had always been projected to require radically reconstructive roster surgery in part because of the recruiting class Tressel signed in 2008.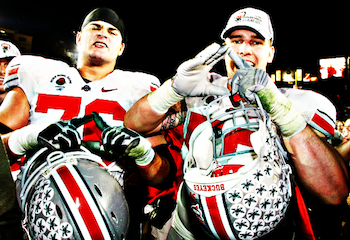 It was the most celebrated haul of his entire tenure, with apologies to the 2002 class headlined by Justin Zwick and Maurice Clarett. Minutes after Ohio State's loss to LSU in the BCS title game, high school senior Terrelle Pryor called Tressel to assure him the Buckeyes would be back on that stage - and they would win.
The Brew Crew, along with Pryor, brought the star rankings in bunches and promised to deliver more of that same reloading. They were successful up until scandal yanked their senior year aspirations out from under them.
Still, Pryor's promise to Tressel came true: The Buckeyes did win* in the Superdome against an SEC foe.
But that's just a fraction of the story. That previously-scheduled reconstructive surgery for 2012 has now been downgraded to the elective and cosmetic variety.
The class of 2008 didn't leave such big shoes to fill after all. It barely left any shoes.
Consensus five-star center Brewster played all four years, having been under-developed by his position coach into an undrafted NFL free agent. JB Shugarts' baffling record for inopportune twitchiness will stand as long as Cal Ripken Jr.'s consecutive MLB game streak.
Mike Adams never broached those unfair Orlando Pace comparisons, and his half-season presence will be missed the most among the departed four-year players, which includes DeVier Posey, Andrew Sweat and...that's it.
Add special teamer Nate Ebner, fifth-year seniors Boom Herron and Solomon Thomas and sixth-year Tyler Moeller and the Buckeyes, even at 6-7, are not rebuilding in 2012 by any definition, least of all as defined by roster management.
Defenders Ohrian Johnson, Etienne Sabino, Travis Howard, Garrett Goebel, Nate Williams, Zach Domicone along with WR Jake Stoneburner and punter Ben Buchanan are all that remain from that vaunted class of 2008. Seven players - over a third of the class - didn't survive four years in Columbus.
That doesn't leave a lot of holes to fill. That heralded recruiting class was a slow-burning disappointment that flamed out spectacularly in 2011. The bad news is, well, that. The good news is that the bad news is past-tense.
Catch up on everything you need to know ahead of the season kickoff.
Before you get overly defensive about merits or lack thereof regarding departed (yes, they're Buckeyes; we have only varying degrees of love and appreciation for them and no hate whatsoever) give yourself some context. Go back to that seemingly constructed, deliberate t-shirt sales-booster that first resurfaced in the mid-nineties. We don't rebuild. We reload.
Remember how rebuilding and reloading were once defined. Replacing Joey Galloway with Glenn and Glenn with Boston. Replacing Eddie with Pepe with Michael Wiley and Joe Montgomery. Replacing NFL defensive backs and linebackers with more NFL defensive backs and linebackers.
Ohio State is replacing nothing that approaches holes of that magnitude. It's not even close, though it was expected to be at least as daunting of a challenge.
These Buckeyes are basically replacing half of a Herron, a quarter of a Posey and a group of offensive linemen who may have had unfair expectations but did not approach what was expected of them.
The hole on the roster that had been scheduled to be filled in 2012 was dug out evenly over the past four seasons. The digging accelerated last year when Tatgate kneecapped the season.
That previously-scheduled 2011 team, intact - which if it had not run the table, would have come excruciatingly close as most Tressel teams did - robbed itself of its shot at immortality. An utterly forgettable season is all that was left in its place, and that has now passed.
So it's unexpectedly difficult to categorize what this team is. It's definitely not rebuilt, albeit the coaching staff definitely is.
It's obviously (hopefully?) not reloading for another Taxslayer Bowl-caliber season. The 2012 Buckeyes appear to be very close to approaching what once was their rightful place atop the conference.
So perhaps that means they're just rescheduled. And that's exactly where you want them to be.