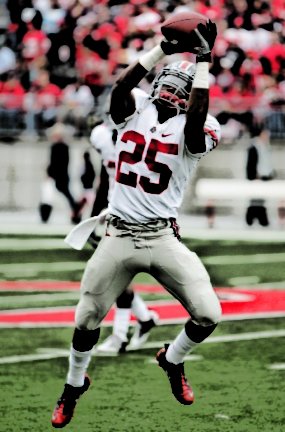 Shawn Springs. Antoine Winfield. Chris Gamble. Malcolm Jenkins.
Ohio State fans have become so spoiled watching stellar cornerbacks like the fantastic four mentioned above, it has essentially become an expectation that a truly elite athlete will come along every few seasons and further strengthen OSU's argument in the Cornerback U conversation.
Expectations, however, have been a bit tempered since Jenkins left in 2008 thanks to a middling group of cornerbacks headlined by Chimdi Chekwa, Devon Torrence and Travis Howard.
Chekwa showed flashes as a true freshman but his effectiveness leveled off quickly while his teammate Torrence was nothing more than serviceable.
Last season, the hype was wishfully placed on Howard, then a 4th year junior, via the whole "Howard Island" nonsense. Unfortunately, the Dade County product responded by playing at a level much lower than that of his redshirt freshman teammate.
Fast forward to the first fall camp under Urban Meyer and Howard's once redshirt freshman teammate, Bradley Roby, is now a seasoned vet entering his 3rd year in the program and he's the one that the fans and experts are talking about.
This time around, however, the hype doesn't feel anywhere near as forced thanks to Roby's exploits as a first-time starter in 2011 combined with a hunger to improve his skillset this offseason and natural leadership qualities on top of his already solid foundation as a tremendous kid.
Tabbed as nothing more than a 3-star by Rivals, Roby initially gave his verbal pledge to Vanderbilt as a wide receiver before ultimately signing with the Buckeyes in February 2010 thanks to the efforts of Paul Haynes and Cameron Heyward, who paved the Peachtree Ridge (GA) pipeline to Columbus back in 2007.
A prophet, Roby told 11W just before signing day 2010 to, "expect big things" in addition to touting his speed and big play ability. 
Entering his redshirt freshman season, Roby immediately grabbed the eye of the coaches and even the assembled media when we were lucky enough to get a glimpse of practice. Specifically, he was all over the field in last year's jersey scrimmage, really impressing both Johnny and me with his speed and willingness to bring the wood in run support. 
Having won the starting slot opposite Howard, Roby went to work in game one recording a season high six solo tackles  - a mark he would tie on two other occasions - before finishing the season with 13 consecutive starts and 47 tackles. More impressively, Roby tied for the team lead with three interceptions and led the squad with nine passes defensed. 
Capable of making big plays, Roby had what should have been a crucial interception in the ugly loss to the Hurricanes as he snagged a Jacory Harris pass and returned it to the Miami 23 late in the half with OSU trailing 14-3, but a couple of Bauserman incompletions resulted in only a field goal. 
Two weeks later, in the midst of Sparty's B.J. Cunningham completely undressing Howard, Roby made a fantastic play tipping a ball on 3rd and goal from the six yard line that C.J. Barnett would ultimately intercept, giving the Buckeyes the ball, and hope, trailing just 7-0 early in the 4th quarter. The Buckeyes obviously went on to lose but Roby's clutch play at least kept things interesting.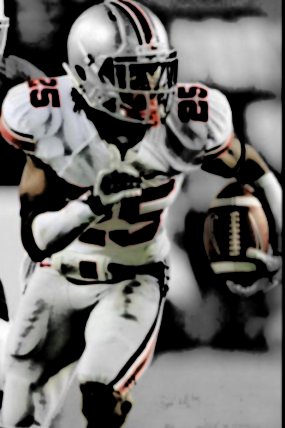 Skip ahead two more weeks, this time in Champaign early in the 3rd quarter, and Roby made another huge play picking off a Nathan Scheelhaase pass at midfield before swerving 36 yards to the Illini 12 yard line. Finally cashing in, Boom Herron scored on the next snap as the Buckeyes took a 10-0 lead in what became a 17-7 victory.
As expected, Roby also had some freshman moments, including a poor showing agaisnt lowly Indiana when he gave up at least three 3rd down completions and the occasional whiff at an open field tackle or bad pursuit angle, but the stepping stone body of work speaks for itself. 
Clearly, Roby is an even more confident player this year thanks to those 13 starts, and the fact that seven of those resulted in a loss has done nothing but fuel his desire to be great. Talking with the media late last week, he sounded like a man on a mission, one key component of a team on a mission. 
Preaching a common sentiment in the locker room, he trumpeted the feeling that this is a redemption year and acknowledged the team has enough talent to go undefeated. 
He also talked about having at least some awareness of the media hype surrounding his projected performance this year offering, "whatever they sayin', that's exactly what I believe. I was the first one to believe it. You all are just now sayin' it."
In print it may read cocky but in reality he's really just a well-spoken kid confident in his ability and the work he's put in. That work has seen him gain five pounds of muscle while lowering his 40 time from a 4.40 to a 4.31, a number he says wasn't a fluke because he's done it twice. As he should, Roby credited Mickey Marotti for the improvements, calling him the "best strength coach in America". He also gave love to Kerry Coombs and Everett Withers, mentioning their intelligence and how they've made him a much smarter football player than he was a year ago. 
You have to love his ability to be humble but, as a corner, he also needs to have a short memory and a steady supply of swagger. Clearly, that's not going to be a problem. 
Asked how Braxton Miller fared throwing the football on the first day of camp, Roby quipped it was hard for him to say because, "he doesn't really pass it to my side...he's smart."
Armed with the perfect mental makeup for a corner, a faster, stronger core and a mountain of confidence built from last season's individual successes, including being named the team's top first-year defensive player, Athlon lists him as the 9th best lockdown corner and Tom Dienhart sees him as the 8th best secondary guy in conference. 
Roby's name is not found on the Jim Thorpe Award Watch List but no other sophomore is listed among the 35 players, either. That recognition will come in time, provided Roby, the coaching staff and the fans are all correct in projecting him as the next great OSU corner. 
It's up to Roby himself to prove he's worthy of being next in line.