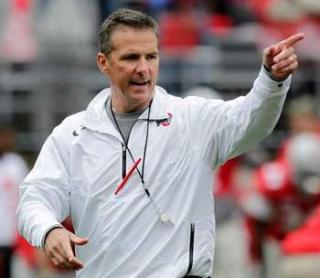 The Big Ten media days in Chicago last week was a smorgasbord of sound bytes and quotes, designed to sate the desperate college football fan in his great time of need. And though things didn't get too crazy as this is the Midwest we're talking about, which isn't generally quite as young and restless as Yeezy says, I do think that an interesting pattern was established with Urban Meyer and his relationship to his "bigs" at Ohio State.
We've been cranking out platitude after platitude about John Simon in the offseason, and I use that word because to be frank, despite his great season last year (7 sacks, 16 tackles for loss) we've been basing a lot of what we expect from the guy based on hearsay from Urban Meyer himself. Accounts from practice suggest big things, and the guy certainly looks the part. But the expectations have been set far higher than "great" for John Simon, and it's in part because of the kind of things that have been coming out of the mouth of a habitually blunt and honest person like Meyer.
This is by design. Different players react different ways to pressure, and I think that John Simon is the type of person who internalizes those lofty words and uses them as motivation. Is Simon the best player on the defense, and maybe the entire team? Possibly, although the argument could be made that in terms of total effectiveness that the play of guys like Hankins or Roby could prove to be just as crucial.
But what really matters now is that the expectations are set.
Make no mistake, I'm not discounting Simon's abilities on the field. He's an elite athlete who could pan out to be an All American this year, and often looks the part of a Ryan Kerrigan type player with a nonstop motor and a knack for finding the quarterback. We saw flashes of what he might be capable of doing on a consistent basis if he lives up to the hype last year, as he had impressive games against (admittedly weak) Indiana and Illinois teams.
But I also want to temper expectations a bit. In the infuriating loss against Purdue, Simon accounted for all of two tackles. The next week against Penn State, where the Buckeyes got McGloined, he again accounted for just two tackles. In fact, of the 7 sacks that he registered last year, 5 came during a three game stretch of Illinois, Wisconsin, and Indiana. Bad great bad.
The caveat here is that it is difficult to judge the effectiveness of a defensive lineman based on stats alone. If a DT is drawing a double or triple team on every play, that fact alone can change the entire offensive gameplan for the opposition. And make no mistake, on a relatively thin defensive line last year, Simon attracted a lot of attention.
Still, I want to point out that we've seen something like this before, in the person of Cam Heyward. Cam's junior season was fairly similar to Simon's; 6.5 sacks, 10 TFLs, and gave Ohio State fans hope that during his senior year he'd make the leap from "great" to "all-time great." It didn't happen. Heyward had another terrific season his senior year, which included some memorable moments and an absolutely insane performance against Arkansas in the Sugar Bowl, but he was more or less the same player he was the previous season.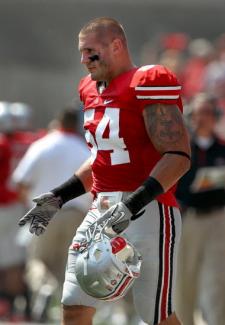 Urban Meyer is probably aware of the possibility of that happening with John Simon, and sometimes if you want someone to succeed, you set the bar so high that they have no choice but to jump over it. Here are a few choice quotes from just one single Toledo Blade story about the love fest between Meyer and one of his favorite players:
"I should say Tebow is Simonish, out of respect," Meyer said, smiling.
Asked where Simon ranked among his hardest workers in 27 years of coaching, Meyer replied, "He is 1 and 1A."
"Just incredible character," Meyer said Friday at the Big Ten media days. "He's got a job any time he wants. I hope he goes and plays football for 20 years, and then when he's done, he says, 'Coach, I need a job.' "
"He just told me his dad texts him every morning with things like 'great arm workout,' " Meyer said. "So I know where he gets it now. His dad is out of his mind just like he is. Great family."
OKAY we get it! God, just reading these things makes me feel bad about my personal life choices, and those are just the quotes from Meyer, nevermind the glowing praise he gets from his teammates.
Those are high, high expectations, and now that media days are over and I've taken in these comments from Urban, I've stopped worrying about what percentage of them are legitimate praise and what percentage are designed to place a little pressure on one of his captains (do I really need to write "presumed" there?). The real point here is that we're watching the real work of coaching in real time, and getting a feel for what Meyer's style of managing a team will be like in the future.
All those privileges and praise and winks to the press that have fallen on Simon's shoulders is both a blessing and a burden, and it's as intentional as everything else that Meyer has done in his short time as the Ohio State head coach. Let's hope the rest of the team is paying attention.