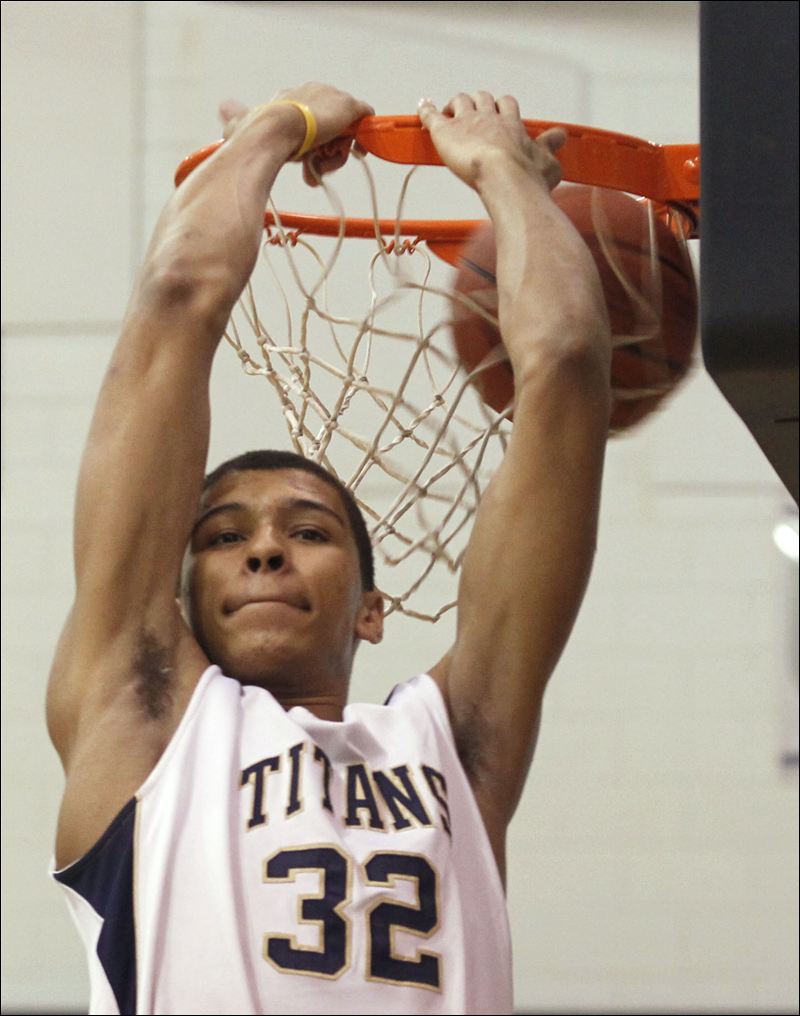 We're back with another edition of "Forecasting" the 2013 Ohio State Basketball class.
In the last few weeks, we have taken a look at some of the top targets across the nation who have mutual interest in Ohio State.
Today, we look at wing prospects.
Before we dive in, many have asked what exactly is a wing? Well, a wing is a hybrid between a guard and a forward, a player that possesses skills of both positions and tends to be slightly bigger than a guard, but too small to be a power forward.
Perfect example: Evan Turner. Turner played just about every position for the Buckeyes but power forward and center. He was able to handle the ball, go to the hoop, and shoot a jumper. The term small forward seems to be scarcely used today.
Since the Evan Turner days, Thad Matta has tried to sell prospects on his successes and it has worked. In 2011, Sam Thompson and LaQuinton Ross were both sold on the Evan Turner  story. For 2013, Marc Loving committed to Ohio State to play a similar role, although he has shot up to nearly 6-9 and could play as a true big man (if he gains some weight).
Last week, we took a look at shooting guards. The week before, we saw the current big men prospects.
Let's start with who is available and interested at the wing position.
who's in
Marc Loving (6-8/210, Toledo, OH) Rivals: 4-Star Scout: 4-Star
By now, every casual Buckeye fan knows that Marc Loving is Ohio State's only commitment so far for the 2013 class. Loving has grown about 2 inches since his commitment back in August of 2010. Since his height bump, many are considering Loving to be a power forward instead of a wing.
He'll have to put on some weight to battle with the Big Ten bigs, though.
Loving is the perfect example of a Matta commitment as he committed about 2 years early, giving the Buckeyes a solid recruiting building block. Now it's up to the staff to build around Loving, which they are yet to do.
It may be difficult with an extremely young team where future playing minutes could be limited.
Who's available
Wayne Selden (6-5/225, Tilton, NH) Rivals: 4-Star Scout: 5-Star
Selden was profiled in last week's shooting guard forecast, but the guy can play forward as well, playing bigger than his 6-5/225 frame entails. Selden can guard most forwards, as long as they don't tower over him with his linebacker sized frame.
Selden plays tough defense and Matta would enjoy using him in his scheme.
Once a top 20 player in the 2014 class, Selden reclassified to the '13 class and remained as a top 25 prospect.
Right now, Selden's short list consists of Ohio State, Harvard, Florida, UCLA, Kansas and Kentucky.
Treshawn Bolden (6-7/225, Jackson, MS) Rivals: 3-Star Scout: 3-Star
Bolden is a slightly bigger but less athletic version of Wayne Selden, but has tremendous upside.
At this time last year, Bolden said that Ohio State was the favorite for his services, but the Buckeyes have yet to offer.
Bolden hails from Jackson, home of LaQuinton Ross, which could be a big reason for the interest and it would not be shocking if Bolden gets an offer if Matta strikes out on some other wings and big men.
DePaul, Oklahoma, VCU and Tennessee seem to be the legit favorites, but all could change with an offer from Ohio State or his dream school, North Carolina.
James Young (6-6/200, Troy, MI) Rivals: 5-Star Scout: 5-Star
Young was also profiles as a shooting guard last week, but like Evan Turner, he does it all and more. Young can shoot, dribble, drive and pass. He plays a little defense too.
Young is a consensus top-10 prospect and has every major program in the country after him for his services. He could easily be an early entry in the NBA Draft if all goes as plan.
Currently, Michigan State, Ohio State, Kansas and Kentucky lead for his services, but if higher rated prospect (there aren't many) like Jabari Parker heads to MSU, it could open up doors for a program like Ohio State.
In May, Young said:
"I have a lot of colleges looking at me but I'm staying open. My top three so far is Kansas, Kentucky and Ohio State.
Michigan State seems to be the local favorite, but it could be very hard to say no to Kentucky. Getting Young to visit Columbus for an official is key.
Who's Not
Jabari Parker (6-7/215, Chicago, IL) Rivals: 5-Star (#1 overall) Scout: 5-Star (#1)
Jabari Parker is that recruit that everyone, and I mean everyone, wants. He has often been mentioned as the best prospect out of high school since Lebron James, and we know how that one went.
Jabari often mentioned Ohio State along with a long list of schools but has recently removed Ohio State from his shortlist.
UK, Stanford, michigan state, Kansas, Florida, Duke, BYU, Georgetown, Depaul, UNC. No order.

— Jabari Parker (@JabariParker22) July 11, 2012
Brannen Greene (6-6/185, Forsyth, GA) Rivals: 4-Star Scout: 5-star
Brannen Greene is also one of the top wings in the nation and showed high interest in Thad Matta and the Buckeyes:
"I really like Memphis' coaching staff, Florida State's, I really like Alabama's, Duke's, Ohio State's, Florida's and UConn's"
However, his liking of the coaching staff's above played no part in his decision as Greene committed to Kansas early on in the recruitment process.
When it's all said and done, the Buckeyes have room to take the best players available and there are many good wings. With Loving in the bag, the focus is definitely on big men, but taking a talented wing will not hurt.
The current Buckeyes are extremely young and the ability for the coaching staff to sell playing time to prospects could be one heck of a challenge.