Well folks happy Friday and welcome to the first day of the rest of Penn State's life. As many of you probably know, former FBI director Louis Freeh released his 267 page report yesterday outlining findings from a nearly eight month investigation into the University's handling of the Jerry Sandusky scandal. 
Despite numerous advance copy requests from parties implicated in the document, Freeh and his team ardently refused to release the report early; ultimately allowing the public to digest its contents with little to no spin.
With that said, let's get into it.
THE FREEH REPORT. For those of you who didn't get a chance to sift through Freeh's expansive document, here's basically what you need to know, summarized in one jarring quote.:
"The most powerful leaders at Penn State University — Spanier, Schultz, Paterno and Curley — repeatedly concealed critical facts relating to Sandusky's child abuse from the authorities, the Board of Trustees, the Penn State community, and the public at large…Although concern to treat the child abuser humanely was expressly stated, no such sentiments were ever expressed by them for Sandusky's victims."
The most damning portion of the report posits University President Graham Spanier, Head Football Coach Joe Paterno, Athletic Diretor Tim Curley and Vice President Gary Schultz knew about a 1998 incident in which a boy's mother notified police of suspected sexual misconduct between her son and Sandusky in a PSU shower, leading to a criminal investigation.
From the report:
"The evidence shows that Mr. Paterno was made aware of the 1998 investigation of Sandusky, followed it closely, but failed to take any action, even though Sandusky had been a key member of his coaching staff for almost 30 years, and had an office just steps away from Mr. Paterno's."
Even further down the rabbit hole, the report claims campus police chief Thomas Harmon emailed Shultz in June of 1998 to say Sandusky's account of what happened was basically the same as the victim's. Sanduskly TOLD POLICE "he had done this with other children in the past."
All four men (Paterno, Shultz, Curley, and Spanier) knew about this information and didn't do anything. Instead, Shultz told Spanier and Curley the police investigation was closed. Cover-up is the only phrase you can use here.
If this is true, it ultimately means Paterno lied before a grand jury during his testimony in January of 2011. When asked by the court: "Other than the [2001] incident that Mike McQueary reported to you, do you know in any way, through rumor, direct knowledge or any other fashion, of any other inappropriate sexual conduct by Jerry Sandusky with young boys?"
Paterno answered: "I do not know of anything else that Jerry would be involved in of that nature, no. I do not know of it."
This is without a doubt the hardest part of the report for Paterno loyalists to come to terms with. As early as 1998 Paterno knew Sandusky was a child rapist yet chose to do nothing. As early as 2001 Paterno knew Sandusky was a SERIAL child rapist yet chose to do nothing.
But that's not all, the report goes on to claim that far from inaction, Paterno was insisting individuals not report Sandusky in 2001. According to the report, after McQueary's now infamous eyewitness shower account, Curley met with the executive director of Sandusky's Second Mile Charity and shared what they knew with him. Ultimately, the Second Mile concluded it was a "non-incident" and decided not to report Sandusky at the behest of Paterno who was lobbying against making the matter public.
Across the nation, fans and writers alike are having trouble reconciling the Joe Pa they thought they knew, with who he may actually have been.
Sally Jenkins, the Washington Post columnist who is believed to be the last reporter to interview Paterno before his death said it best:
"The only explanation I can find for this "striking lack of empathy" is self-absorption. In asking how a paragon of virtue could have behaved like such a thoroughly bad guy, the only available answer is that Paterno fell prey to the single most corrosive sin in sports: the belief that winning on the field makes you better and more important than other people."
Powerful stuff.
If you don't have the time to read Freeh's document in its entirety, Deadspin boiled the report down to key points here, and the Big Ten Network did a great job of gathering up initial reactions from sportswriters around the nation. It's a lot to digest, especially with spin already coming out of the camps of the accused.
It's hard to say where Penn State goes from here, but my only hope is that all of Sandusky's victims can eventually find peace.
THE YEAR OF THE HANKINSIMON. Yesterday watch lists for the Outland (outstanding interior lineman) and Bronko Nagurski (nation's best defensive player) Trophies were announced.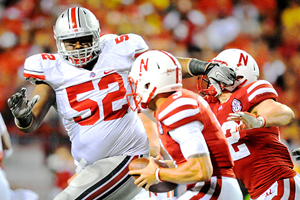 Junior defensive tackle and all-around swag bro Johnathan Hankins was named to both lists along with John (Don't look at me like that or I'll knock your block off) Simon making the Nagurski list.
If striking fear into a QB's heart is performed on paper, these two are certainly minions of doom. Both were also named to the Bednarik watch list and Simon was recently chosen for consideration to win the Lott IMPACT trophy.
I honestly can't wait to watch these two have at it against opposing offenses this fall. It's hard to remember getting this excited about an OSU defensive line. If all goes as planned, we'll be watching both meet in the opponent's backfield for some fava beans and chianti all season long.
For your reference, here is the most recent list of Buckeyes on 2012 watch lists:
Lott IMPACT Award – Senior DL John Simon
Bednarik Award – John Simon and Junior DL Johnathan Hankins
Maxwell Trophy – Sophomore QB Braxton Miller
Mackey Award – Senior TE Jake Stoneburner
Lou Groza Award – Junior K Drew Basil
Outland Trophy – Johnathan Hankins
Nagurski Award – John Simon and Johnathan Hankins
LOOK AT THE BIG BRAIN ON TAYLOR. The BTN's Tom Dienhart recently put together a list of 12 Newcomers to Watch in 2012.
For Ohio State, Dienhart chose true freshman offensive tackle Taylor Decker. One doesn't have to look far to understand why, just listen to a couple of Buckeyes inside the locker room.
From junior lineman Jack Mewhort:
"I remember the first day he came into the meeting room, he knew the whole offense… He had been looking at the playbook for three days. It was a little bit of a shocker, in a good way. His work ethic is incredible, so he's going to be great here."
And from offensive line coach Ed Warinner:
"He's very football smart—smarter than anyone else in my room."
Despite playing high school ball mere months ago, Decker's work ethic and smarts have him vying for a starting spot at right tackle against converted TE Reid Fragel.
In addition, with the indefinite suspension of Mewhort, Decker might see some time starting at left tackle during the beginning of fall camp. Pretty high praise and production from a kid who didn't even get a call from Bollman. 
LOOKS LIKE I PICKED THE WRONG WEEK TO QUIT LINKING. Is your deodorant made with really old spices? Cat boots freak me out. You could try and dispute these things, but it's probably not worth it. The 25 most disgusting things people have eaten on television.