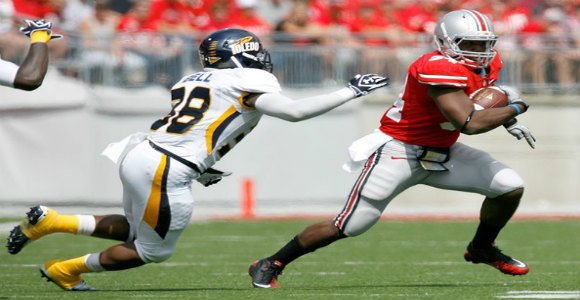 The 1000 yard rushing mark has a kind of psychological appeal - all of the zeros, probably - but it probably doesn't mean as much as it used to. 
"As we all know, the 1,000-yard mark has long been the measuring stick for running backs. Getting there is not quite as tough as it used to be. If a team makes a bowl and plays 13 games, a running back only has to average a little less than 77 yards per game to get into quadruple figures. Still, it requires staying healthy at a position where one takes a lot of abuse and getting the opportunity for lots of carries." 
It's made even easier if a team plays in a conference championship - backs would only have to average a measly 71 yards per game. 
Nonetheless, our perceptions of a runningback magically change just by crossing from 999 to 1000 yards - just one yard, one additional place value and an entirely different evaluation of a back's performance. 
The 1000 yard mark has been even more important in the Big Ten, which has always kind of been a run-first league. The B1G had six pass the 1000 yard mark in 2011, with five of those returning. 
Ohio State only has one player on the Big Ten's top-10 most likely 1000-yard rusher list for 2012: Braxton, who comes in at number seven. 
Braxton is an asbolute stud runner, don't get me wrong - but our depth chart at running back is solely comprised of former four- and five-star recruits. 
Furthermore, the general perception is that Urban can't get a 1000 yard back. Based solely on his experience at Florida, where Chris Rainey and Jeff Demps were probably his best backs throughout his tenure, that's not too surprising. 
Neither back really challenged for a 1000 yard season - Tebow was probably more likely to reach that goal. 
However, I'm not entirely convinced we should even care if there is a 1000 yard rusher at Ohio State under Urban. 
Sure, there's a long tradition of elite backs at Ohio State. It's also true we're hungry for the next one - it's been a while since Beanie was toting the rock. There's also some argument that having a feature back helps with running back recruiting, and 1000 yards is kind of a preliminary requirement for consideration as an elite back. 
I argue that winning will ease any concerns that anyone will have about the running game. 
Football in general has seen two trends that might contribute to the "demise" of the 1000-yard running back: 1. Rushing hasn't always been equated with winning - especially with the rise of pass-first offenses 2. The increasing use of the "running back by committee" approach that is popular in the NFL. 
Running games don't always equal winning
In 2010, the blog Left Coast Bias did an analysis of 1000 yard rushers in the NFL and found a lot of similarities between the backs. 
Many of their results aren't applicable to the college game: NFL 1000 yard rushers are typically younger (under 24), Drafted highly (first two rounds), and played their college ball in a BCS conference. This is helpful for teams considering whether to draft a running back, but not necessrily for current college players.  
However, they also found that teams with elite running backs don't necessarily win: 
Maybe, most interesting is the overall records of 1,000 rushers. There is a perception that if you can run the football, you can win in the National Football league. Of the 15 rushers with over 1,000 yards, only 3 had over 10 wins and only 5 made the playoffs... As a matter of fact, there were as many 1,000 yard rushers with losing records (5) as there were playoff teams...However, having a solid running team gives you no guarantees of winning football games. In the current NFL, most teams would prefer to spend their money on a quarterback who is far more likely to last 7 or more years, while a running back's play often deteriorates in his mid to late 20's.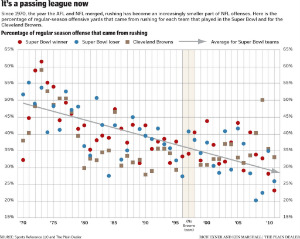 Furthermore, "Last season's Super Bowl teams -- the New York Giants and New England -- had no running backs among the top 20. Last season, the Giants ranked last in rushing yards gained as a percentage of total offense, and the Patriots ranked fourth from the bottom."
The NFL appears to be a passing league in the sense that many of the top teams employ prominent and effective passing attacks behind an elite signal caller. 
Woody would certainly be appalled: "Three yards and a cloud of dust" has been replaced by "slant routes and 8 yard pickups"
While the NFL may be a passing league (at least until the next schematic revolution reaches the NFL) the NCAA is experiencing similar trends (and here is the graph in larger form). 
Chris Brown of Smartfootball just released what some are calling his magnum opus - a 10,000 word analysis of the Air Raid offense in which he details the rise and strategic foundations of this pass-first and often offense. 
The statistics certainly back it up - Air Raid offenses can certainly score points. 
It's possible that the 1000-yard back is being undermined by a player on his own team - one who even shares the backfield with him: the quarterback. 
As teams experiment with Air Raid and similar pass-heavy offensive styles, the running game is minimized, often used as the constraint instead of the foundation. 
Is Urban going to whip out the Air Raid or a similar pass-first offense next year? No chance in hades. Nonetheless, it's worth investigating these general trends and what might be going on in offensive coordinators' heads. 
Running backs by committee
As Left Coast Bias again argues, a second major trend 
that is gaining popularity is the runningback by committee. The Dallas Cowboys, Indianapolis Colts, Philadelphia Eagles, and New York Giants spread their carries around between multiple backs and did not have a 1,000 yard runner. Overall, these teams had well over 1,000 yards rushing, but occassionally had an identity crisis when they needed to pound out a few yards with one of their running backs.
This is what Urban values. His Florida teams actually beat out Ohio State for the most part in total rushing yards per year. Urban did it through a committee of backs, all of which totaled close to 700 yards rushing over the season.
Tebow, Rainey, Demps, Harvin: it's not hard to be an elite rushing team if you have four guys who get 3/4 of a 1000 yards rushing in a season. There's no need for one guy to do it all himself if you have three who can combine for even more.
As I mentioned earlier, Ohio State has one deep depth chart at running back. Even if Urban employs a running back by committee approach, it is still a darn talented committee. 
Fine, take your 1000 yard rusher 
I say all of this to assuage your concerns about the running game: a focus on the pass and committee approaches are larger trends in football and Urban's teams have been successful wherever he's coached. 
However, I still think there's a good chance you might actually get that feature back you so covet - between Hyde, Smith, and Dunn, someone has a chance to wear the rushing crown in the next couple years. 
Urban undoubtedly loved the strategy behind the committee approach, but he also didn't have an "every-down" back either. Demps and Rainey were too small to tote the rock enough, and Tebow had other duites (namely passing the ball) to be that guy. 
The three guys I mentioned, however, are there solely to run the ball for big numbers. And they've got the size to take the punishment too. 
Point is that Urban's team is going to be successful running the football - 1000 yard back or not.