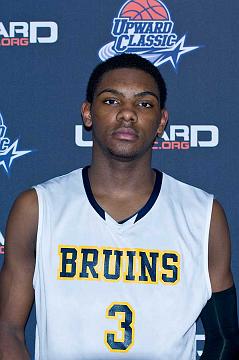 Once again, the 2013 Ohio State basketball recruiting class is as significant as ever.
With a swing and a miss of several key prospects in 2012, the 2013 class must be loaded with some depth and future replacements for the current team.
Last week, we took a look at the '13 big men targets and the predicted likelihood that they end up at Ohio State.
It is important to take into consideration that many of these prospects have yet to take official college visits and these lists and the likelihood could change as we approach the early signing period in November.
One position that desperately needs some depth is the shooting guard position. After this season, the Buckeyes will be left with Lenzelle Smith (senior in '13), Amedeo Della Valle (sophomore), and LaQuinton Ross (junior, but more of a wing).
Let's take a look at who Thad Matta and staff are currently targeting at the two spot.
Sindarius Thornwell (6-4/175, Lancaster, South Carolina) Rivals: 4-star (#47 overall) Scout: 5-star (#24)
Offer: Yes
Sindarius Thornwell is one of the better shooting guards in the class of 2013 but has a long list of schools to choose from.
He has the perimeter presence that the Buckeyes were missing this past season and he really can stroke the three.
He currently lists Clemson, Georgia Tech, North Carolina State, Wake Forest, Virginia, Virginia Tech, Boston College, Miami (Fl.), Florida State, South Carolina, Tennessee, Providence, Villanova, Florida, Memphis, Ohio State and Georgia as his favorites and will cut his list when the summer ends.
The Buckeyes offered him back in April where he promptly added OSU to his list, but it seems that the his in-state schools (Clemson and South Carolina) could be tough to beat at this point. Anything could change with an official visit.
Thornwell will be attending Oak Hill Academy this year and it could add new perspective to his decision.
Chance he ends up a Buckeye: 15%
Wayne Selden (6-5/225, Tilton, New Hampshire) Rivals 4-star (#21 overall) Scout: 5-star (#14 overall)
Offer: Yes
Wayne Selden is a huge guard that can also play on the wing and has a ton of the top programs coming at him hard.
"I'm still wide open," he said. "It's going to come down to where I feel comfortable
At this point, Connecticut, Florida, Ohio State, Harvard, UCLA, Kansas, and Missouri are leading for his services, but he is wide open.
His former teammate happens to be incoming Kentucky phenom Nerlens Noel, but Seldon does not think that his relationship with Noel will factor into his decision.
Seldon will most likely schedule a few official visits soon and then decide before the prep basketball season begins.
Chance he ends up a Buckeye: 10%
Allerik Freeman (6-4/210, Henderson, Nevada) Rivals: 4-star (#39 overall) Scout: 4-star (#46)
Offer: Yes
Allerik Freeman is another stud shooting guard who can get right to the hoop and he'll knock his opponents to the ground getting a good position for rebounds. He is a big bodied guard that gives smaller opponents fits on defense.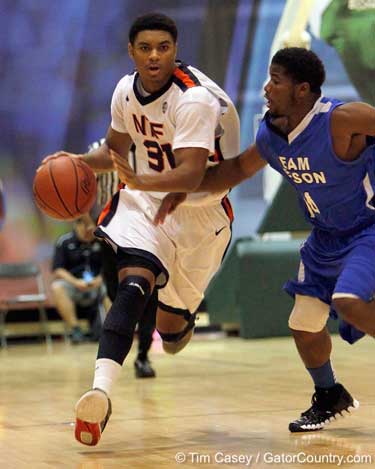 Fortunately for the Buckeyes, one of Freeman's former teammates from Findlay Prep (Nevada) happens to be incoming Buckeye Amedeo Della Valle. Freeman is very familiar with the Ohio State coaching staff and it could potentially be a leg up come decision time.
Freeman also roomed with Buckeye-target PF Chris Walker at the Lebron James Skills Academy this past week. Hopefully, they both talked about their futures in scarlet and gray. Unfortunately, both prospects are also very interested in Kansas and Kentucky, but neither has that UK offer at this time.
Freeman has a pretty short list at the moment with Duke, Kansas, Ohio State, Villanova and UCLA.
He had good things to say about Ohio State:
"Ohio State is a similar situation with all of the other schools," Freeman said. "They're a winning program and [head coach] Thad Matta has done a great job coaching and developing players. He's recruiting me to be a good combo guard, something he's not use to having but I love the players, it's a great program, I think I'll be able to develop there and I could see myself there for four years."
Chance he ends up a Buckeye: 40%
Kyle Davis (6-1/165, Chicago, IL) Rivals: 4-star (#105 overall) Scout: 4-star (NR)
Offer: No
Kyle Davis is a swing guard that can handle the ball and play on the perimeter. He is extremely quick with the ball
Many consider Davis to be a point guard because of his tremendous ball handling skills, but if he ended up a Buckeye, he would definitely play off the ball unless needed to provide depth for Aaron Craft (would be a senior) and Shannon Scott (junior).
Davis currently holds offers from Northwestern, Tennessee, Nebraska, Marquette, Xavier and many mid-majors, but an offer from Ohio State could be too hard to pass up.
Davis plays for Mac Irvin AAU, same as Sam Thompson, so Ohio State has many connections with that program.
I am not convinced that Matta will offer Davis until late in the recruitment process, possibly after the early signing period, depending on what happens with Freeman and Thornwell.
Chance he ends up a Buckeye: 20%
Other Notables:
James Young (6-6/200, Troy, Michigan) 5-star, consensus top-10, has interest in Ohio State but all signs point to an early commitment to Kentucky.
Kameron Williams (6-2/170, Baltimore, Maryland) consensus top-100, has interest in Ohio State but no offer. Does not yet have an offer from a top-tier program.
Obviously, there are plenty of 2-guards out there and several more will emerge as the AAU season progresses and camps take place. It makes sense for the Buckeyes to take one shooting guard in the 2013 class or two if there are two good prospects interested.
We will know more about the Buckeyes' top targets come early fall.