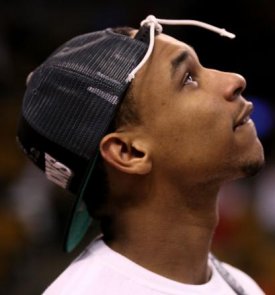 Things have grown a bit quiet on the bash Jared Sullinger front now that he has home, having been selected with the 21st pick by the tradition-rich Boston Celtics. 
For weeks, all we heard was how the kid that dominated on the college level was a combination of too small to play the four, not smooth enough to play the three, and a huge injury risk due to a herniated disc in his back. 
During the barrage, it was interesting to see Sully finally become fed up and take a more agressive approach in responding to his critics but it was his father who best put things in perspective: 
"Sometimes life gives you lemons and you just add some sugar and make lemonade. You've got to let all that go and just look at the positive side of what happened instead of dwelling on the negative. It's not what happens to you that counts as much as how you choose to react to what happens. What it does is it humbles you, it makes you really appreciate the opportunity, it keeps you hungry and it puts a little chip on your shoulder. You can use this for you or you can use it against yourself. I'm quite sure he understands that and he's just appreciative of the opportunity that he has."

"It puts things in a totally different perspective. You go in the top 10 and if your head's not right, you could feel like the world owes you something and you're a savior. It keeps you grounded, it keeps you hungry and it makes you really understand that he just became a part of a fraternity that requires hard work. He can use that for himself and for the Celtics."
Judging from Jared's own retorts typically along the lines of 'I'm a basketball player, not a test-taker', there's no question he's hungry to silence the critics. Beyond that, there are various other factors that seem to form a silver lining as Sullinger embarks on his professional career. So many that, in time, he might just turn out to be a very solid professional that more than lives up to being the 21st pick. 
Yes, he cost himself millions by not turning pro last year when he was consensus top five pick and that has to be a tough pill to swallow but I continue to applaud the man for all he did out of love of the game, his teammates and his school. Further, he did actually improve his overall skill set during the extra year in Columbus despite opening himself up to all the other questions that were discussed ad nauseum as the draft approached. 
For virtually any new draft pick, it's about starting all over again with proving yourself to a whole new set of evaluators serving as your chief focus. That's what Sully now faces but hopefully the free fall will act as a blessing in disguise. On the surface, there are clearly some benefits to what has - so far - been a painful process. None of that matters anymore. He's in the League now.
tempered expectations
Though most scouts agree a healthy Sullinger would've been a top 10-ish pick, the back concerns have further enhanced a cautious optimism about how Sullinger will fare at in the League.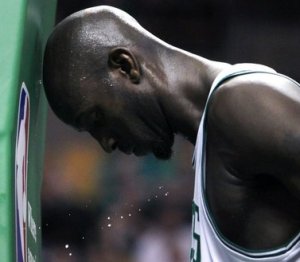 All the talk about his 'tweener' game, and frame, have many pegging him as a man without a position at the NBA level. That type of talk could actually help him in the long run as he is clearly motivated by all the doubters. He knows he needs to further expand his perimeter shooting and ball-handling and there's little reason to believe he won't be working tirelessly at improving those skills to more effectively mesh with his ability to create space in the lane and most importantly, to rebound the basketball.
One huge benefit of slipping to the Celtics means he'll get to learn on the job from one of most relentless and truly professional players of his generation in Kevin Garnett. Sure, Garnett gets the knock of being a dirty player but I'd argue nobody in the league is as committed to winning. He's been the heartbeat of the Celtics since he arrived as a guy with no interest in being cast in movies or cutting a record. Garnett is exactly the type of player Sullinger should cling to like a sponge. 
With a great player like Garnett to learn from and being selected by a team that should still be a force in the East despite some roster turnover that will ultimately occur this summer, the team still has a playoff tested nucleus. A situation like this seems to be perfect for Sullinger as he won't be thrown out there for a ton of minutes like he would've been had a team like the Cavs, Bobcats, Wizards or Hornets called his name. 
The lack of heavy minutes early should prove a benefit as Sullinger can be inserted to fill a role - with the intention of showcasing his strengths as he works on his weaknesses in practice - instead of logging a ton of minutes on a terrible team and potentially developing bad habits - all while losing 50 games a year. 
With the Celtics, Sullinger should at least have the opportunity to prove he can be a nice complimentary piece in these first couple years by focusing on his current specialties when Doc Rivers puts him out there. He won't have the burden of being the leading scorer, rebounder and punching bag for the opposing defense. Instead, he can work off guys like Garnett and Pierce by pounding the glass and if he finds himself open, you know Rondo will deliver the ball in the spots on the floor in which Sully exceeds most. 
If Sullinger can capitalize on the opportunities in games while honing is other skills in practice, falling to the Celtics might end up being the best thing that could've happened. 
organizational stability
Like Sullinger, the Celtics put winning above almost everything. 
Danny Ainge has taken his share of criticism over the years but he's also the guy that pulled off trades for Ray Allen and Garnett to join Pierce leading to a pretty impressive run by the Celtics including a victory over the Lakers in the 2008 NBA Finals. (Of note, he also gets bonus points for being the only Celtic from the Bird-Era to have any skills - outside of being rich - to land hot women.)
Ainge has played with some of the NBA's best players of all-time and has been associated with the league as a player, coach or executive since 1981. He saw enough in Sullinger, despite the herniated disc concerns to rave about Jared's complete game including a very high basketball IQ:
"I liked Jared longer than his years at Ohio State. He was a dominant high school player. What I like about him is he's complete, he can pass, he can think, he can rebound, he can shoot. And, one thing you didn't see him do in college that I believe he can do, he can make shots, he can shoot from the perimeter. I mean, you see him do that a little bit on film, but he makes free throws and I really like his stroke. So, hopefully he can improve that part of his game because that's an important part of our offense.

Length is an issue. He has good width. There was a lot of these same kind of issues with Glen Davis, when he came in — you know, they just find a way, guys that are smart and have a good feel, they just make an adjustment.
I like the Big Baby comparison as I also believe Jared can find a way to adjust to the next level thanks to determination and intelligence. 
Another huge win on mutliple levels for Sullinger is that he'll get to develop under one of the elite HC's in the game in Doc Rivers. 
Doc will be the one pulling the trigger on exactly when and for how long Sully sees the floor and by playing smaller bursts of minutes with a more streamlined directive, Sullinger should be put in a position to accentuate his strengths while minimizing his current holes. He may be on the floor in spurts mostly to work the glass, throw in any garbage points he can muster, and hit the knock down 17 footer off looks from Rondo. Again, on a bad team just looking to get their money's worth, Sullinger might see minutes he's not yet ready for but Rivers won't let that happen. His job is secure and he'll have a plan. 
Another benefit in playing for Rivers is that Doc himself played with a herniated disc for 13 NBA seasons so he knows what it takes to manage it and also that there could be times in which Sullinger will need someone else to look out for his health. 
boston's needs
The roster is a bit in flux for the first time in a few years but as noted, the nucleus of Garnett, Rondo and Pierce remains. As of Sunday night's opening of free agency, Rivers said he's very confident Allen will be back and that 6'9" Jeff Green should return. Rumors continue to circulate that O.J. Mayo could be on the Celtics radar.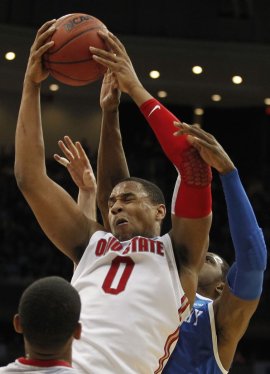 With Boston also taking 7'0" Fab Melo in the draft and having JaJaun Johnson and Greg Steisma already on what is now a crowded front line, it's clear Sullinger will have to work for every minute of playing time. That said, Melo is considered a long term project and while Johnson was incredibly good at Purdue, the 6'10" forward barely saw the floor in his rookie campaign and did not appear in the playoffs. 
The bottom line is that the Celtics need rebounding after finishing dead last in the league last year at 38.8 total boards per game and if Sullinger can leverage his frame like he's done at every other level he's played, he could have the inside track on minutes off the bench. Plus, it's not like the opposing team will put its best defender on a rookie out there with Rondo, Garnett and Pierce. He will be able to roam around in a way he's never experienced before, finally having a bit of space to operate. He has to be licking his chops at this opportunity. 
Obviously, it's impossible to predict how Sullinger's career will ultimately pan out but it's hard not to like his present situation. He landed on a team that doesn't need him to do any heavy lifting right off the bat, he can learn from one of the all-time grinders, his coach is elite and relatable, and the organization can afford to be patient with his development. 
The Celtics are smart enough to know it can take a few years for a player to find his place in this league. Even Buckeye fans should be somewhat familiar as the latest example of this, Evan Turner, appeared to turn a corner in Philly this past season. After a rough rookie campaign in which he was benched for long stretches, Turner cracked the starting lineup for weeks at a time in his 2nd year and improved in virtually every statistical category while playing just 26 minutes per night. 
If the Celtics and Sullinger can follow a similar blueprint - not in actual minutes - but in organizational patience and player development - Jared could find himself wearing the Celtic green for many years to come.