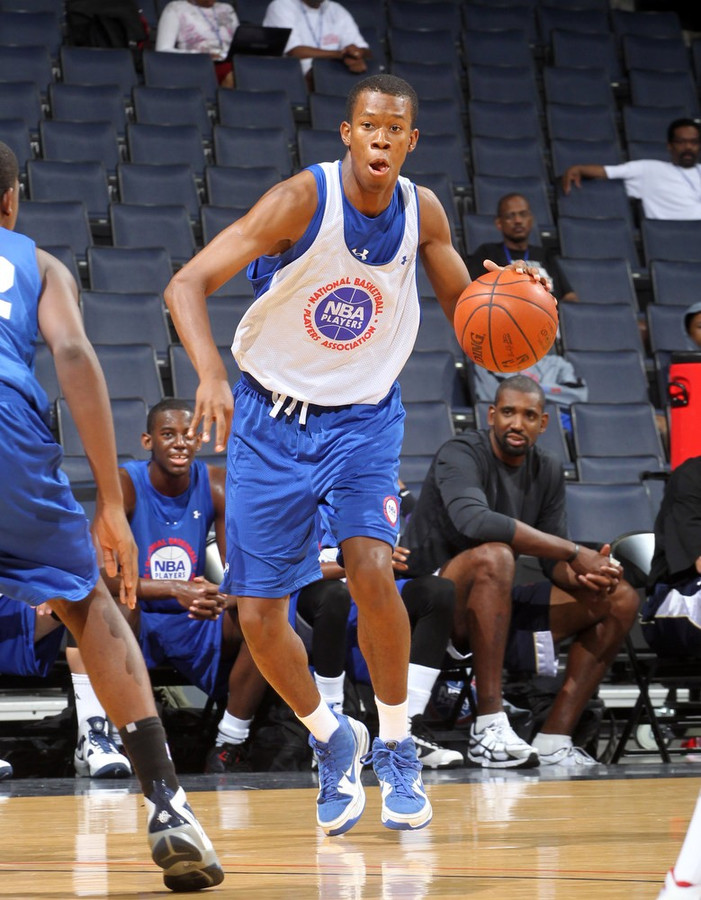 At this time last year, Rodney Hood had just enrolled at Mississippi State University as the 2011 class's most heralded recruit and one of the highest rated prospects the school had lured in in quite a while, perhaps since Renardo Sidney in 2009 (Sidney was supposed to be a guaranteed NBA Lottery pick, but has struggled on and off the court).
Hood, the former McDonald's All-American and consensus five-star prospect, went on to be a major contributor as a freshman, averaging ten points and nearly five rebounds a game.
He was later named to the SEC All-Freshman team and is now widely considered to be an NBA Draft pick down the line.
After the season (April 2012), Hood decided that he had enough at Mississippi State and would be making a move to another program:
"It was just a long, tough year for me. Coach [Rick] Ray will be a great asset to Mississippi State and getting to know him last week made this decision even harder, but after much thought, I am going to ask for a release. I wish my teammates and the program nothing but the best."
After this news, his former teammate Arnett Moultrie eluded to the fact that wherever Hood ends up, he'll make quite an impact and will probably only play one year before making the jump to the NBA.
Hood's initial short list of schools included schools from all over the country with Florida State as the early favorite. As time progressed, Ohio State, Duke, Florida State and Memphis emerged as his short-list and later narrowed it down to Ohio State and Duke. He will decide on Wednesday or Thursday this week.
Landing a player like Hood could be greater than landing a top high school prospect as Hood already has the college experience and the freshman learning curve is in the past.
Most programs would take Hood in a second and both OSU and Duke hope to land this big fish. Here's the two cases on why he should pick either school in a few days.
WHY RODNEY HOOD WILL PICK DUKE
Coach Krzyzewski may have won the battle for Hood's services just by getting him to visit campus. Ohio State fans were thrilled when they learned that he skipped out on the Coach K Academy weekend to visit Ohio State, but Hood made it up a few weekends later.
As referenced in yesterday's Skull Session, Hood only had positive things to say about his experience at Duke and his thoughts on the program:
"I went to the visit and I got to talk with Coach K eye to eye and the rest of the coaching staff. I met some of the players. You know, it just felt great. When you go to Duke you're playing on the highest level of college basketball and the tradition there is great so it was good to go visit."
In summary, he's saying Duke is Duke, which is true. Look at the Duke track record, look at Coach K, and the staff. It should be such an easy sell for Duke to tell Hood to just look at Duke's wings in the NBA. Shane Battier was a wing at Duke and just won himself a ring as the team's top role player in the finals. Coach K is going to be coaching Team USA in the Olympics again for heaven's sake. That's hard to say no to.
Besides those facts, let's look at the roster breakdown for the Blue Devils.
Like Ohio State, Duke has plenty of open scholarship spots on their roster.
Unlike Ohio State, Duke is very thin on the wing and the competition for playing time is less of a factor in Durham.
Michael Gbinije, Duke's sole returning wing with experience, opted to transfer to Syracuse, leaving that spot wide open for any worth suitor. The 2012 class did add a late pickup from McDonald's All-American Amile Jefferson, who does play the wing and was once interested in Ohio State.
In reality, there is little competition at the wing for Duke. Obviously, that could change with the 2013 class but, as of right now, the Blue Devils only have a guard committed and will probably opt to use the scholarships elsewhere, if Hood commits.
Transferring to Duke could be hard to turn down.
WHY RODNEY HOOD WILL PICK OHIO STATE
Familiarity and comfort are two big factors that Ohio State has over Duke.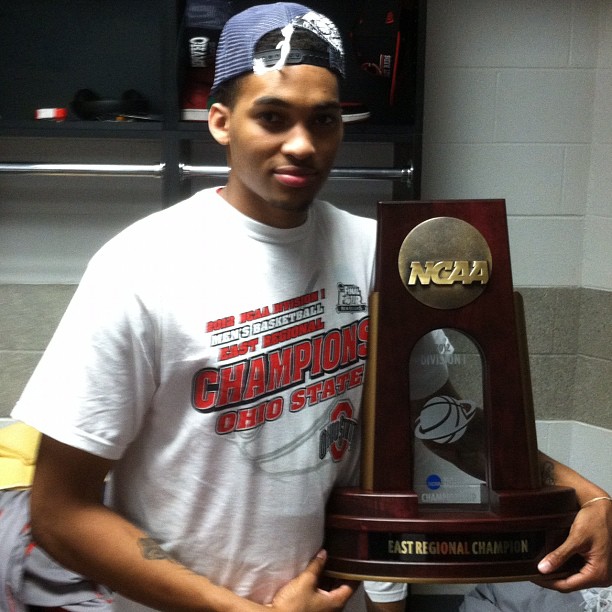 Current Ohio State wing and fellow Jackson, Mississippi native LaQuinton Ross is good friends with Hood and could prove to be a deciding factor when he makes his decision in a few days.
Also referenced in yesterday's Skull Session, Hood is often asked about his relationship with Ross and told SNY:
"I'm just going to make my decision. It's the second time around so I want to make the best decision for me. I just like the coaching staff there and 'Q' is a bonus. But I like the players and I just like the basketball part of it."
Luckily for Coach Matta and staff, "Q" and Hood were both invited to attend the Kevin Durant Skills Academy this week in Chicago, part of the same series that Aaron Craft (Deron Williams Skills Academy) and Deshaun Thomas (Amar'e Stoudemire Skills Academy) attended in the last few weeks.
With Hood's decision looming later this week, Ross will have plenty of opportunities to get in Hood's ear and let him know how much he wants him to be a Buckeye. Although Ross probably didn't have the type of year or playing time he had originally hoped for and later got upset at the staff publicly on Twitter, it seems that Ross has changed his outlook on Ohio State and is poised for a big season, which could only help the Hood situation.
Ohio State also has plenty of open scholarships (10 scholarship players for the coming season) and the staff is currently doing everything possible to fill another spot for the coming season.
However, playing time could be a little more difficult to come by at Ohio State as the Buckeye roster is loaded with wing talent. Deshaun Thomas does occupy a "wing" role and would be a senior when Hood becomes eligible in 2013, that is if he doesn't leave school early. Sam Thompson, LaQuinton Ross, and Lenzelle Smith (can play the 2 or 3) are bona fide wings that will surely eat up a lot of available minutes and current commit SF Marc Loving will be a freshman upon Hood's eligibility.
Regardless of the congestion on the wing, Hood is a great player and the competition should not scare such an accomplished and hyped athlete away, but draw him in as good basketball players want to be pushed to be the best they can be. At Ohio State, Hood would not have a cake-walk in practice as he would go up against other skilled wings, improving his game to the max extent. At Duke, Hood would have to battle against bigger forwards or smaller guards in practice which is different than actual game play.
At Ohio State, Hood would have great competition against all the other Buckeye wings, better preparing him for actual games.
REALITY
Duke is hard to turn down for any prospect, it's Duke, unfortunately, and it would be pleasantly surprising if Hood chose Ohio State at this point.
There is still hope that LaQuinton Ross has gotten in his ear and persuaded him to be a Buckeye. We will all find out soon enough.