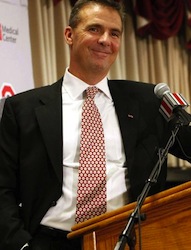 When Urban Meyer was hired as Ohio State's new football coach, he promised his family and himself that he would find a balance between work and life that he failed to master at his Florida gig. Whether he can handle the stress that comes with a demanding job like leading the Buckeyes is a well-trodden topic. He strived to figure it out during his year away from coaching, and so far, he seems to have learned his lesson.
This past week alone, he has taken in the Big 33 Football Classic, watched his daughter Gigi wakeboard, received a verbal commitment from a punter, threw out the first pitch with his son Nate at a Reds-Indians game1, and taped a sportsmanship PSA.
At least to our knowledge he's not in possession of a Time-Turner, so how has he managed to juggle all of his obligations?
It all began on December 7, 2010. While Urban was trying to game plan for the Outback Bowl against Penn State, the burden of having John Brantley as his quarterback and Steve Addazio2 as his offensive coordinator became too much to bear. Just as he became aware of how rapidly his heart was beating, an illuminating figure appeared, one wearing a black wool Block O hat and a whistle around his neck.
Urban, in disbelieving silence, could do nothing but stare at the specter in front of him. Suddenly, an gravelly, unmistakable voice spoke:
"It has to be you, Urban. It's your destiny."
"W-w-w...Woody Hayes?" Urban gasped.
"Well who the hell else would it be?" Woody barked. "Listen to me, son. Ohio State needs you."
Shaking his head, Urban replied, "I think Jim has things under control there."
"There's a lot you don't know yet," Woody told him. "One year from now, you'll be the coach. If not, the consequences will be dire."
As Urban tried to process this information, the man he grew up revering, and whose portrait still hung in his office, continued. 
"You need to take a break, though. Cleanse yourself of this Gator nonsense, but don't stray too far from football, got it? Get your life in order and then you'll be ready." 
Before he could respond, Woody vanished. The next day, Urban resigned and he followed the legendary coach's instructions. He took his family on a trip to Hawaii. He spent two weeks living in a Bhutanese monastery to find inner peace. He traveled to India to study transcendental meditation with Maharaja Adhiraj Rajaraam, learning relaxation and anxiety reduction techniques. He accepted an analyst job with ESPN so he could still be around football.
On November 28, 2011, the Ghost of Woody Hayes' words became prophetic. Now, in charge of the Ohio State football program, Urban Meyer faces a busy schedule every day. For those wondering how he pulls it off, here's a look at a random day in his life:
THURSDAY, JUNE 21, 2012
3 AM: Ever since training his circadian rhythms to do as they're told, Urban requires less than 8 hours of sleep each night. He spends the extra time to meditate, watch game film, reply to email, and unbeknownst to even his wife Shelley, catch up on latest episode of Rizzoli & Isles.
6 AM: Shelley wakes up, and Urban fixes them both a banana soy protein shake before they relocate to their home gym for cardio and strength training. Urban blasts the newest Kenny Chesney album and they use a picture of Brady Hoke as motivation to get them through the workout.
7 AM: After a quick shower, he ventures to Muirfield for a round golf with Stan Drayton, Zach Smith, and former Buckeye WR Joey Galloway. Smith hits a ball that slices into the woods, which spurs Drayton into drawing a comparison to the routes run by the wide receivers. Everyone sighs and swings a little harder on the next tee. Urban informs Joey that he's heard the WR corps gathers every day at 1pm at the WHAC, if he wanted to stop by sometime. 
11 AM: Urban heads to campus to watch the recruits at summer camp perform a few drills. On the drive over, he calls John Simon, just to hear his voice. He finds out Clifton Garrett has a paintball tournament next weekend and no, NCAA, he does not wish him good luck. 
12 PM: Urban calls his daughter Nicki and promises that he'll eat lunch. When she complains about boy trouble, he subtly suggests that she date someone like a Boren brother. 
12:15 PM: He eats lunch and concludes that he needs a mid-afternoon pick-me-up in lieu of a Churchill-esque power nap. Urban opts for a bottle he discovered in the staff refrigerator labeled "Coombs Energy Drink." Immediately, he knocks out 1,000 push-ups. Then, the room turns into a rainbow-colored dreamland, he attends the 1919 World Series3, and he completely understands the Algol paradox, despite never taking an astrophysics class in his life. 
1 PM: Urban climbs down from the ceiling when Tom Herman stops by for a brainstorming session. They swoon over Braxton while trying to think of ways to teach the offense about bubble screens, a concept foreign to most of them.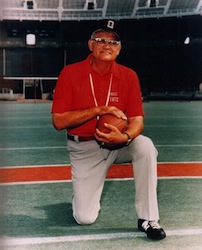 2 PM: Urban thinks about Bret Bielema and laughs.
2:30 PM: Zach Boren wanders into his office to see if his coach would like to accompany him to visit with patients at the James Cancer Hospital. On the short trip there, Urban reminds Zach that he has a single daughter. 
4 PM: He picks Nate up from Little League practice and takes him to a matinee showing of That's My Boy, where they run into Vrabel and Fickell on a bro date.
6 PM: Urban and Nate go home to eat dinner with Shelley and the visiting Gigi. They treat themselves to Jeni's for dessert and return home for family time. In a badminton match that pits father and daughter against mother and son, Gigi faults on a serve and Urban makes her practice for the next 15 minutes because Meyers do not fail like that.
9 PM: Urban decides to mess with Matt Hayes and Mike Bianchi. He texts "thinking of you" to both of them.
9:01 PM: He texts them back, "oops, that was meant for Doug Lesmerises."
9:15 PM: Urban reminds himself that he's the head coach of The Ohio State University and giggles.
10 PM: While everyone else gets ready for bed, Urban holds his nightly chat with the picture of Woody Hayes he has in his home office. "You would love this Braxton kid, Woody. LOVE him. And you were right. This is where I was meant to be," he says. Urban feels a twinge of disappointment when Woody doesn't materialize, even though he only showed up that one December night. 
10:30 PM: Urban is wide awake, but at least there's a Law & Order marathon on TV. He just can't get enough of that Angie Harmon. 
11:45 PM: Apparently, the Coombs Energy Drink is still in his system. Urban doesn't sleep for three more days. 
1 He threw out the first pitch in Cincinnati last week and the Reds swept the Indians. When he threw out the first pitch in Cleveland, the Indians swept the series. So, good luck, the rest of the Big Ten. 
2 "Addazio? More like AddASSio," Urban would frequently mutter to himself, probably. 
3 He wasn't in a bathtub, though.