Hello Buckeye fans and welcome to this edition of the Eleven Warriors Basketball Recruiting Mailbag. We've received dozens of questions over the last few weeks from you and have been beyond excited to answer them.
Today, we have a special guest to help discuss what's going on around the Big Ten.
Jordan Cohen, former Indiana Daily Student basketball columnist and basketball recruiting aficionado, is joining us to shed some light on what he sees and hears from his side of things. Cohen is best known for his debacle with Dan Dakich (now on ESPN), who referred to Cohen as a "sniveling little writer from the IDS" on his Indianapolis-based ESPN radio show. He also was able to do a Q and A with Mark Titus, which obviously was my favorite piece of his of all time, other than his articles on Indiana's losses to Ohio State.
The two of us will field a few questions related to OSU recruiting, but also the B1G more generally, IU's preseason No. 1 ranking and even the NBA Draft.
Any updates on Jaquan Lyle?
David Sokol: 2014 Evansville, Indiana SG Jaquan Lyle (6-4/180) has not narrowed his list too much and it still seems like all the local schools are in the mix. After the NCAA rule was passed and allowed coaches to contact athletes that finished their Sophomore year to receive unlimited calls and texts, Lyle said he woke up with 27 messages from coaches all over the place. He did say a while ago that he hears from Louisville and Ohio State the most, which could mean that he is developing a good relationship with Coach Matta, but nothing is certain. He has also stated that Texas is his dream school because of Kevin Durant and D.J. Augustine, so things are unknown at this point
Jordan Cohen: Lyle has been one of the top 2014 players since his freshman year. He started out with interest from the likes of Indiana, Purdue, Xavier and Ohio State but he has been getting a lot of attention nationally of late. IU has always been in the picture (he even plays AAU ball with a pair of 2014 IU commitments), but Tom Crean has never seemed to make him a priority for the 2014 class. I don't really expect him to stay in state and wouldn't be surprised if he wound up at Louisville. I certainly think OSU has a good chance at landing another member of the Spiece Indy Heat program (albeit a much younger looking one), but Lyle doesn't seem like a kid itching to stay close to home and could very well wind up just about anywhere.
What do we know about BeeJay Anya and what are the chances the Buckeyes land him?
JC: BeeJay Anya is very good and very big (6-8/275). The consensus 5-star recruit continues to list a number of schools every time he is interviewed. Ohio State has consistently been mentioned, but I don't see him winding up in a Buckeye jersey or even putting an OSU hat in front of him at his future press conference in the fall – at least not until I hear him mention visiting campus. Syracuse, Georgetown, UNC and Duke all seem like natural fits, but IU will be in the mix until the very end. Anya has always mentioned the Hoosiers, he is close to and is from the same prep program as Victor Oladipo, he has ties to new IU assistant Kenny Johnson (and announced his intent to visit IU the same day Johnson was hired) and is also tight with newest commit Stanford Robinson. He might sign in November, but don't expect a decision until the fall. Plus, a large segment of college basketball fans (or at least those with Mark Titus' sense of humor) is secretly rooting for BeeJay to join this incoming freshman on IU's front line.
DS: The only way Matta can get close to a commitment from BeeJay Anya is if the Buckeye staff can get him to visit campus. Anya seems to be set on all the major east coast programs mentioned by Jordan above (Syracuse, Georgetown, etc.) and could opt to stay closer to home. Tom Crean has done his best Nick Saban impression by hiring Kenny Johnson as his assistant in efforts to seal the deal with Anya, which may turn out to be a good move. Johnson has strong ties to Anya and could play a major factor in his recruitment (mentioned above). I also do not see Anya picking Ohio State and it seems like the staff is going hard after other big men around the country, specifically with Florida PF Chris Walker, who is rated higher than Anya. Unfortunately, every other school in the nation is going after Walker as well.
When is Mississippi State transfer Rodney Hood deciding?
JC: I am still anxiously awaiting for Tony Parker to decide. His decision is still streaming live. Dave?
DS: Yeah, I guess am not the only one who wasted two hours waiting to see Parker pick a hat.
Rodney Hood is apparently deciding this week between Ohio State and Duke. According to a recent article by Adam Zagoria, Hood really enjoyed his visit to Duke and considers them his favorite. Hood is really good friends with Ohio State's LaQuinton Ross and Ross could be doing everything in his power to get his friend to Columbus. Duke does have less depth on the wing and Hood wouldn't have as much competition for playing time in Durham. It's kind of funny to say that because Ohio State only has ten scholarship players going into the season.
Which Big Ten School is going to have the best 2013 class?
DS: Ohio State is in desperate need of a top class in the conference and the nation. With Amedeo Della Valle being the only incoming freshman, the Buckeyes have plenty of room for 2013 to start locking down the commitments. Ohio State is in the running for several top prospects and already has a consensus top-50 commit in Marc Loving, who could potentially be a McDonald's All-American. I expect the Buckeyes to also lock down at least one top shooting guard prospect and at least one if not two big men. Locking down transfer Rodney Hood, who decides this week, would also count towards the 2013 class and Hood is already the real deal. Michigan and Indiana both have nice classes for 2013, but nothing spectacular and I expect Michigan State and Ohio State to fight for that top class in the conference.
JC: I agree OSU needs to lock up some major talent in 2013 and I expect Matta will put together a class somewhat reminiscent of the 2010 class – albeit with national talent and not much local flavor. I also agree Tom Izzo will haul in some fine players to State, but neither school has landed a verbal to date. Indiana has a solid four-man class and is not finished, while Purdue has a very quality three-man class to date as well. Look out for your friends up in Ann Arbor, as John Beilein currently has the No. 2 class in ESPN's early team rankings. It's way too early pick the top class, but either way, there will be some fantastic freshmen in the Big Ten next winter.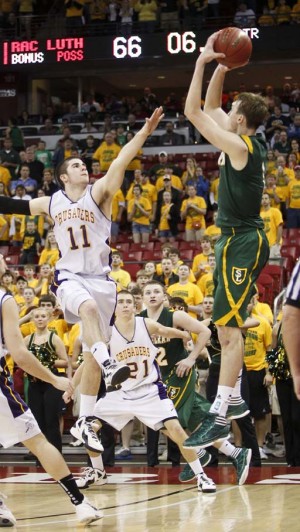 Which incoming freshman do you expect to make the biggest impact and win Big Ten Freshman of the Year honors?
JC: I'm going with Sam Dekker of Wisconsin. I had the privilege of watching Dekker and UNC-bound J.P. Tokoto battle with Michigan State-bound Gary Harris in an AAU event last summer. At the time, Dekker was a 4-star recruit but not considered one of the premier 2012 recruits by any means. Let's just say I wasn't surprised when he vaulted up to 5-star status this year. Dekker is your prototypical Wisconsin player and will have plenty of opportunities to contribute to another top four Big Ten finish for Bo Ryan.
DS: I also think that Dekker could be the most important freshman in the Big Ten because Wisconsin drastically needs to replace Jordan Taylor. However, I am going to go with Michigan State's Gary Harris to take home the Freshman of the Year honors. There was a reason that Indiana, Michigan State, Kentucky and Purdue did everything in their power to land Harris. He could definitely be one of the Big Ten's best players, not just best freshman. I would love to say Amedeo Della Valle could contend for these honors, but unless Della Valle has Jon Diebler-esque attributes, there's no shot.
Is Indiana really going to be the best team in the country or even the Big Ten?
DS: Indiana will be very good, but not the best. The Hoosiers return a nice core of veterans and bring in a very solid 2012 class. Everyone was impressed with their play last season and I believe they rode a nice momentum wave after beating number-one Kentucky. I truely do not think that Indiana has the talent to be considered the top squad and what really differentiates Indiana from those really good Xavier or Butler teams of the recent past. If you look at preseason number-ones of the past few years, does Indiana remotely compare to any of those teams? Is there really not another team that is better this coming season?
JC: IU not only will be very good, but they can be the best as well. Sure, IU doesn't resemble your prototypical modern day No. 1, but it would be ignorant to discount the team because it isn't filled with multiple lottery picks. Cody Zeller is poised for a 1st Team All-American-type season, while the "nice core of veterans" includes senior Christian Watford (possible 2013 NBA draft pick), senior leader and sharpshooting guard Jordan Hulls, junior Victor Oladipo (a sure-fire NBA talent once he adds a jump shot), and junior Will Sheehey (one of the hardest working players and best midrange shooters in the league). Plus, Crean landed one of the nation's better recruiting classes – led by McDonald's All American point guard Yogi Ferrell.
Is there any Big Ten program in bigger need of a splash with the 2013 class than Ohio State? Which teams can't afford a sub-par class?
JC: Without a doubt, Matta must win a few major recruiting battles this year. While the Buckeyes return a lot of talent this season, it had to have been discouraging to see OSU swing and miss on a few major prospects. Even though OSU is a perennial Top 5 team and struck out with each of its top targets, that should not be too big of a deal – as long as it does not happen again. The OSU staff is in on a lot of studs and should land a least one in addition to Marc Loving. It's too early in the recruiting process to say it's a must, but Illinois fans have to hope John Groce can land big talent fast. Keep an eye on first year coach Tim Miles who, if he can sign some quality prep stars, might help us remember that Nebraska is now competing in the Big Ten.
DS: Illinois is pretty bare bones for new head coach John Groce. All Buckeye basketball fans know that Groce is one heck of a recruiter and has strong ties in the Chicago area. I would not be shocked to see Illinois on a lot of top prospects' short lists including #1 overall recruit Jabari Parker's. Illinois must lock down a huge class for 2013. On the other hand, to maintain the success level Buckeye fans are used to, Matta must lock down a solid class for 2013. Ohio State has the room and the leverage to land a bunch of big fish to maintain the program's elite status. Conversely, if Illinois doesn't have a great class, they won't even compete. The Buckeyes have enough young talent to compete for a few years without landing any prospects, but that's not how it usually works.
What do you think about the new recruiting rules? With the new rules, Kelvin Sampson could still be the IU head coach, eh?
JC: I think unlimited phone calls and text messages to recruits who have completed their sophomore years is overall great for recruiting. It also adds an interesting element to recruiting as well. No one wants to be that coach that overdoes it and annoys the heck out of a prospect. Then you have your Caliparis of the coaching ranks who are likely extremely selective in whom they contact and ration their text messages like food on the Oregon Trail. As for Sampson, I don't think you could find a single IU fan who would want Sampson as the head coach today. Any knowledgeable fan would've felt that same way even during the 25-, 21- and 20-loss seasons under Crean. Hey Kelvin, call me maybe?
DS: Breaking the rules is breaking the rules. If the NCAA suddenly allows student athletes to sell their jerseys (could happen soon), Jim Tressel will not be re-hired and instantly welcomed back with open arms by the Ohio State administration. So that is what I think about the Sampson situation. Anyways, the new rule is legitimate in my opinion and coaches and players should be able to be in contact at all times. I can definitely see it getting to a point where certain coaches are seen as annoying and high maintenance. Could you imagine Wisconsin's Bo Ryan leaving you five scratchy-mouthed, annoying voicemails each day, complaining about how you wont come visit Wisconsin? How do you deal with that?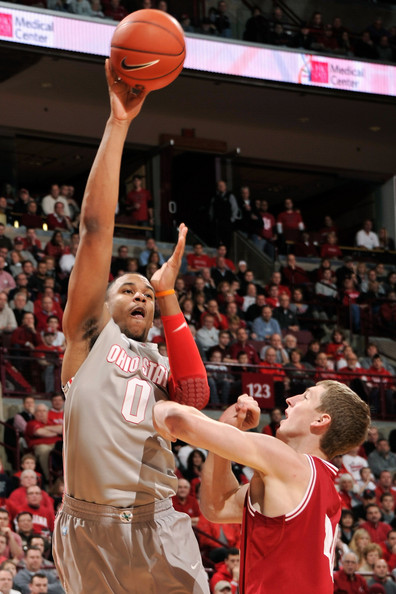 Just for fun: when it's all said and done, who's a better pro: Jared Sullinger or Cody Zeller?
DS: Cody Zeller will probably be a higher draft pick overall than Jared Sullinger, but Zeller will not be nearly as productive in the NBA. If you take a look around the league, there isn't much production value in players similar to Zeller (i.e. Tyler Hansbrough). If anyone can look through the past five drafts and find a player similar to Zeller that has been productive, they will win the grand prize of my respect. I do not think Sullinger or Zeller will be NBA stars, but Sullinger is stronger, polished, and has the potential to be like Elton Brand or even Charles Barkley. In the NBA, Sullinger will be able to play the true four-spot, instead of trying to body-up against centers (which he was still successful doing in college). Zeller will be a center in the NBA and doesn't really have the strength to matchup with most pro big men. Imagine Zeller vs. Dwight Howard. That makes me laugh. Then again, imagine Sullinger vs. Kevin Love..
JC: I'll need to be careful with what I say, in fear that Sullinger will retweet this post and call me a hater. I think he can be a productive player, as long as he avoids all those nagging injuries, but I don't see him as an All-Star-caliber player. I was impressed with his college career, but admittedly grew less fond of him last year. I hope he can handle the inconsistent (FIXED?!?!) officiating. And comparing him to Barkley … that's turrible, you knucklehead. Half-jokes aside, I think Zeller has the greater upside. Zeller exceeded everyone's expectations in his freshman campaign and continues to get better and stronger by the day. "The Big Handsome" is such a skilled, mature and intelligent player, and he should be a quality NBA player as well – whether he leaves in a year or two. Comparing apples to oranges, though, especially considering one was a sophomore and the other a freshman this past year. Clown question, bro.
Thanks again to Jordan Cohen for spending time with Eleven Warriors