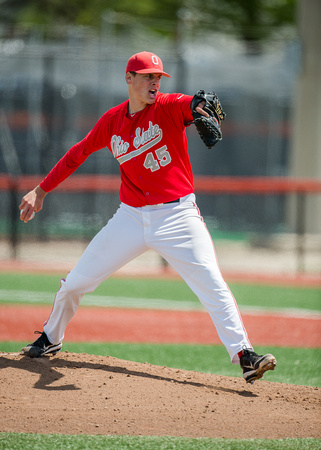 Spring sports have sprung at Ohio State and the season is winding to a close. As it's just a week away from the summer solstice, intercollegiate athletics have finally ended for all OSU athletes upon conclusion of the NCAA Track & Field National Championships this weekend in Des Moines, Iowa.
With Greg Beals' baseball team concluding its season two weeks ago in the Big Ten Tournament in Huntington Park, the track & field Buckeyes were the last ones standing (or running, if you want to be technical). Ohio State's Christina Manning especially made the most of it, winning the 100-meter hurdles national championship. 
But more on that in a few.
Baseball actually isn't over with for every team in the state. The College World Series will be represented by a team from Ohio next week in Omaha, after all, although this one will be a little out of the jurisdiction of Around the Oval. Kent State finished off a surprise upset of Oregon this weekend in the Super Regional with a 3-2 victory to win the best-of-three series. KSU, a 3-seed, joins Cinderella Stony Brook who knocked off perennial power LSU this weekend as a 4-seed. 
As players for eight teams continue to swing the aluminum bats this week, one current Buckeye and two future Buckeyes are pondering their wooden bat futures. 
The annual Major League Baseball draft was held last week in New York, and Ohio State was represented. John Kuchno, OSU's 6-5, 210-pound right-handed starting pitcher, was taken in the 18th round by the Pittsburgh Pirates. A former Wake Forest transfer, Kuchno pitched 17 games this season for Ohio State including 10 starts. He finished with a 4.38 ERA. 
Baseball's newest collective bargaining agreement added a quasi-slotting system to compensate drafted players. Previously, baseball had a recommendation for draft bonuses, although there was nothing binding that required teams to abide by the recommendation. Beginning this season, teams have a cap on how much they can pay in bonuses based on how many draft picks they have and where they're picking. 
With his being taken in the 18th round, Kuchno will have a choice to make.
Most likely, the Pirates will not spend too much to sign their mid-level picks. Surprisingly, arguably the draft's best starting pitcher -- Stanford's Mark Appel -- fell to the Pirates at the seventh-overall pick. Pittsburgh is expected to need to go over slot value to get him signed before the July 16 deadline. That means Kuchno will have a choice of taking at or below slot value now or return to Ohio State and hope to improve his draft position.
Two future Buckeyes will have a similar decision to make. 
Recruits Tyler Hollick (OF, Chandler-Gilbert Community College), and Jacob Post (RHP, Chesterton, Ind.) were taken in the 14th and 29th rounds respectively by the San Francisco Giants and Pirates. Hollick hit .475 in 48 games this season with 61 stolen bases. Although Post will likely wind up at Ohio State, where he won't be eligible for the draft again for three years, Hollick's choice won't be nearly as easy. Like Kuchno, he's in the borderline territory where college isn't always the easy choice. 
Ohio State, on paper, might be favored to win the Big Ten next season. This summer, 18 Buckeyes will play summer ball in leagues across the country.
ohio state fields a champ
The NCAA Track & Field Outdoor National Championship wrapped up this weekend in Des Moines. When it was all said and done, OSU placed five All-Americans including one National Champion.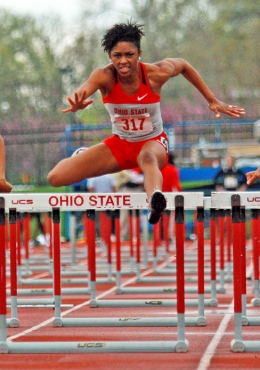 Christina Manning became the second Buckeye in history to win an outdoor title, placing first in the 100-meter hurdles with a time of 12.89 seconds. Manning narrowly escaped a Clemson duo -- Brianna Rollins and Bridgette Owens -- for the victory. 
"I was really ready," she told OSU's athletic website. "I was doing really good starts in warm-ups. I feel like here my start wasn't that great, so instead of panicking I just relaxed because I know that I'm the fastest in between and I knew that I would be able to pick it up."
In addition to Manning's Gold medal in the hurdles, she also finishes her career as an All-American in the 4x100 relay. Ohio State's team of Manning, Christienne Linton, Aisha Cavin and Chesna Sykes placed fifth in Des Moines with a time of 43.88. LSU won the event with a 42.75. The women finished No. 21-overall with 14 team points.
The men were also well-represented.
OSU placed three All-Americans over the weekend. Antonio Blanks a freshman, placed seventh in the 400-meter hurdles on Friday in 50.49 seconds. Blanks, a Dayton native, picked up two points for Ohio State who finished 23rd overall as a team. Stanford's Amaechi Morton won the event in a time of 48.79.
Cory Leslie picked up six points for Ohio State thanks to his third-place finish in the 3000-meter steeplechase. His time (8:40.98) earned the redshirt junior his second All-American honor. 
In the shot put, Matt DeChant saved his best for last. DeChant had a season-best 19.57m throw, which placed him fifth in the finals. Arizona State's Jordan Clark won the shot with a throw of 20.47m. DeChant finishes his career with three All-American honors.
In all, the men finished tied for No. 23 with a total of 12 points. 
shot down in a blaze of glory
Ohio State rifle member Amanda Furrer will be spending some of her summer in London. The junior from Spokane, Wash. qualified this past week for the 2012 Summer Olympics.
Furrer built-up a big lead early in the U.S. Olympic Trials this weekend in Ft. Benning, Ga. before nearly losing the lead late in the second round on Friday. However, an event-best 196 score in the kneeling position secured her spot as an olympian. 
"I went outside and fought back the tears and I talked to my dad and he told me to hang in there and he calmed me down a little bit," Furrer told the USA Shooting website after the event.  "I just decided right there that I was not going to give up and I just was not going to let it end like that."
Furrer was one of three individuals to qualify for the U.S. women's rifle team this weekend.