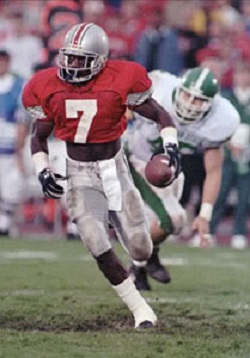 Some players who come to Ohio State as superstars fail to live up to the hype, often due to injury problems. Others simply cannot catch on to the complexity of the playbooks or cannot catch up to the speed of the game at the college level. But there are others who simply will not be denied, persevering through all the difficulties and sometimes even setting a whole new speed for the game. One of those players was wide receiver Joey Galloway.
Joey Galloway grew up in Bellaire OH, a small village in Belmont County on the Ohio River, just across from Wheeling WV. Bellaire is not what you call a "boom town"; it's population has been in decline for the last 90 years and as of 2010 it is less than 5000. More than a quarter of the people who reside there are living in poverty. 
Nevertheless, Galloway caught the eye of college recruiters during his senior season when he caught 32 passes for 608 yards and 8 TD's. He came to Ohio State and made an impact immediately as a freshman, catching 14 passes for 255 yards (18.2 average) and a TD. The one touchdown reception gave OSU fans a taste of what was to come, as Galloway sailed past defenders for a 44-yard reception in a losing cause at Illinois.  
Going into his sophmore campaign, it appeared that Galloway was on the cusp of greatness. In the opening game against Louisville, he took a reverse and sped 50 yards down the field for a TD, once again leaving defenders dazed in his trail. But in game 2, he suffered a setback. Catching a pass down the field and heading for the sideline, Galloway was hit low by a Bowling Green defender and injured his knee. He would miss the rest of the season, and helplessly watched as the team struggled to throw the football down the field without their best deep threat.
A weaker person might have been discouraged and ready to give up the game after this kind of serious injury. But having fought through hard times for much of his life, Galloway was prepared to do whatever it took to succeed at Ohio State. He worked so hard through his rehabilitation that those who observed him said he was now faster than he had ever been. In 1993, Joey Galloway was completely recovered from his knee surgery and ready to jump into the college football spotlight in a big way.
In the opener against Rice, Galloway showed that he was all the way back by hauling in a 48-yard bomb from Bret Powers to help the Buckeyes defeat the Owls 34-7. But things would get a lot tougher in week 2 as the #12 ranked Washington Huskies came to town. Washington had gone undefeated in 1991 and finished #2 in the national polls. In 1992, they won the Pac-10 again but lost to Michigan in the Rose Bowl to finish 9-3 on the season and ranked #11. Just prior to the 1993 season, long-time coach Don James, who had been a candidate to succeed Woody Hayes back in 1979, had resigned.
Still, Washington was a formidable squad and this would be the first test of the young season for OSU's new system of scripting plays and the quarterback platoon of Powers and Bobby Hoying. Starting with the football, OSU began with a pass as Hoying hit Galloway down the middle for 18 yards. Moving down the field methodically, Hoying hit Galloway again from the UW 35 and he carried it down to the 15. Raymont Harris scored 3 plays later to put OSU up 7-0. The Huskies were forced to punt on their first possession, but Galloway fumbled the punt away and set UW up for a field goal.  
The two teams traded possessions for a while, but then the junior receiver had a chance to make amends for his fumble. On 4th and 2 from the Washington 35, OSU coach John Cooper decided to go for it and he called a pass play. Rolling to his right, Hoying hit Galloway on a drag route for a first down at the 25. But Galloway was not done; he turned upfield and broke a tackle, then outraced the remaining Washington defenders all the way to the end zone. The TD put the Buckeyes up 14-3 and they cruised from there to a 21-12 victory. The game was played at night and televised nationally, which alerted the entire college football world that a talented speedster was tearing it up at Ohio State.
After easy victories over Pitt and Northwestern, the Buckeyes pulled out a nervous 20-12 win at Illinois. Going home to face Michigan State for homecoming, Ohio State was now ranked #5. The 3-1 Spartans were #25 and they brought their high-flying passing game to a rainy Ohio Stadium with a vengeance. MSU QB Jim Miller took advantage of the slipping OSU defenders on his way to 360 yards passing, but on the other side was a weapon that they could not deal with.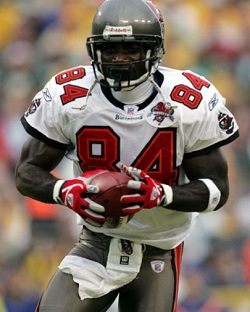 Joey Galloway had his best day as a Buckeye against Michigan State, hauling in 9 passes for 186 yards and 3 TD's. On the last TD, Bret Powers hit him in stride and he out-raced the Spartan defenders for a 64-yard bomb, the longest play from scrimmage that season. The nationally televised game further cemented Galloway's reputation and moved OSU up to #3 in the rankings.
The Buckeyes would go on to collect easy wins against Purdue and Penn State (!!!) but a showdown with #15 Wisconsin in Madison loomed in week 9. The Badgers had defeated OSU the previous season and in one of those conference scheduling quirks Ohio State would have to play at their place for the 2nd year in a row. 
The game degenerated into a defensive struggle until late in the 4th quarter when Wisconsin, leading 14-7, pinned OSU at their own 1-yard line with only 4:34 left in the game. Hoying had been ineffective, and so Cooper inserted Powers, and he promptly moved the ball down the field. First he hit Galloway for 15 yards to the sideline, then he went deep to Galloway for 47 yards down the left side of the field. After throwing to tight end Cedric Saunders for 11 yards, Powers connected with Galloway again to the end zone to tie the score at 14. Marlon Kerner would block a Wisky field goal attempt to preserve the tie, and OSU walked out of Madison still undefeated.
Of course, the undefeated season came to an end with a resounding thud as the Buckeyes fell 28-0 at Michigan two weeks later, but Galloway had played brilliantly coming off a serious injury the previous year. He would finish the season with 47 catches for 946 yards and 11 TD's, plus he ran for 58 yards and 2 TD's on 9 carries. He would come back for his senior season, but a 2-game suspension for taking money from an agent would limit his production. Still, he finished that year with 44 catches for 669 yards and 7 TD's. 
Galloway was drafted 8th overall in the first round of the NFL draft by the Seattle Seahawks, and he played there for 5 seasons. He signed with the Dallas Cowboys the next season, but he tore his ACL in the first game and once again had to sit out a year and rehab. Proving his mettle once again, he returned and played for 10 more years, with his best season coming with Tampa Bay at the age of 33. Overall, Galloway played in the NFL for 16 seasons, hauling in 701 receptions for 10,950 yards and 77 TD's.  He also rushed for 496 yards on 63 carries with 1 TD. Galloway is proof that talent plus hard work and perseverence can prevail over difficult circumstances.