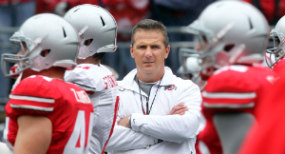 Our Dear Captain Meyer released his first ever two-deep depth chart yesterday and the results were frankly a bit... boring.
As Jason discussed yesterday, there were very few surprises or noteworthy changes, save for Adam Griffin cracking the two-deep at corner (and even that wasn't too surprising after seeing practices and the spring game) and Doran Grant pushing Howard Island for a starting corner spot.
While it's nice that Urban's depth charts are typically more meaningful than Tressel's were - i.e. maybe we won't have A and Bs littering the chart all season - it's uncertain whether we actually picked up anything new from yesterday's release.
In the past, Meyer has said that the depth chart is pretty much set by spring so that players and staff can use all of fall camp to prepare for games rather than win battles. Meyer has said that  "Our focus in August — and this has just evolved for me over the years — isn't developing a depth chart. It's trying to go win a game."
What about any guys left off the two deep - could they rise up in the fall? Not likely, according to Urban - "No, I would have put him on there." Sorry, Bri'onte fans.
However, while Meyer has eschewed the Tresselian practice of listing As and Bs, he still got away with listing costarters with a "/". Further, he reminded us (as if we needed it) that some incoming freshman will compete right away. He's looking at you, Noah.
I'd like to take a shot prognosticating the future depth chart that includes all new freshman at the end of fall camp. There are several positions - OL, DL, LBs, and WRs in particular - that are still shaky.
Yet as we'll see, change and uncertainty isn't always a bad thing. I'll proceed by walking through the positions, grouped by how uncertain the lineup is, then give my prediction for the fall camp depth chart. 
Mostly set in Stone: Running back, Quarterback, and center
Running back, and fullback to an even greater extent, are two of the most solid positions on the team.
The division between big backs - Hyde, Smith, Dunn - and shiftier types - Hall and the incoming Ball - is pretty clear. Meyer and Drayton's real issue won't be changing the depth chart, but in distributing carries this fall.
However, this is one position where I doubt the depth chart will fully reflect the actual number of carries for each back. Who would be surprised to see Hyde lead the season in carries, with maybe Smith or Dunn behind him?
As for fullback, who else was excited to hear about a 12 pound lighter Zach Boren running up the gut this fall? Meyer likely won't be recruiting fullbacks separate from tightends, so it's likely Boren will look like a hybrid running back/h-back/tight end this year.
Prediction: 1: Hall 2: Hyde 3: Smith 4: Dunn 5/Redshirt: Ball 
Linsley, as Meyer's number one spring surprise, came into spring practice as a "journeyman" and immediately put a stranglehold on the starting spot. While some of us (like myself) thought that Bobek would be the undisputed backup if not starter, he didn't even crack the two deep after transfer rumors began to circulate in the spring.
Prediction: Linsley, J. Boren
Quarterback is probably the least likely to change out of all position groups. There's a clear division between Brax and Kenny G at the top and Cardale Jones down below.
That much is evident from the fact that he didn't even receive a single snap during the spring game. Cardale is probably still fuming about that one. Yet don't discount his future potential - if anyone can develop quarterbacks, it's Meyer and Herman.
Prediction: Braxton, Guiton, Jones (Unchanged) 
Expect Some Small Changes: Corner, Safety, Tight end
Corner was really the only position on the depth chart with any real surprises. Doran Grant is a real stud who is pushing Travis Howard for the starting spot due to his exceptional man coverage, ball skills, and jamming abilities. If Doran doesn't win the job outright from Howard, I expect him to come close or eclipse him in actual playing time. The hype train is rolling, but please, DO NOT start making "Doran Island" shirts.
It's also likely that there will be some changes at backup corner - look for Armani Reeves to challenge Adam Griffin to backup Roby (no shirts for him either, please). 
Prediction: 1: Roby and Howard 2: Grant and Reeves 
Safety is pretty set at the top two spots, especially with Corey Brown coming on strong this spring after seemingly always being injured.
I am excited to see incoming freshman Devan Bogard at STAR - he should immediately be in the two-deep there even if STAR doesn't get an official spot on the depth chart under Meyer.
Prediction: 1: Bryant and Barnett 2: Johnson and Brown STAR: Bryant/Bogard
Stoneburner is the obvious number one at tightend, but Vannett and Heuerman received a dreaded dual-listing for the second spot. Heuerman was an early enrollee last year, and that gave him the leg up for much of the year (not to mention the time to bulk up), but now it seems as though Vannett's receiving skills are putting him back in the discussion.
Prediction: 1: Stoneburner 2: Heuerman/Vannett (both will play significantly) 
Uncertain Depth: Offensive Line, Linebackers, Wide Receiver
One of Meyer's pleasant surprises was Decker's ability to make the offensive line "functional" this spring, as he is in a "dogfight for that position" with Fragel. Let's just remember that this kid was not recruited by Bollman.
The other backups - Brown and Underwood - are shakier. The good news is that we have two four star guys in Dodson (whom Meyer called intriguing because of depth concerns) and Joey O'Conner coming for the fall who I expect to immediately take backup spots - likely Underwood, Tommy Brown, or Baldwin's spots.
Prediction: 1: Mewhort, Norwell, Linsley, Hall, Fragel 2: Dodson, O'Conner, Boren, Dodson/O'Conner, Decker 
A linebacking unit that underperformed throughout the 2011 season is looking much more promising at the top, due to an experienced Sabino and Ryan Damn Shazier anchoring the top of the chart.
However, while there certainly will be depth due to the huge 2012 class, the chart will likely be in flux. The Bullets finally have a healthy Crowell, with early enrollee Luke Roberts and Josh Perry too.
However, Urban revealed that incoming David Perkins, Camren Williams, and Jamal Marcus could see time and compete during the fall. All three of these guys have elite lateral quickness and ~4.5 forty times.
Remember when militaries transitioned from higher caliber assault rifle rounds to smaller caliber ones that can be shot at a higher velocity? Look at these young Silver Bullets. The metaphor almost writes itself.
Prediction: 1: Shazier, Grant, Sabino 2: Williams/Perkins, Klein, Perry/Marcus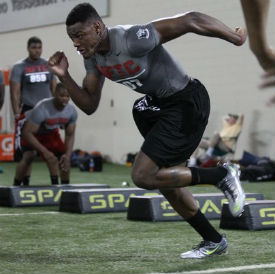 Wide receiver is interesting in that Meyer calls them "not yet functional" and one of "the most unprepared groups" he's dealt with, but there's immense, unproven talent there. The current two-deep likely won't change very much in the fall with just Riquan Southward and Frank Epitropolous coming in, but it remains to be seen if any of them can you know, actually catch.
Some thought that Mike Thomas would already be a starter, but apparently Evan Spencer's limited time this spring was enough for Coach Smith to give him the green light. It'll also be interesting to see how Verlon Reed comes back from injury.
Finally, don't sleep on Frank - I'm not saying he'll start from day one, but I look for him to be a pleasant surprise sometime in the future. 
Prediction: 1: Smith, Spencer, Brown 2: Thomas (first in on 4-receiver sets), Reed, Fields 
Constantly in Flux, Consistently Elite
The strangest thing for me is that Bennett, Meyer's biggest surprise on defense, isn't actually a starter on the defensive line (though he is the official "5th man"). While Meyer says he is "listed as a backup, but it's hard for me to say he's not one of 4 best" I think it's only a matter of time before this becomes formalized.
The catalyst for this is whether the Bullets find a true rush end. Williams, who Fick thinks could be their top lineman (Simon disagrees), is currently working out in a pool and looks set to return in the fall.
There's a large range of opinions in the fan base about whether Nate will be able to really come back. Personally I can see him racking up sacks, but nonetheless splitting time with a freshman like Noah Spence. It's also likely that Adolphus Washington sees the field this fall as part of a rotation that goes about nine deep.
If Fick and Vrabel find their rush end in Williams or Spence, I see Bellamy and Goebel rotating as the fifth and sixth men instead. The DL situation is so fluid and the depth so good that the exact depth chart isn't all that important - the second and even third strings would start for most programs.
Welcome to the beginnings of an SEC caliber line.
Prediction: 1: Simon, Hankins, Bennett, Williams/Spence (Goebel/Bellamy as 5/6 men), 2: Miller, Schutt, Goebel, Washington/Spence/Williams, 3: Moore, Carter, Hale, Farris/Hayes.