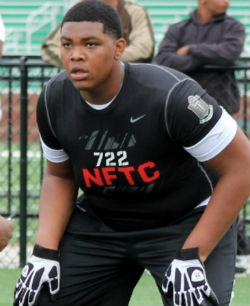 Although it's a bit strange to be talking about so many 2014 prospects when the recruiting class of 2013 isn't even close to being wrapped up yet, it's important to inform you all of who the next high school football stars are, as the college football recruiting world is trending towards things happening earlier each and every year.
One of the players already regarded as one of the best in the nation in the current sophomore class is Orlando Brown Jr., a 6-9/360 offensive lineman who currently plays at Peachtree Ridge High School in Suwanee, Georgia. If that school sounds familiar to you, it should, as that is the program that has produced Buckeye stand outs Cameron Heyward and Bradley Roby, which could come as a bit of advantage when it comes to the Buckeyes' recruitment of the mammoth lineman.
Brown Jr., the son of the late Orlando Brown, already has about 25 offers to his name. The Buckeyes are one of the programs that have stepped up to the plate for his services, with the others including Alabama, Auburn, Clemson, Georgia, Miami, Michigan, Notre Dame, Oregon, USC, and many other big time programs.
We got the chance to catch up with Orlando to hear the latest on his recruitment, what his thoughts are regarding Ohio State, what visits he has planned this summer, and more. Join us after the jump to hear about one of the biggest (in multiple meanings of the word) prospects in the class of 2014, Orlando Brown Jr.
How is recruiting going for you so far?
Recruiting is going pretty well for me, even though it's early in the process. I already have somewhere between 22-25 offers and they are from big time programs so I'm really happy about that.
It seems almost every big time school has offered you. Are there any schools that haven't offered yet that you'd like to get an offer from?
The two at the top of my head that I'd like to get an offer from are Penn State and LSU.
Ohio State was one of the latest schools to give you an offer. How did that go down?
I found out through my coach actually. Coach Withers was the one who offered through my coach. I haven't spoken to the coaches yet, but I definitely plan on doing so very soon and I also want to get up there to visit the school and go to one of their camps.
What are your thoughts and feelings about Ohio State?
They have a very good program. Cameron Heyward and Bradley Roby both went to my high school and had success there. It is a very good school overall and they have produced some good offensive linemen there---Mike Adams recently and Orlando Pace a few years back.
You mention Bradley Roby and Cam Heyward. Have you ever met either of them?
I haven't met Roby yet, but hope to in the near future. I have actually met Cam Heyward once before and would love to get the chance to talk to him again.
When do you think you'll make it to OSU for a visit?
I am planning on going to one of their camps in June. I'm not sure which one just yet, but I will definitely get up there to go to camp and see what the school/campus has to offer.
Living in Georgia now, what are your thoughts of heading out of the south to play your college football?
I am really open to going anywhere in the United States. Any Division I program that wants me to play for them, I am willing to give them a look. I am going to go to the school that has the best things to offer me. People think because I play in the south that I'd want to go to an SEC school, but that's not necessarily true. The Big 10 has some great programs that have produced some great offensive lineman. The Big 12 and Pac 12 do also, so I am really going to look at schools in all conferences and in all areas of the country.
I know you live in Georgia now, but you have also lived in Maryland and Ohio. What ties do you have to the state of Ohio?
Well a lot of my family is from Ohio. My youngest brother was born in Cleveland, my mom is from Cleveland, my cousins live in the Cleveland area, and one of them even goes to Ohio University. My mom grew up as a huge Buckeye fan and my whole family loves Ohio State.
What visits have you taken so far and what other visits do you have planned for this summer besides Ohio State?
I have been to Auburn and Maryland thus far. I am planning to see Ohio State, Michigan, Wisconsin, Miami, Auburn, South Carolina, Alabama, Florida, Clemson, and a bunch of other schools at some point this summer.
Are any schools standing out to you at this point? When do you want to make your college decision?
No schools stand out at this point, as I have a lot of visits to take and it's still early. I would like to make a decision going into my senior season, or at latest maybe right after my senior season.
What are your team and individual goals for this coming season?
For my team, I want to win a state championship. Personally, I want to put together a great year so that I can both help my team and be able to put together a really good film to send to all of the colleges recruiting me.
What are your strengths on the field? What are some things you want to work on improving?
I would say my strengths are my aggressiveness and ability to use my size. I really want to work on and improve my pass protection.
What does Orlando Brown Jr. like to do when he's not on the football field?
If I'm not playing football I'm usually working out. Whether it be lifting weights or running and working on my athleticism, I'm just working hard every day to be the best there is. In addition to football, I also wrestled as a freshman and worked out with the track team throwing shot put and discus this year as a sophomore.