Three days after one of the stranger decommitments we'll ever encounter, the father of star linebacker recruit Alex Anzalone has softened his stance.
Shortly after a photo of convicted sex offender Charles Eric Waugh posing with Anzalone and two other recruits surfaced, the Ohio State commit announced his change of heart, going so far as to say he was no longer even considering the Buckeyes.
The recruit's father, Dr. Sal Anzalone, took things even further, saying that there was a disconnect between what Alex thought of Ohio State and what was actually there and that "Something's just not right at Ohio State."
Late Friday night, Ohio State athletics released a statement, highlighting the email sent to over 1,000 Ohio State student-athletes once the department was made aware of Waugh's past and his involvement with prospective student-athletes. The statement also went to lengths to clarify Waugh's non-involvement with Ohio State, saying, "This individual is not associated with Ohio State. He is not a booster. He has not engaged in any activities on behalf of the University."
Around the same time Ohio State was issuing a statement, Urban Meyer was on the phone with Dr. Anzalone, presumably clearing up any misconceptions related to the incident. A couple of hours later, ESPN caught up with Dr. Anzalone and he indicated the Buckeyes were still in play for his son, saying, "It's a possibility. Things change. You can't hold them responsible for other people's behavior."
Yesterday, the Reading Eagle, the same paper that carried Dr. Anzalone's original comments on the decommitment, allowed him to clarify:
"I want people to understand, I have no beef with Ohio State, at all," Sal Anzalone said. "My issue is not with Ohio State: It's a great institution, they have a phenomenal president, Urban Meyer is nothing but a class act to me.

"There's nothing wrong with Ohio State; it's a great institution. When I said there was something wrong with Ohio State, I was talking about the visit - there was something wrong with the visit, not with Ohio State."

Sal Anzalone said that Meyer called Friday evening, but did not wish to provide any details about that conversation.

"We can't implicate Ohio State for what happened (during that visit)," Sal Anzalone said. "That's wrong. That had nothing to do with the university itself. I don't hold them accountable; they're not responsible for what fans do; it's not their fault."

After saying Friday that Alex would no longer consider attending Ohio State, Sal Anzalone said the Buckeyes are back in the picture, but that his son - an All-State linebacker and one of the top recruits in the nation - needs time to reassess the situation.

"With all the craziness, we want to slow down the process, calm it down a little bit," Sal Anzalone said. "There's no reason we wouldn't consider the Buckeyes. We love Ohio State. The academic opportunities there are tremendous."
Look, I completely understand Dr. Anzalone's anger. If I saw a photo of my son hanging out with a convicted sex offender, I'd be steamed as well. Sometimes, when we're angry, we allow the heat of the moment to influence what we say and I think we saw a case of that with his Friday afternoon comments.
I'm happy he was able to discuss things further with Meyer and come to the realization that this isn't an Ohio State problem, per se, but a problem with society that's only compounded by social media tools like Twitter that help blur the lines between fans and players or recruits. Alex is an amazing prospect and I'd welcome him to Ohio State in a heartbeat if he does choose to become a Buckeye in the end.
As for Ohio State, I can't say enough about how well they handled this situation. As soon as they were notified of Waugh's background and his involvement with recruits on Twitter, they were proactive in communicating the danger to all current student-athletes. They moved quickly and handled things in the right manner and issuing a statement was the correct play here.
If only every media outlet handled things as responsibly as Ohio State did...1
BUZZ KILLINGTON. Buzz Bissinger, author of Friday Night Lights, earns this week's award for most-provocative column title with Why College Football Should Be Banned.
The piece, published in Friday's Wall Street Journal2, trots out the typical argument about how football has nothing to do with academics, but the crux of his argument is that football players are exploited and universities often have to prop up football programs, often relaying the costs to students.
While I agree that big time college football players are exploited and should probably be compensated beyond the free education, I do have to take issue with his financials angle. Bissinger states that "43% of the 120 schools in the Football Bowl Subdivision lost money on their programs." That sounds scary enough, but it's simply not true.
What Buzz likely meant to say was that 43% of the 120 FBS schools lost money as an athletic department. Take the University of Idaho. Despite having some of the worst facilities in FBS and pitiful home attendance, the Vandals actually make $3 million a year off of football, while losing money in every other sport. And then there's Eastern Michigan. One of the lousiest FBS programs around, the Eagles rake in over a million dollars annually thanks to their football program.
Buzz, we liked you better when you were spitting all over Will Leitch for being vulgar, only to follow it up by descending into a hot mess on Twitter, coining words like "Douchejuice".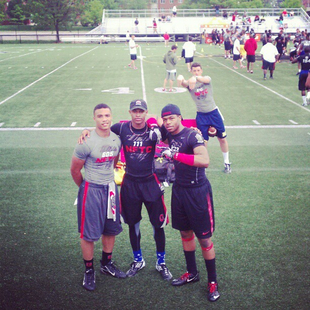 SHANE MORRIS IS FEELING IT. Chris already covered the highlights of Saturday's Nike Football Training Camp, including the recruiting efforts of future Buckeye Jalin Marshall, but all anyone wants to talk about is future Wolverine Shane Morris photobombing Marshall and Cam Burrows.
While some might consider the move disrespectful, I have no problem with it. Young men -- especially young men heading to mortal enemies -- are going to talk and try to get the better of each other and you have to tip your cap to Morris for pulling this off.
I understand you may not agree with me, but I believe the rivalry is best when both teams are confident and playing good football. If Sam McGuffie had tried this stunt during the Rodriguez era, he likely would have pulled a hamstring.
DEY TOOK URR JERZEES. Kentucky coach John Calipari recently sent a UK basketball jersey to President Obama and then posted a video about it on his website.
You can probably guess what happened next:
Within hours, he got messages on his Facebook page that were so spiteful that he took the posting down, and replaced it with this message: "Folks — I think everyone is missing my intention of sending a jersey to the President. There was NOTHING political about it — it was simply a way of spreading the word of Big Blue Nation into the White House! I apologize if I offended anyone — that was not my intention. I know politics and sports don't mix, but a friend offered to give [Calipari's recently released book] Bounce Back to the President and we figured we could send along a jersey as well."
Look, we all know this site has a strict ban on political talk, and I hope you don't take this opportunity to leave a comment about how great/terrible Obama is (seriously, don't), but I think when you've just won a national championship and have a chance to send a jersey to the President of the United States, you ship that thing. I don't care if the President is a Democrat, Republican, Whig, Communist or whatever, if you have a chance to get your team's jersey into the White House, you take advantage of it.
BIG THINGS. We have identified four finalists for our beat writer position and are now in the process of interviewing said finalists. I want to take this opportunity to, once again, thank everyone that donated. We were blown away by the quality of resumes we received for this position and know that whoever we pick will be a tremendous addition to this site.
I'm also excited to announce the addition of Walt Keys. Walt is responsible for many of the great designs in our t-shirt shop and will be joining as our Art Director, where he'll continue to help us crank out amazing shirts, tweak the site design and work on promotional materials and logos. Welcome, Walt!
ETC: I've been looking at this ring for 20 minutes and I still can't find the Swoosh... An interactive map of every championship in the history of MLB, the NBA, the NHL and the NFL... The "Dixie Dangler" gets hit with a lawsuit... After two months of interior work, Studio 35 is open again and it looks great... Did Ike kill men's hats? The possibilities are endless with your own Pip-Boy... Can never have enough GIFs of Joff getting slapped... And I'll just leave this here:
1 To the credit of media and fans everywhere else, we were spared a lot of HURR-DURR, BUCKEYES. This wasn't an Ohio State thing and most seemed to realize that.
2 Why yes, New York, we love it when you weigh in to tell us what to do with a sport you clearly care nothing about.