Pip pip, good people. Perhaps you're enjoying a bowl of your cereal of choice while reading this. Or, if your breakfast preferences are like mine, oatmeal. Or maybe you're eating lunch1. I don't know your schedule. 
I mean, some readers could still be up from the night before, watching the Justified season finale on a loop, paying particular attention to the super-entertaining climax of the episode. Though I will not spoil it for anyone, as far as I'm concerned, that scene is a highlight of the 2012 TV season. 
Moving on to sports, if you want to depress yourself, just head on over to this site that reminds us all that we still have over four months until the start of college football season.  
On the other hand, we're only ten days away from the Spring Game, which allows us to take a hit of that seductive gridiron drug.
Yesterday, coaches and players from each B1G team in the Legends Division spoke to the media. Because many people still can't keep track of who belongs where, I consulted an online mnemonic generator that came up with an easy-to-remember phrase for this group, which consists of Iowa, Michigan, Michigan State, Minnesota, Nebraska, and Northwestern: Invisible Mighty Museums Make New Nights.
Today, the Leaders side, also known as Inexperienced Innocent Ones Purge Poor Windows, follows suit. Joining Urban Meyer on the teleconference will be John Simon's future co-captain, Zach Boren. I'm sure the reporters' questions will all be about the new high-definition scoreboard and sound system for the Horseshoe. 
 227 DAYS2.  In their teleconference, Michigan's Brady Hoke and Jordan Kovacs were asked to address Urban Meyer and what his hiring could mean for The Game. Kovacs believes that "it's going to be great for the rivalry...Two of the best coaches in the nation are coaching these two programs, and obviously they're recruiting better than anybody in the nation right now."
He's at least correct on that last part, with each program landing a four-star recruit last night. Ohio State welcomed tight end Marcus Baugh to its 2013 class, and Michigan added linebacker Ben Gedeon. 
Kovacs also admitted that he was not permitted to say "Ohio State", though he did not reveal how he would be disciplined if he were to commit such a sin. I would think that attending U of M, wearing Maize and Blue, and having to look at Brady Hoke every day is punishment enough. 
Speaking of the man who totally understands the rivalry because he refuses to utter the entirety of the other school's name, Hoke discussed it as well:
"As far as I know, it's never been about the coaches. It's always been about those two schools and that rivalry and the intensity of that whole week when you get ready to play each other. What a great game and a fun game it is to play in and coach in."
I hope he has fun getting haunted by the ghosts of Woody Hayes and Bo Schembechler. 
However, the Buckeyes are not the only opponents on their mind. The Wolverines open the season against reigning national champions Alabama, who is currently a two-touchdown favorite. Kovacs thinks that game will "be a true test for where we're at in Week 1", but it's not an immediate concern for Hoke, who is focused on improving his offensive and defensive lines.
BUMP IT. When Michigan faces Bama and Ohio State, they will be taking on the top two coaches in college football, at least according to Athlon Sports. Even though these type of lists matter only to fans who need something, anything to debate during the offseason, it can be interesting to find out how different publications rate the guys in charge. 
While Meyer is the lone Big Ten coach residing in the top 10, Hoke (12th), Mark Dantonio (13th), Pat Fitzgerald (18th), and Bret Bielema (24th) are in the top 25. For what it's worth, Dantonio is 8-4 versus those other three. 
After Wisconsin's practice, Bielema responded to that The Sporting News article mentioned in yesterday's Skull Session, which accused Meyer and his staff of untoward recruiting tactics such as "bumpings". The newlywed3, who has previously launched complaints against Meyer, revealed that it was closer to the truth than anything else recorded on the topic.
Still, Bielema provided what was surely his most profound thought ever, saying, "Not to slight [the media] but a lot of time what's being written isn't exactly what's reality."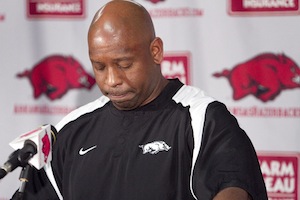 LONG AS I CAN SEE THE LIGHT. Athlon will need to update that list, which included Bobby Petrino at #8 because as of last night, he has been fired. Arkansas athletic director Jeff Long held a press conference in which he maintained that Petrino "abused his authority."4
Overlooking how he helped turn Arkansas back into a winning program, Long was more concerned with the former coach's lies and asserted, "I have responsibility to put that aside and do what's best for the university." Petrino misled the administration about his relationship with Jessica Dorrell, a 25-year-old he was having an affair with and then hired as a student-athlete development coordinator, a position applied for by 159 people. He also gave her $20K in cash.
Taver Johnson is the interim head coach right now, but other names have been brought up as potential replacements, including Arkansas State coach Gus Malzahn, UAB's Garrick McGee, Butch Davis, and Skip Holtz.
Meanwhile, Fox Sports Ohio's Zac Johnson tackled the Ohio State connections to this scandal. Angels of Coaching Death Johnson and new Razorback DC Paul Haynes were assistants under Tressel and then dealt with the fallout of his departure last year with the Buckeyes before jumping to Petrino's staff in the offseason. And just as Dick Tressel remained on the OSU sideline until Meyer was hired, Bobby's brother Paul is still the offensive coordinator for Arkansas. 
I guess that 2011 Sugar Bowl that only exists in our memories and the occasional airing on BTN brought a pox on both teams. 
BROTHER CHRISTIAN OH THE TIME HAS COME. The Dispatch's Tim May wrote a piece about safety Christian Bryant and how he's adjusted to the regime change:
"I bought into it as soon as they got here," Bryant said. "I feel like things have changed in a good way. It's real positive around here. The new coaching staff and new strength staff, they came in here real positive and just wanting us to work hard, and that's what we're doing."
Since Meyer wants his two-deep set after spring practices are over, Bryant is trying to use this time to keep his starting spot. If he can stay healthy, the junior-to-be will see the field plenty because as his position coach Everett Withers put it, Bryant possess "a lot of playmaking ability, a lot of instinctive ability. What you see is a guy who is physical, who likes being around the ball."
Last season, he was third on the team in tackles, with fellow safety C.J. Barnett leading the way. However, Bryant has yet to snag an interception or force a fumble in his OSU career, and from what we've heard of the new staff, they'll demand that he starts collecting turnovers. 
AROUND THE ROUND BALL. Although Jordan Sibert may or may not be transferring to Dayton but will most likely be leaving the Ohio State basketball team, we know for sure that Deshaun Thomas will be returning. The Buckeyes are also in the hunt for Rodney Hood, who is looking for a new school after completing his freshman season at Mississippi State. The 6'8" guard averaged 10.3 points and 4.8 rebounds.
Now that Trey Burke is returning to Michigan and Cody Zeller and Christian Watford announced that they're staying at Indiana, next year's Big Ten hoops forecast is slightly less murky. The conference should once again be tough, but as Doug Lesmerises points out, Thomas, Burke, Zeller, and Penn State's Tim Frazier are the only four players coming back who were named to the first or second All-Big Ten teams. 
It's possible Thad Matta will only have 10 guys on scholarship next season, though Lesemerises acknowledges that probably won't be a problem because "fewer players means fewer issues with guys unhappy with a lack of playing time."
BTN's Brent Yarina went as far as to predict the 2012-13 B1G standings. Like most, he projects Indiana and their 14-member roster as the team to beat, with Michigan at #2 and Ohio State as #3.
CLICK-FIL-A. Current and former Buckeye wrestlers will compete in the U.S. Olympic Team Wrestling Trials... Minnesota pays tribute to Gary Tinsley... At least he wasn't chanting "SEC!"... Howard Schnellenberger, presidential photographer... Alabama Shakes' debut album is out, so get on that already... Regional words to add to your lexicon... The Simpsons location revealed... Sarah Cynthia Sylvia Stout must live here. 
1 If you are eating while reading this, just remember that keyboards and phones have a lot of germs and you should clean them regularly. 
2227, the show that earned Jackée an Emmy. Keep in mind, no one from the cast of Mad Men has won an Emmy, though I think Elisabeth Moss should for this alone. 
3Ew.
4 A man in the public eye cheats on his wife with a younger woman and it's about power? Whaaaaa?