Good morning Buckeye faithful and welcome to your Sunday Skull Session. We hope it has been a great weekend.
This is my first story and before I begin, I'd like to say a few words about my site-recruitment.
The recruitment process was a difficult one and I would like to thank the thirty-some odd sites that extended offers to me. I was able to take all my official visits and build some good relationships with a ton of good people. Many of them had great things to say, but only one had the best opportunity for me.
11W is the best fit and it was exciting to hear from the staff that I could work my way into the editorial calendar like Percy Harvin. That really sold me right then and there. Many sites offered a chance to write right away, but 11W let me know that if I wanted to win championships, it was the place that I should commit.
I will do my best to live up to my recruit rankings (obviously a four-star on Rivals, five-star on Scout and a two-star on ESPN, figures) and help bring a national title to the site.
Now back to reality and on to the important stuff:
We are officially a week removed from the 2012 Spring Game and boy, what a week it was.
 #GRAYBOX AFTER #GRAYBOX Monday was quite a day for Urban and his staff racking in commitments from potentially the top defender left on their board in Florida DE Joey Bosa. Bosa is a sure-fire 5-star and chose OSU over Alabama, Florida, and Michigan, although he never had any visible interest in Ann Arbor. Alex likes to compare him to J.J. Watt, former Wisconsin DE and Houston Texan. I like to say Bosa is as good as current J.J. Watt if you put them on the field together, today. That's how good we think he is. 
Just seconds after we posted the gray box for Bosa, North Carolina DE/LB Lewis Neal made his commitment and a second gray box was posted instantaneously, leaving a lot of readers flustered and wondering if the site was malfunctioning. Yeah, malfunctioning up something sweet that has taken some getting used to. Don't blink because another gray box is sure to be up soon.
Before the epic double gray boxes were posted on Monday, PA LB Alex Anzalone committed on Saturday. And yes, his commitment was influenced by 11W member, THEBADOWL, shouting his name at the Spring Game from the stands (check the first comment within the link).
Unfortunately, TE Mike Heuerman, little brother of current Buckeye TE Jeff Heuerman, chose Notre Dame this week after spending the weekend at the OSU Spring Game. He was often considered to be the third bash brother along with Bosa and Anzalone but opted to not follow his brother's (and the bash brothers) footsteps. Best of luck to Heuerman in the Brian Kelly system (parental advisory).
THE RESULTS ARE IN. S.E.C., S.E.C., S.E.C.! I was surprised we didn't hear the chants roaring from the Radio City stands everytime an SEC player was drafted in the first round on Thursday night. It almost seemed that the ESPN broadcasters were trying to egg on fans by dropping SEC and Saban-bombs every few seconds. If I had a penny for every time Mel Kiper, Chris Berman or Jon Gruden let the audience know that "Nick Saban is such a great recruiter and really gets his players to the NFL", well, I would have about fifty cents. Alabama should definitely have those clips or sound bites on repeat when recruits come in for a visit.
In reality, Alabama had four first round draft picks.  So all the Saban praise is most definitely warranted. The SEC had eight first round picks, which by first grade (SEC college level) division calculates to 25% of the first round.  Heck, I'm happy that Dre Kirkpatrick is a Bengal, as long as he stays trouble-free. I even had my most clever tweet yet (really my ONLY clever tweet, ever) after the pick: here. SEC players are the most desirable for obvious reasons.
The Big Ten managed four first rounders but the first one did not come until Iowa's Riley Reiff was drafted 23rd overall and we were not graced with a Buckeye announcement until Mike Adams went to the Steelers in round 2. Other Buckeyes were drafted later with DeVier Posey going in round 3 to the Texans, Boom Herron to the Bengals in round 6 and former walk-on and special teams phenom Nate Ebner to the Patriots in round 6.
Unfortunately, Mike Brewster returning to school for his senior season proved to be costly. Brewster was projected to be an early round pick in the 2011 draft and will have to settle on being a free agent pickup by the Jaguars along with Andrew Sweat and JB Shugarts going to the Browns. That's the way the cookie currently crumbles.
Well, guess what? Urban is known to recruit at the same capacity as our SEC brethren and we have seen the high caliber talent he has scooped up in his 2012 class and the 2013 class thus far. OSU commits are beginning to choose the Buckeyes over the Alabamas and LSUs. It's pretty safe to say that it is only a matter of time before Chris Berman starts dropping OSU and Meyer-bombs and the B1G begins to prosper at draft time because of The Ohio State Buckeyes. Wait, would ESPN really let that happen?
So, S.E.C., S.E.C. for now..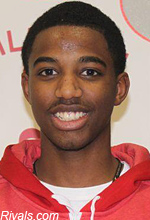 CALLING ALL ALUMNI. Don't forget that registration for the 2012 Alumni Season Tickets Lottery opens at 8am on May 1 and closes at 5pm EDT on May 31. The majority of the Alumni tickets will be for the non-conference games (Miami, UCF, California, UAB) but the Association's allocation for B1G conference games will increase this season.
Thought I would remind everyone to register therefore making it more difficult for myself to get some tickets. That was well thought out on my part (Derp!).
ROUNDBALL RECRUITING. With Thad locking up a commitment from 2012 G Amedeo Della Valle and the long pursuit (and longest streamed commitment decision of all time) of Tony Parker ending with his commitment to UCLA, the focus has changed to the '13 class and beyond.
The Buckeyes have recently offered '13 Sindarious Thornwell, a shooting guard from South Carolina and '13 Allerik Freeman, another shooting guard from North Carolina. Both are consensus top 40 prospects and really demonstrate how coach Matta likes recruiting the south. Freeman was considered to be a Kansas lean, but has recently added OSU to the picture since his offer. I'd imagine the Buckeyes are looking for another 3-4 commits in the class of '13 with F Marc Loving already verballed.
Indiana SF JaQuan Lyle (class of '14) has already been hearing from Ohio State quite a bit. A Lyle quote from the Louisville Courier-Journal:
"It gets crazier and crazier," he said. "Schools are calling my AAU coaches and high school coach all the time, saying they're going to watch me. But Louisville and Ohio State are two schools I talk to a lot."
Lyle, from Bosse HS in Evansville, IN, is consensus top-10 prospect for the class and it's great that the Buckeyes are on him early. This will be a battle for his services with the locals in Louisville, Indiana, and Purdue. We'll hope Calipari doesn't swoop in for the kill 3 days before signing day. He seems to currently have that power. 
TO ROCK OR RHYME THATS RIGHT ON TIME, ITS CLICKY! (LINKS). When it was all said and done the SEC had 42 NFL draft picks to the B1G's 41. The basketball Buckeyes have 15-1 odds to win the NCAA Tournament next April. Ex-Boiler basketballer Kelsey Barlow gives former teammate Ryne Smith a piece of his mind via Twitter. If you are a Browns fan, I am sure you've seen this great jersey. In case you missed it, the Spring Game losers had to mulch Buckeye Grove. Duke's Michael Gbinije is transferring to Syracuse and he could make ACC history. Booooom! Dan Herron was drafted by the Bengals in the 6th round and as a Cincy fan, I couldn't be happier. The last time the Bengals drafted a Buckeye was in 1994 when Dan "Big Daddy" Wilkinson was their top overall pick. Who-Dey?!