It's Monday and it still stings.
Not so much because Ohio State was knocked out by Kansas, but rather, how they were knocked out.
After the game, I heard Tom Izzo say that he still felt like Ohio State won and how can you blame him? The last 10 games on the schedule had shown a Buckeye team that appeared to be learning how to finish, but Saturday night they let the biggest game of the season get away from them, thanks to 8/33 shooting in the second half.
The last 90 seconds, which included two Buckeye turnovers, a lane violation on a free throw and defensive confusion as the final seconds ticked off were a surreal cap to a weird game.
Make just one or two early second half buckets and it's likely that we're not having this postmortem, but you have to give credit to the Jayhawks1. Kansas is an elite team and for as bad as the first half went for them, the second half was the highlight of their season.
The second half collapse (yes, it was a collapse) exposed this Buckeye team for what it is: a  young, but talented squad playing without a true post player.
I guess replacing the school's all-time leader in three point shooting, a slashing scorer that's also a glue guy on defense and a senior center with 80 career starts is easier said than done.
No matter how you cut it, this was still a great season and if anything only reinforces how difficult winning a championship truly is. There were ups (Duke) and downs (Wisconsin at home), but the ride, like most under Thad Matta, was a blast.
I'm going to miss William Buford2, Jared Sullinger and anyone else played their final game as a Buckeye. Thanks for the memories, gents.
"FLUID" IS A GOOD WORD TO DESCRIBE THE ROSTER. Though William Buford is the team's lone senior, Ohio State's roster could look radically different next season.
Jared Sullinger is headed to the NBA. After the loss, he said he didn't know his decision yet, but the plan all along was for a two year experience and his father appeared on 10TV last night and seemed to indicate that he thought Jared's leaving would be in his best interest.
I'd selfishly love to see him return for another season, but getting two years out of an All-American these days is a bonus and I don't know what he can do to improve his stock should he return for his junior season.  Highly regarded Draft Express has Sullinger as its #6 prospect and it's time for him to get paid.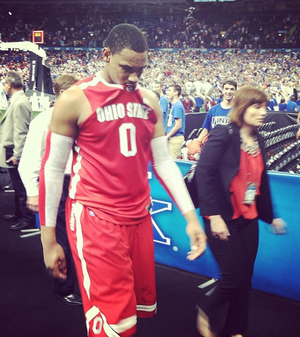 Whether Deshaun Thomas returns is more of a mystery. After the game, he was quoted as saying "Of course I might come back," which is tells me that he was leaning towards leaving prior to his performance against the Jayhawks. He entered the game as the tournament's leading scorer, but if there's any silver lining in the loss it's that he didn't do much to impress NBA scouts with his performance.
Thomas is not even in Draft Express' list of top 100 prospects and the logical thing for him to do would be to return for another season, but Tank does what Tank does, so if he thinks he's ready for the NBA -- and he likely thinks that -- he'll at least heavily flirt with the notion of leaving.
I heard someone after the game say that they hoped Thomas would leave because they couldn't imagine an offense running through Thomas and his presumed 25 shots per game next season.
That's crazy talk. Consider the leap that Thomas made between from his freshman to sophomore seasons.
If you had a time machine and could travel back to January 2011 to tell people that Ohio State would lose a 2012 Final Four game to Kansas largely because Thomas got into foul trouble, you'd be laughed out of the room by Buckeye fans.
Given his improvement on defense and passing as this season progressed, it's not hard to see him as an excellent all-around player as a junior. That still loves to shoot.
A fourth potential exit may come in the form of J.D. Weatherspoon transferring. The 6-8 wing averaged six minutes per game as a sophomore, but saw those minutes slowly evaporate as the season wore on. He got into the game for three minutes against Loyola in the opening round, but did not play another minute the rest of the way.
Seemingly frustrated, he sent out a weird series of tweets after the loss Saturday night:
Favoritism Can Only get You so Far In Life Columbus I Still love Y'all I'm Still Gonna Stay Prayed Up

— J.D. Weatherspoon Jr (@SpoonDaKid15) April 1, 2012
I'm A Send This Out To Anyone Who Really Gone Miss Me With A Hug And A Kiss Gonna Be Gone For A While Minor Set Back For A Major Comeback

— J.D. Weatherspoon Jr (@SpoonDaKid15) April 1, 2012
I no I no I no i no I no they gone miss me

— J.D. Weatherspoon Jr (@SpoonDaKid15) April 1, 2012
Before performing a bit of damage control:
Why Would I Leave My City People

— J.D. Weatherspoon Jr (@SpoonDaKid15) April 1, 2012
With just one recruit lined up for the 2013 class, Matta may be forced to scramble if Thomas and Weatherspoon leave the team3, but he may luck out and keep his coaching staff together.
Jeff Boals, a graduate of Ohio University, was rumored to be the front runner for the position vacated by John Groce's departure for Illinois, but it now looks like the job will go to TCU coach Jim Christian.
URBAN MEYER NEVER SLEEPS. A few hours after running back Ezekiel Elliott became the 6th member of the 2013 football class, Toledo Central Catholic safety Jayme Thompson flipped from his West Virginia commitment and became the 7th member of this class.
Rivals considers Thompson, at 6-2/185, a four-star safety and one of the top 150 players in the country.
Highlights? Highlights.
Oh, and one for Urban, too.
SURELY YOU'VE BEEN THERE BEFORE. You'd figure the school that has more NCAA Tournament and regular season wins than any other program would know how to handle winning, right?
Nope:
State Street, which had become the epicenter of couch burning in recent weeks, was quickly filled with thousands of people, smoke and flying beer bottles. Police in riot gear with fire extinguishers and batons dodged bottles from the growing crowd and tried to stop a raft of couch fires.

Fire department officials said at least 39 fires occurred in the campus area, mostly on State Street, and mostly to couches and trash. The Fire Department also made 12 first-aid runs.
I get that the win came against Louisville, a hated in-state rival, but have you seen the talent on this Kentucky team? How about rioting if you don't win it all.
BASEMENT RESPECTED. Our first (and hopefully only) fundraiser is in the books and I wanted to thank everyone, once again, for donating and helping to make a beat writer for this site a reality.
The final numbers: 418 donors contributed $21,275.
That is out-stand-ing. We'll be contacting donors shortly to make t-shirt, Dubcast shoutout, site takeover and night of debauchery arrangements. In the meantime, keep an eye on this site today as we post the position.
Again, thank you so much. We're humbled.
DOWN TO THREE. Take a step forward, Scott, Todd and Wes. After tonight's championship game, one of you will be taking home the sweet, Villain-signed Sports Illustrated that goes to our tournament challenge champion.
Scott's "bigwormbw" entry is currently in first place with 126 points, while Todd and Wes are just one point behind with 125 points each.
If Kansas upsets Kentucky, Scott will be your champion. If Kentucky wins, Todd and Wes would tie with 157 points each. The tie-breaker: Todd has Kentucky 71-66, while Wes likes the Wildcats 65-59.
ETC: Phil Steele's 2012 strength of schedule rankings has Michigan 26th and Ohio State 41st... Kirk Ferentz's son is really, really qualified... ODU has a booster problem... My new favorite NBA team... WANT.
1 The Releford layup to beat the halftime buzzer will haunt my dreams for years.
2 With Buford's 19 Saturday night, he moved into a tie with Jerry Lucas for third place on the Ohio State career scoring list. Though his team lost, he went out a warrior in his final game.
3 Jordan Sibert has also been mentioned as a potential transfer candidate.