So here we are, one day away from UFM's first spring game at Ohio State.
The weather, despite a small chance of rain, appears to be cooperating and with nearly 60,000 tickets sold already, there's an outside shot the fans will welcome the new coach with a national spring game record crowd.
The gates will open at 10am ahead of the men's lacrosse team squaring off against Air Force at 11:30am. If you plan on arriving late, kickoff is set for approximately 1:30pm.
In honor of the the city of Columbus' bicentennial, players will rock a COLUMBUS200 logo on their jerseys. 
Team Scarlet
Team Gray
Head Coach
Tom Herman
Head Coach
Luke Fickell
Assistant Coaches
Everett Withers, Mike Vrabel, Tim Hinton
Assistant Coaches
Kerry Coombs, Ed Warinner, Stan Drayton, Zach Smith
Captains
Zach Boren and Jack Mewhort
Captains
Etienne Sabino and John Simon
POS
NAME
POS
NAME
QB
Braxton Miller
QB
Kenny Guiton
QB
Justin Siems
QB
Cardale Jones
OL
Darryl Baldwin
OL
Ivan Blackman
OL
Reid Fragel
OL
Brian Bobek
OL
Marcus Hall
OL
Jacoby Boren
OL
Eric Kramer
OL
Tommy Brown
OL
Corey Linsley
OL
Taylor Decker
OL
Jack Mewhort
OL
Andrew Norwell
OL
Tim Trummer
OL
Ben St. John
RB
Carlos Hyde
OL
Antonio Underwood
RB
Rod Smith
RB
Br'onte Dunn
FB
Zach Boren
RB
Jordan Hall
TE
Jeff Heuerman
FB
Adam Homan
TE
Derek Burkholder
TE
Kyle Schuck
TE
Nick Vannett
TE
Jake Stoneburner
WR
Chris Fields
WR
Corey Brown
WR
Frank Kangah
WR
Peter Gwilym
WR
Ryan Ross
WR
Verlon Reed
WR
Evan Spencer
WR
Taylor Rice
WR
Michael Thomas
WR
Devin Smith
WR
Tyrone Williams
DL
Adam Bellamy
DL
Michael Bennett
DL
Dalton Britt
DL
Logan Beougher
DL
Chris Carter
DL
Chase Farris
DL
Garrett Goebel
DL
Joel Hale
DL
Steve Miller
DL
Johnathan Hankins
DL
John Simon
DL
William McCary
DL
Nathan Williams
DL
J.T. Moore
LB
Curtis Grant
DL
Se'Von Pittman
LB
Ross Oltorik
DL
Kharim Stephens
LB
Joshua Perry
LB
Connor Crowell
LB
Andy Reed
LB
Storm Klein
LB
Luke Roberts
LB
Ryan Shazier
LB
Etienne Sabino
LB
Stewart Smith
DB
Corey Brown
DB
C.J. Barnett
DB
Adam Griffin
DB
Christian Bryant
DB
Orhian Johnson
DB
Doran Grant
DB
Tyvis Powell
DB
Zach Domicone
DB
Bradley Robey
DB
Travis Howard
DB
Nick Sarac
DB
Vincent Petrella
K/P
Ben Buchanan
DB
Ron Tanner
K/P
Kyle Clinton
DB
Julian Vann
K/P
Russell Doup
DB
Jamie Wood
LS
George Makridis
K/P
Drew Basil
 
 
K/P
Kyle Clinton
 
 
K/P
Kevin Niehoff
 
 
LS
Bryce Haynes
 
 
That's about as even as it will get. While Team Gray has Jake Stoneburner and Johnny Simon, Team Scarlet will trot out Braxton Miller and Ryan Shazier. Still, the early line is Team Gray -2.
While it's easy to get excited for the first spring game of the Meyer era, you won't want to get too excited. After all, this is the event that elevated Bam Childress and later Taurian Washington to All-American status only to see a season in which neither sniffed the field.
After the game, be sure to join us for the first annual 11W Spring Banger at Bernard's Tavern in the Short North. Don't forget to bring a canned food for Operation Feed. Let's party for OH-IO. Let's party for helping to feed the hungry. But most of all, let's party because this is the first Bauserbro-less spring game since 1975.
OH, MIKE ADAMS... So, this will surprise exactly none of you, but evidently Mike Adams failed his NFL Combine drug test. While NFL draft analyst Mike Mayock said most teams don't consider marijuana use "as big a deal as it was 10 years ago," it's still frustrating if you're a fan of Mike Adams, which I definitely am.
It's 4/20 after all, so I suppose this news was ripe to drop (along with the epidemic at Oregon), but ultimately, Mayock is right. You have NFL GMs that attended Woodstock and grew up as boomers -- the first generation to regard marijuana as the harmless drug that it is. Still, Adams knew this test was coming and if it costs him a round in the draft, this will go down as the world's most expensive weed.
MOAR LENS FLARE, PLZ. Hats off to the graphics team within the football program for turning boring recruiting letters into the attention-grabbing promotional documents that they are meant to be.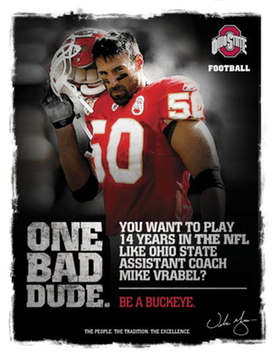 Last week, we featured the Heisman letter sent to Eli Woodard and the Vrabel-themed mailer to your left is another great example of this team turning the mundane into eye-catching. Which, you know, should be the goal when trying to sell the university to the nation's finest prep athletes. 
BO RYAN BLINKS. After Twitter rose up to denounce Bo Ryan's hard stance on Jarrod Uthoff, the Dentyne-chomping grouch took to Mike and Mike for a little damage control.
Given this is the guy that responded to Jared Sullinger getting spat on by saying "Deal with it," you can imagine how the interview played out.
Not long after the interview, Ryan and Wisconsin released Uthoff from his shackles and he's now allowed to go to anywhere he wants, so long as it's not a Big Ten school.
THERE BE META CONTENT HERE. A couple of quick 11W notes: Today is the last day to apply for our beat writer position. We will be conducting interviews over the course of the next three weeks and then will be in a position to pull the trigger on a hire before the end of May. Thank you all once again for donating to our fundraiser.
Speaking of the fundraiser, I sent emails to every donor at the $100 and up level, seeking t-shirt size and shipping address info, but there are still about 10 of you that have yet to respond. If you're reading this and haven't sent me your size/address, please do so now at jason@elevenwarriors.com. We're going to put the bulk order in sometime before next Wednesday and we'd love to hook you up with a one-of-a-kind Respect the Basement t-shirt.
ETC: Steve Spurrier dropping logic... Sean Payton to Arkansas for a year?  Alabama visits the White House (but not you, Duron)... Michigan AD Dave Brandon is catching heat for saying the Michigan Marching Band won't travel to the opener against Alabama... Josh Pastner blames wife for NCAA violation... Tennessee lost a legend.