Although the first spring game of the Urban Meyer era is still a little over a week away, Ohio State students, faculty and staff members are in for an "especially neat day" at the Shoe tomorrow, courtesy of the new regime.
Provided you have a valid BuckID and you can drag yourself to the stadium Saturday morning by 10:45am (this should eliminate 20% of the student body), you'll have the opportunity to watch the team practice and then you'll be able to mingle on the field with players and staff before a giant group photo is taken from C deck.
But wait, there's more:
Take a tour through the team locker room
Visit the press box
Sit in AA deck
Now, that is a sweet deal.
Fan outreach is something Meyer learned from Earle Bruce and he's employed some variation of this at every stop of his coaching career. When he took over in Gainesville, he did the rounds with fraternities and student groups, selling his brand of football. His job at Ohio State is a little easier, since he's now a more proven commodity and, oh yeah, he doesn't have to clean up after a brawl between a Ron Zook team and a fraternity like he had to at Florida.
So yeah, if you're a student (or faculty/staff), take advantage of this. And then come back and tell us all about it.
The rest of us will just have to be content with this sweet, sweet video Mark Kunz captured at Wednesday's practice. El Guapo sighting at 10:35.
R.I.P, TIPPY. The Buckeye family lost a great one yesterday with the passing of former multi-sport star Tippy Dye at 97.
Quite simply, Dye was Bo Jackson 30 years before there was a Bo Jackson. As a starter at quarterback in 1934, 1935 and 1936, Dye became the first and only Ohio State quarterback to win three consecutive games over Michigan until Troy Smith repeated the feat 70 years later.
The Harrisonville, Ohio native also lettered in baseball (1935 and 1936) and was a three year letterwinner (1935, 1936 and 1937) as a guard on the school's basketball team, finishing as a team captain with two all-conference nods under his belt.
After a brief one year stint with Cincinnati in the American Football League, Dye entered the coaching ranks and soon found his way back to Ohio State as an assistant coach for the basketball and football teams. He would go on to take over as head coach of the basketball Buckeyes before moving on to Washington, where he led the Huskies to the 1953 Final Four.
In 1962, Dye was hired as the athletic director at the University of Nebraska, serving until 1967. His tenure at Nebraska is notable for his hiring of Wyoming coach Bob Devaney to run the football program. Devaney promptly went 101-20-2 in 10 seasons, turning a middling program into a national power.
THE OBC IN MIDSEASON FORM. Much like Punxsutawney Phil emerging on a cloudy day, Steve Spurrier dropping bombs in a press conference means good things, like football and sunshine, are approaching.
Yesterday's target? The Georgia Bulldogs. When asked what he thought about the Georgia-South Carolina game moving from the second week of the season to the sixth week this year, Spurrier had this to say:
"I don't know. I sort of always liked playing them that second game because you could always count on them having two or three key players suspended."
Don't ever change, OBC.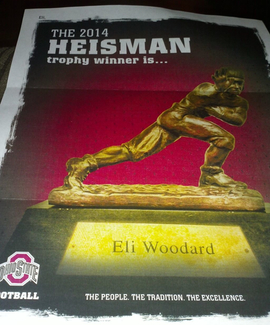 TODAY ON AS THE PETRINO SQUIRMS. Arkansas, digging out from what's surely an avalanche of FOIA requests, dumped a batch of Petrino text messages on the world yesterday. Although they rank about a two on the juicy scale (and thankfully are bereft of dong shots), they do portray a man rightfully worried about his job.
In the days after the coach was placed on administrative leave, Petrino sent messages to athletic director Jeff Long, associate athletic director Chris Wyrick and compliance director Jon Fagg.
On the morning of Friday, April 6, one day after Petrino was placed on administrative leave by Long, Petrino texted Long to say, "Jeff I appreciate how you handled last night. Let me know if we need to get together again. I'm at your disposal and will do whatever it takes to keep you in my camp and remain your coach. Feeling a little better today."

Long responded 35 minutes later, saying, "Thanks Bobby, I am working through the process Jeff".

Petrino texted Long again on April 7, "Hey Jeff I'm just sitting around wondering what I should be doing?? I just want you to (know) how sorry I am that this all happened!!"

While that was the last of the text message log between Petrino and Long, other messages were listed through the FOIA release.
Petrino must have had a hunch that he'd be house-hunting soon:
In a response to how the day went on April 6, Wyrick texted Petrino, "From my stand point, calls and text are 10 to 1 positive. Trustees and politicos are leaving Jeff alone and that is a good thing. Those that have your back are 100 percent behind you".

Later that night, Wyrick texted Petrino asking if Long had "EVERYTHING" from Petrino's standpoint, to which Petrino responded, "Yes I believe he does".

After Wyrick offered to help Petrino "any way I can", Petrino responded, "Thank you!!! Is the mood to fire me or to keep me???"
Clearly the real tragedy of the 18 months of scandal that have rocked the college football world is finding out how these larger than life men communicate over email and text message. None of us will soon forget the double exclamation points Jim Tressel sprinkled throughout his emails, but Petrino has raised him one.
JALEN ROSE IS ADORABLE WHEN HE POUTS. Michigan president Mary Sue Coleman says she has no plans to rehang the school's scandal-stained 1992 and 93 Final Four banners so Jalen Rose is looking to take his ball and go home.
I saw that U of Michigan has no plans to put back up our hoops banners. Should I do like most of its former BBallers & never return? cont

— JALEN ROSE (@jalenrose) April 12, 2012
or should I ask for the $250k I donated for my Endowed Scholarship back & move it to another school? Stay Tuned.

— JALEN ROSE (@jalenrose) April 12, 2012
Yes, Jalen. Please make a bigger ass of yourself by yanking your scholarship, so innocent students can pay for the sins of you and your teammates.
ETC: The OHSAA adds a seventh division for football... Does Auburn have a spice problem? One of Bernie Fine's accusers recants everything, saying it was all a game... Cool O-H-I-O poster in honor of 10,000 submissions... South Park content unavailable messages: Australia, Canada, UK, France and New Zealand... I'm a sucker for historical lulz... Not the best start for a marriage... A massive list of Simpson's film homages... This young man was just reminded that Urban Meyer is the head football coach at Ohio State.