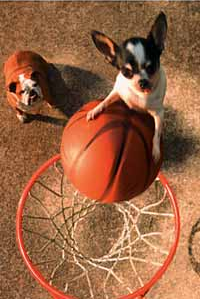 Basketball is gone. Sad. Baseball is back! Yeah!
Such is the nature of this week's Dubcast; Johnny and Sarah are joined by 11W's own, Chris Lauderback, to help break down the recently expired OSU men's basketball season.
If you want to know what went wrong, what went right, what the real deal is behind Matta's foot, and how two well informed people plus one guy trying really hard to fake it feel about Sully and company's efforts on the court, sit down and have a listen. We'll go over the highs and lows of the last few months, make one last kind of mean jab at William Buford, and manage to work in both Mark Titus and Evan Turner into the conversation. Truly they are eternally linked through their hatred.
FYI, the Dubcast is now entering into "Ol' Sleepy Bear" mode, meaning that things are going to slow down a bit here at podcast HQ (my apartment). Sarah and I will return after the Spring Game on the 21st, but after that we'll be a once a month affair until football ramps up again.
Because of that, however, we really want your input! Don't forget about our Ask Us Anything segment (where you can indeed ask us anything), but if you have any other questions, comments, or suggestions, let us know by sending an e-mail to elevendubcast@gmail.com. Thanks guys.
0:19- Sarah, Chris, and Johnny begin their roundtable and marathon that sucker all the way through near the end of the podcast. It's all fun stuff!
38:00- JOEY VOTTO OWN ZONE, Sarah tells the uninformed of the awesomeness that is the only Canadian who can't ice skate. He's the best.
The music used on this week's Dubcast was Vamos Ya! by Los Fabulosos Cadillacs and one of my favorite songs of all time, Bron-Y-Aur Stomp by Led Zeppelin (in honor of Spencer Hall's dog, Isis).