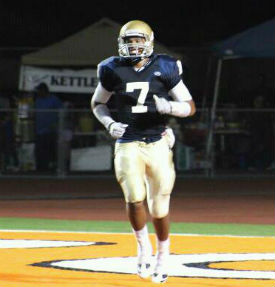 Marcus Baugh shocked the recruiting world yesterday when he announced that he would become the eighth member of Ohio State's recruiting class after calling Urban Meyer to give the Buckeye boss his verbal pledge.
OSU had been recruiting Baugh for some time before finally offering a few weeks ago, but the commitment came as a bit of a surprise due to the fact that Baugh has not visited campus as a recruit and more of the buzz around tight ends surrounded Mike Heuerman and Josh McNeil. 
It didn't matter in the end though, as the long time Buckeye fan felt he had all the information needed to make his decision, pulling the trigger yesterday afternoon and giving the Buckeyes a big pick up towards their efforts of compiling the top class in 2013.
Ranked as the third best tight end by 247, fifth best tight end by Rivals, and seventh best tight end by Scout, Baugh is a consensus nationally top ranked talent and at 6-5/230 has the size and athleticism Urban Meyer is looking for in a play maker at the position.
We caught up with the newest Buckeye to hear why he chose Ohio State, what Urban Meyer said to him when he made his pledge, when he plans to get out to Columbus, and more. Join us after the jump to hear from the newest member of Buckeye Nation, Marcus Baugh.
You just committed to Ohio State, which kind of shocked the recruiting world. What made you pull the trigger on OSU?
I just love and always have loved the school. I love the way Urban Meyer uses the tight end and puts the guys playing there in a position to make plays. I just felt it was the place for me to go.
You committed without seeing the school. How were you able to make such an important decision without being on campus?
I have been to Ohio State when I have visited family in the area, but it's been a few years since I was there and I wasn't there as a prospect. I didn't feel I needed to see the school as a recruit to make this decision. There are other factors I was looking for in a school and Ohio State had them all. I felt comfortable with the coaching staff and knew it was the place for me.
Do you plan to get out to Ohio State now that you're committed?
Yes, I'd like to get out there this summer, but am not sure if I'll be able to do that yet. I will definitely go there on my official visit.
Do you plan on taking any other visits? Are you 100% Buckeye?
I am 100% Ohio State and will not be taking any other visits. I am shutting down my recruitment as it is over. Ohio State it is for me.
Walk us through the process of Ohio State recruiting you up through your commitment. What did the coaches say when you committed?
They had been recruiting me for a while and told me they were really interested. Tim Hinton and Tom Herman were my primary recruiters. I kind of felt an offer was coming and then a few weeks ago Coach Hinton called me and told me I had an offer. I've thought about it the last couple weeks and knew Ohio State was the place I wanted to go, so there was no reason to wait. I called Coach Meyer yesterday and told him I wanted to be a Buckeye. He said he was really excited, wanted me to come visit as soon as I could, and told me he couldn't wait to get me on the field there.
Did the coaches say anything to you about taking any other tight ends in the class? Would that bother you?
They didn't say anything to me about other tight ends in the class, but I didn't really ask. It doesn't bother me and I wouldn't mind if any other players at the position came in with me. I am going to have to compete for playing time no matter where I went to school.
What was it about Ohio State that you liked so much while growing up?
I always liked the tradition. The Horseshoe, the uniforms, the helmets, all of the other great traditions they have there. They just have great football tradition and I always loved that about them.
You are from California, but you have family in Ohio and a cousin at Ohio State. How much of a factor did that play in your decision?
My family played a bit of a factor, but at the end of the day I made the decision that was best for me as a student athlete.
Coming from California do you think you'll have a problem being so far from home?
I don't think I'll have a problem being far away. Of course I will miss being home, but I have to grow up and take care of my own business.
Have any of the current Buckeye commits reached out to you yet?
Yes, Cam Burrows reached out to me. We exchanged numbers and he just told me he was really happy that I decided to become a Buckeye.
What are your strengths on the field? What do you need to improve on?
I feel like my strengths are my versatility, as I can be used in various formations and in different ways on the field, as well as my speed and athleticism for my size. I definitely need to work on my route running this off-season.
Now that you're committed, what do you want to say to Buckeye Nation?
I just want to say thank you for welcoming me to the Ohio State family and that I'm really happy to be a Buckeye!
HIGHLIGHTS: