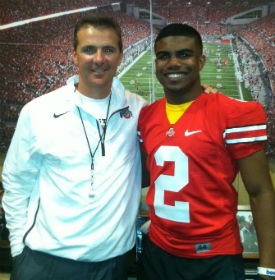 Unless you were hiding in a hole of depression on Sunday after Saturday's Final Four loss, you found out on Sunday that Ezekiel Elliott had committed to Ohio State, becoming the sixth member of the class of 2013.
Elliott (6-0/195/4.4) made the verbal pledge upon returning home to St. Louis, Missouri after his second trip to Columbus. While he had a good feeling after his first trip to OSU, Elliott wanted to get a more in-depth look at the university, including the academics, before making a decision, and he obviously saw a few things he liked as he left campus knowing he wanted to be a Buckeye.
The John Burroughs star is expected to be a dynamic player for Ohio State and has gotten a lot of love from scouting services across the country thus far. He is rated as the #9 running back by Scout, the #20 running back by Rivals, and the #31 back by 247. Last season as a junior, he rushed for 1,802 yards on 211 carries (8.5 ypc) with 34 touchdowns, while also catching 23 passes for 401 yards and 6 touchdowns through the air, and returning 11 punts for 282 yards (25.6 avg) with 2 scores on special teams. His team lost for the second consecutive year in the state championship game, but as you can see, Elliott certainly wasn't the reason why.
We got the chance to sit down with the newest Buckeye to discuss his visit to Ohio State, what made him pull the trigger, what other recruits he is trying to bring in, and more. Join us after the jump to learn more about the newest member of Buckeye Nation, Ezekiel Elliott.
You obviously went to Ohio State this past weekend. Break down the trip for us.
I went with my family to Columbus and we got in on Friday. We took a tour of campus, met with the medical school as I am considering going pre-med, saw two spring practices, got to hang out with a bunch of the players, and got to talk to all the coaches. It was a great time.
The trip resulted in you committing to the Buckeyes. When did you tell the coaches of your decision? What did they say when you committed?
I called them on Sunday when I got back home in Missouri. I wanted to take the day on Sunday to just let things soak in and be sure I was making the right decision and not let the emotions of being on campus make the decision for me. Once I knew I definitely was sure of my decision, I called Coach Meyer and told him I wanted to be a Buckeye. He said he was relieved and was very happy. He put the other coaches on the phone and they were really happy as well.
This was your second trip to Ohio State. Did you know after the first time this was the place you would end up?
I had a feeling after the first visit, but I really only got to see the football side then. This time I got to see everything else the university had to offer and I just knew I wanted to be a Buckeye after seeing all of that.
Your parents were with you this weekend. How do they feel about your decision?
I went with my mom, my dad, and my two sisters. They all loved it and are 100% on board with my decision. Even though both of my parents went to Missouri, they know Ohio State provides me exactly what I am looking for as a student athlete and are proud of my decision.
How did the coaches say they were going to use you at Ohio State? Did they tell you anything about recruiting other running backs in this class?
They said they would use me a little bit like they used Percy Harvin in the sense that I would be a guy who both runs the ball and catches some passes as a receiver. I do a lot of that in high school and I feel that is one of my strengths. As for other running backs, the staff told me they were planning on taking only one in our class, so I guess this could be it.
What players did you get to hang out with while you were in Columbus? Did you get to meet any of the other recruits that were there?
I hung out with Ryan Shazier and Braxton Miller the most out of the guys that are already there. I also got to be with the 2012 commits like Noah Spence, David Perkins, Cam Williams, and Armani Reeves and they were pretty cool. As for my class, I was with Cam Burrows and Jalin Marshall all weekend and we had a great time. I became good friends with Alex Anzalone and I know he feels pretty strongly about the Buckeyes. He was talking about visiting again for the Spring Game and I am definitely going to try and help recruit him. Also, a 2014 offensive lineman, Andy Bauer, who is also from Missouri was there. We train together at home so I know him pretty well and I know he likes OSU a lot. He's a really good player and I am definitely going to try and get him to be a Buckeye.
Are you 100% done with your decision? Will you take any visits to other schools? When do you plan to enroll at OSU? Do you plan to visit OSU again?
Yes, I'm done and will not take any other visits. I won't be enrolling early, so I guess I'll be there next June. Unfortunately I can't visit Columbus again this spring because of track, but I'd like to get back there as soon as I can in the summer.
What are your strengths on the field? What do you want to get better at?
My strengths are that I love running the ball and using my vision. I use the whole field and with my vision I am able to make cuts to help me make big plays. A couple of things I want to work on are pass protection and catching the ball as a receiver since I will be doing that a lot in college. My coach is going to talk to Coach Meyer and see what they want me to work on and get more details on how we plans to use me so that we can work some of that into our season this year.
What are your goals for your senior season? What are your goals for Ohio State?
My high school team lost in the state championship the last two years, so my goal is to win the championship and bring home that plaque this year. We lost some good players and some veteran leadership, but we have the play makers on our team to step up and get us back there. As for OSU, every running back dreams of one day winning the Heisman Trophy so that would be nice, but more importantly I want to win national championships while I am there and I think we have a pretty good chance to do that.
Finally, now that you're committed, what do you want to say to Buckeye fans?
I'm just glad to be welcomed and a part of Buckeye Nation and I'm proud to be a Buckeye.
HIGHLIGHTS: