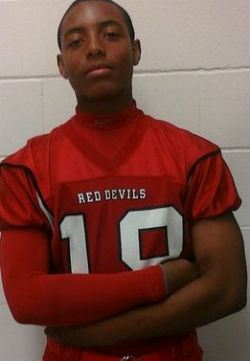 We gave you the goods on 2014 QB Drew Barker's visit to Ohio State yesterday and today we bring you word from another highly touted sophomore who was in the 'Shoe last Saturday, Indianapolis Pike WR Dominique Booth.
At 6-1/195, Booth had great size to go along with solid speed and is basically everything you want in a wide receiver. Already with eight offers, you know Booth is a big time prospect when MAC schools are telling him they aren't interested in having him visit because they know they have no chance to get him.
One of the schools that has not offered Booth of yet is Ohio State, although the Buckeyes have shown heavy interest. After hosting the Indianapolis product for the Spring Game last week, it may not be long before Urban Meyer extends that offer and if/when that happens you can bet there will be heavy interest from Booth's side as well.
We caught up with Dominique to hear how his visit to OSU went, what the latest in his recruitment is, what his timetable for a decision is, and more. Join us after the jump to hear about one of the Midwest's top prospects in the class of 2014, Dominique Booth.
You were just in Columbus for a visit. How did that go?
It was a really good visit. I got to see the facilities, which were the best that I've seen thus far. I also got to see the weight room, watch the Spring Game, and speak to a couple of the coaches, including Coach Coombs and Coach Herman.
What was your favorite part of the visit?
Probably just experiencing the crowd. 81,000 fans for a spring game is amazing. That's more fans in that stadium for a scrimmage than are in stadiums I've been in for regular season games. The student section was crazy and they were the best part.
When do you think you'll be back at Ohio State?
I am planning to get out there at the end of the summer. I want to talk to Coach Meyer, see the campus, and check out the academic side of things next time I go.
What did the coaches say to you about a scholarship offer?
Coach Vrabel is coming to my school on May 2 to watch me work out. About 25 schools are coming to watch me work out that day, so I'm hoping to get an offer from Ohio State, as well as some of those other schools.
What offers do you currently have?
I currently have eight offers and they are from Michigan State, Illinois, Indiana, Cincinnati, Kentucky, Iowa, Missouri, and Iowa State.
What visits have you taken so far?
I have been to Iowa State, Cincinnati, Northwestern, Michigan State, Illinois, Indiana, Kentucky, and just went to Missouri this past weekend.
Do you have any favorites at this point?
No favorites yet, but I know I want to go to a school with a strong sports medicine program. Some of the schools that stand out right now for me, though, are Ohio State, Notre Dame, Michigan, and Tennessee. I am waiting for offers from all of those schools and hope to get them soon.
When do you want to make a college decision?
I am planning on making a decision after my junior season. It's going to be a hard decision so we'll see.
What is most important to you when choosing a school?
The academic program that I want to study, the coaching staff, a strong football program, and how the school prepares you to go to the NFL, because it is my dream to one day play in the league.
HIGHLIGHTS: