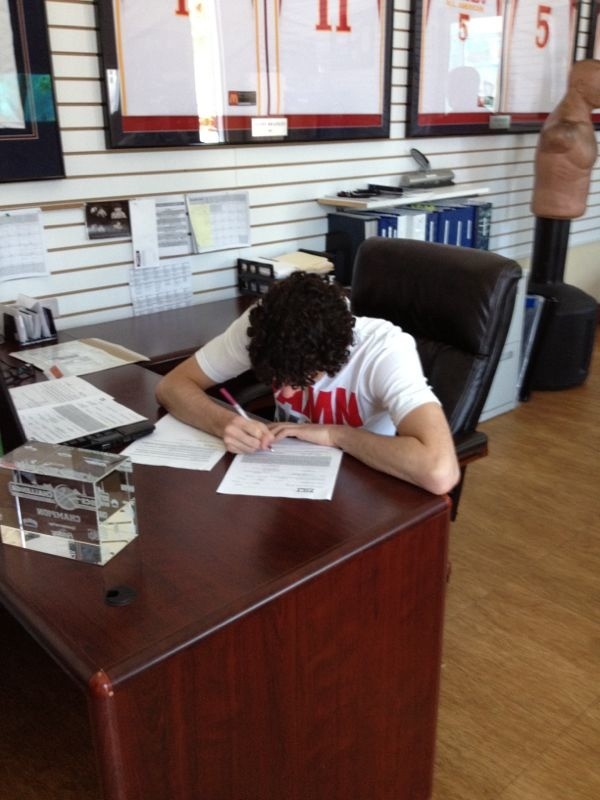 As the late signing period began (April 11), most college basketball programs had their 2012 classes filled out and just awaited signed National Letters of Intent from their verbally committed prospects.
However, that was not the case with the Buckeyes, who were without a verbal pledge when the signing period started.
For coach Matta and Ohio State, the first commitment came in later than usual with Italian G Amedeo Della Valle (6-5/180) making the call on April 21 during the football Spring Game after Della Valle visted OSU just days before.
Della Valle blew up during the U-18 European Basketball Championships last year and began hearing from prep schools across the United States before landing at prep school power Findlay near Las Vegas. His college recruitment took off from there.
With Findlay Prep's star studded roster including 5-star Arizona commit Brandon Ashley, 5-star prospect Anthony Bennett (highly considering UK), 5-star San Diego State commit Winston Sheppard, and top-50 Oregon commit Dominic Artis, the national exposure was easy to come by for Della Valle (take a look at Findlay's recruiting class here).
The team appeared many times on national television, ever-increasing his visibility to college coaches. Later, the offers began to accumulate and his interest in and from Ohio State began.
Della Valle is a big combo guard who can handle the ball and can stroke the outside jumper, but he really accelerates at passing. He has the ability to knock down open threes and has the potential to be a major threat for the Buckeyes on the perimeter. He averaged just over 12 points per game and 3 assists while shooting 54% from beyond the arc this season for Findlay.
Findlay Prep coach Michael Peck told 247sports.com:
"He has an unbelievable feel for the game. He knows how to play. He understands spacing and simple concepts. He also plays hard and does a good job of moving the ball. He is a good passer. He doesn't need to stand there and dribble it."
Eleven Warriors had a chance to speak with Amedeo for an exclusive interview.
Congratulations on your commitment. How does it feel to be a Buckeye?
It feels really great and I am really excited because Ohio State is the perfect place for me. I actually just signed my Letter of Intent yesterday (4/27).
What made you decide on Ohio State over the other schools on your list?
The level of competition at OSU is just the best. The program and my future teammates are definitely great.
What was your favorite part about the Ohio State campus, the school, and Columbus?
I really like the campus a lot, but I most look forward to my relationships with the coaches and the guys on the team. I was able to spend time with Aaron Craft, Evan Ravenel, and Sam Thompson. They are great guys and the real reason why I decided on Ohio State.
Did Sam Thompson have a chance to show you his dunking ability?
Not while I was there, but I have seen all the highlights.
Do you know what you will be majoring in?
Not sure yet, but I will decide when I am there.
What are you summer plans and when do you plan on enrolling at OSU?
I am going to enroll on June 18th when summer school officially starts.
Tell us about you game. Do you model yourself after anyone specific (College, NBA)?
I do not really model myself after anyone. The coaches said to me that we just want you to be you and to play how I have always been playing. They want me to keep dribbling how I dribble and shoot how I have been shooting.
Ohio State is really looking for a sure-fire 3-point shooter, do you want to be that guy?
I definitely want to try to be the 3-point guy but it is not easy to do that and there are really high expectations at Ohio State.
What can you tell us about recruitment? What did you enjoy or not enjoy so much?
I really did not like what some schools had to say because you never know when they are telling the truth or if they can be trusted. I really trust in coach (Chris) Jent and coach (Thad) Matta.
How many offers did you have and who was on your short list?
I had a lot of offers but my short list was Texas A&M, Arizona, Gonzaga and obviously Ohio State.
Coming from Italy, how did you end up at Findlay Prep in Nevada?
After the European Championships, I started getting interest from some schools in the U.S. and Findlay recruited me. It was the best opportunity.
Finally, what do you have to say to Buckeye Nation and what can they expect from Amedeo Della Valle?
They can expect that I will be a great guy and really easy to talk to. I will be the best player I can be and I am looking forward to playing at Ohio State.
HIGHLIGHTS: