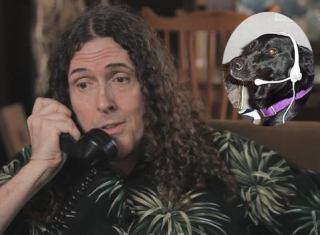 Okay the title is a bit of a misnomer because I hung up in horror right after Kevin Wilson's sultry tones started to make their way through my receiver.
In any event, today the coaches and one select player from their teams held (and actually, are currently having) a teleconference where members of the media ask them questions via phone and everybody listens and it's a grand old time. I didn't ask any questions because of my thick French accent (which has led to my fall into obscurity due to talkies), but other people did and those questions were answered by Urban Meyer and Zach Boren. Here's a quick rundown:
In his intro, Meyer said that he was "very encouraged" by the progress the team has made so far this spring, and that apparently "try hard" mode has been activated.
He's also impressed with Braxton as a football player and a person, citing his work ethic and competitive spirit, but maybe not quite yet as a quarterback. Meyer mentioned that the "perimeter run game will be a very big part of what we do," and Braxton has impressed in that regard, but also he is somewhat "behind in the throw game."
The ol' playmakers on offense canard popped up again, and later Meyer included some names that he felt were standing out, including: John Simon ("He is Ohio State football," "Tebow-ish"), Zach Boren, Jake Stoneburner, Mewhort, Hankins, Barnett, Roby, and Hall. Not particularly surprising names, except for maybe Barnett.
Meyer did say that the offense in general needs to step things up a bit, especially at the WR position.
Also interesting: early on Meyer and his staff did a breakdown of every B1G team they'd face next season, and it was surprising to him the amount of teams there were that utilized the spread.
Finally, Meyer was asked to address the Matt Hayes article which he surprisingly didn't handwave away and actually answered (I probably would've screamed THIS INTERVIEW IS OVER and smashed my phone, but that's just one of the side effects of this platypus venom supplement).
Anyway, Meyer fully admits that some players get preferential treatment, but it's all reward-based, not because he plays favorites.
"Circle of trust?" Never heard of it.
Meyer also wanted to emphasize that under his tenure at Florida there were no major NCAA violations. Also he didn't oversign, lie to NCAA compliance, have an improper relationship with an employee, or cover up for a pedophile. So there's that.
Boren was next.
When asked about the difference between this year and last year, Boren said that there'd be more more of an emphasis on getting guys into space and a lot more "vertical plays," which could mean about a billion different things.
OSU will still have elements of the power game, just run out of different formations.
Urban preaches "competitive excellence" in everything that the team does.
Considers the OSU/UM game to be the best rivalry in college sports, and that Tressel's emphasis on that game is something that Meyer has upheld.
There are apparently videos playing in the lockerroom on a loop showing OSU/UM highlights, and players are reminded of the game "every single day."
When asked who he thinks the team to beat was in the Leaders division, Boren named basically everybody, including Illinois. Then I laughed pretty hard.
Boren does consider OSU a team that can compete for a division title, "110%," and also said that he's never seen a team work as hard as OSU has during this spring.
Final note on Jacoby Boren: had a torm labrum, coaches told him to get it taken care of ASAP so that he'd be ready to play (since he's already in the two-deep).