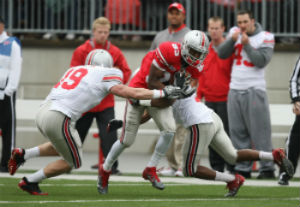 Though I'll normally be spending a good amount of time wrestling with numbers, I first wanted to address a question that has too small of a sample size for us to run any statistical tests: Mr. Michael Thomas's 12 receptions in the 2012 spring game. 
Based on the poll results, you, the 11W commentariat, have anointed true frosh Michael Thomas as this year's "Mr. April." At last count, Thomas led the way with 70% of the vote. Maybe because past spring stars never actually pulled into station aboard their hype trains during the regular season, many are downright skeptics of good spring performances.
The question of whether Michael Thomas will just be another Taurian Washington has already been the subject of extensive debate in several comment threads. T. Wash, like Bam Childress before him, became famous for posting insane spring game numbers, but receding to third or fourth string once the real season rolled around. It's certainly fair to doubt whether we can glean any truly valuable information from a spring game performance. Is it really a coincidence that three wide receivers (Bam, Taurian, and now Michael) have dominated a spring game?
As spring game cynics will often repeat, it's often little more than a glorified scrimmage in which walk-ons and depth chart bottom-feeders get significant playing time. Further, it's more difficult to evaluate players in the spring when a strength on one side of the ball means that there is a weakness on the other side. As fans, we want all our players to look good - if the DL consistently gets into the backfield, is the DL really that dominant or the OL simply hungover from too much of the Walrus's coaching? Likewise, if T. Wash scores on a bomb in the spring game, is it because he's great or the secondary has issues?
Regardless, I argue that the hype for Michael Thomas is warranted. 
First, the nature of the performances is different. Taurian Washington became Mr. April based upon big-play long bombs and jump balls, rather than Michael Thomas's consistent first down pick ups. In the 2008 game, T. Wash led the Gray squad with 71 yards, and then led both squads with 92 yards in 2009. However, these 163 total yards came upon only eight catches - an average of approximately 20 yards per play. The majority of his yards came upon a 51 yarder in 2008 and then another 40 yarder in 2009, and that's not to mention the 63 yard strike from Bauserman in 2008 that was called back because of a holding call. In his one spring performance, Thomas caught 12 balls for 131 yards, which equates to 10.9 yards per play.
"Wait," you might be thinking, "why is Chad doubting a receiver who could produce big plays? Isn't that what Urban has been looking for?" While that's a fair point, what he wants more than all is simply a receiver who can consistently catch the football. And that is what Michael Thomas brings to the table. While we would have loved to have seen Thomas break a few of those tackles for huge gains, after last year I think we can all simply appreciate a receiver who simply gets open and then catches the ball. I'm impressed by Thomas's ability to accumulate 130 yards not because of a 70 yard big play, but through multiple catches and first downs.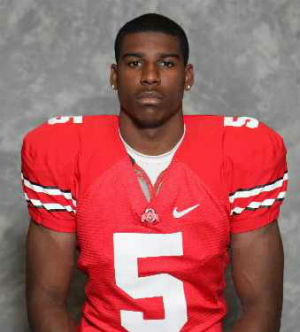 Second, the format and competitiveness of the spring game are different under Urban's regime. Urban emphasis on the first and second strings was apparent throughout spring practice, with Cardale Jones not even getting a single snap in the game. Michael Thomas was paired with the absolute number one corner on the roster in Roby all day (with Corey Brown and OJ at safety) and still managed to secure 12 passes. 
Finally, Thomas is only a freshman and is clearly developing a strong rapport with Braxton. In previous years, T. Wash scored on Bauserbombs in spring games, only to have Pryor for the actual season. The fact that Thomas is practicing each day with Braxton will go a long way in terms of developing their chemistry and timing for the regular season.
Cooper always used to say that "If a dog is going to bite, it will bite as a pup!" Some even used this quote as evidence that T. Wash would make a splash after he recorded a touchdown in his very first game as a freshman. Yet he would sadly end the year with only three receptions in the books. While it is certainly too early to tell whether or not Thomas will merely hold the most recent "Mr. April" crown and nothing more, the fact that his performance was consistent, against quality competition, and that he still has ample time to develop his chemistry with Braxton should leave us optimistic that he will be a reliable playmaker this fall.