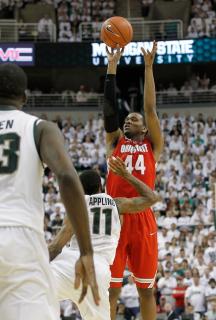 "March springs eternal" is both a delicious pun and an absolute truism. If, for example, you had told me at halftime of the Ohio State/Michigan State game yesterday that the Buckeyes would mount a comeback that resembled the Battle of Verdun in both grinding attrition and seemingly endless giving and taking, with one William Buford hitting a last second game winning shot with a Sparty defender in his face, I probably would've said "You've got some nerve, buddy. Getting my hopes up like that. Mean."
And really, it would've been. It had been increasingly difficult to find positive things to say about an Ohio State men's basketball team that has looked equal parts sluggish, disinterested, and uninspired for the better part of a month. Three straight losses to ranked teams will do that to you.
So when the Buckeyes came out flat against Sparty, in East Lansing, and fell into a 15 point hole with less than ten minutes left in the first half, I felt compelled to unleash this bit of internet jocularity on the world:
are postseason bans transferable?

— Johnny (@Johnny11W) March 4, 2012
OH HO HO! Hilarious! Johnny Ginter of March 4th at 4:32 pm, you are surely the greatest wit of our time! Come, let us drink brandy and play backgammon while two bears attired in clothing in the manner of Kemal Ataturk wrestle for our amusement.
Of course, what Johnny of 6:35 pm knew that Johnny of 4:32 pm was about to find out is that basketball in March is barely basketball; it's a maddening mismash of elbows, chewing gum, Russian roulette, and last second heroics that outclasses pretty much every single sport ever conceived by man. In fact, it's important to note just how anachronistic the Ohio State/Michigan State game was, on a lot of levels, not simply because of the unexpected heroes that arose to possibly save the Buckeyes' season and give them a share of the Big Ten title for the 3rd consecutive year, but because of some even more unexpected statistical anomalies that reflected the ridiculousness on court.
Let's start with Evan Ravenel.
For three and a half minutes late in the second half, he was the best player on the court for either team. At no point during any of the previous 30 games had he scored significant points in a close game. In fact, the last time he even played significant minutes in a close game was on February 7th against Purdue, where he went 1-2 for 2 points in a three-point win. This isn't really an indictment of Ravenel; he's not an offensive player and no one really expects him to be, which is why those three and a half minutes were so crazy.
With OSU down 58-55 with 7:10 to go, Ravenel made a layup, got fouled, and finshed the end of an And-One to tie the game. On MSU's following posession, he grabbed the rebound, and... okay, well he missed a shot. And then fouled Derrick Nix, who made one of his freebies to put Sparty up by one. Aaannndd then he missed another shot. But you know Evan, always shooting himself out of a cold streak, and this is where things got fun.
After grabbing the rebound on a Keith Appling miss, he caught a pass from Craft and scored OSU points 59 and 60. Then on the ensuing OSU posession, he was fouled by Nix, scored OSU points 61 and 62, and on the OSU posession after THAT, he made a nifty pass to Deshaun Thomas who put in points 63 and 64 for the Bucks. 3:40 to go, and Ohio State was still in the game.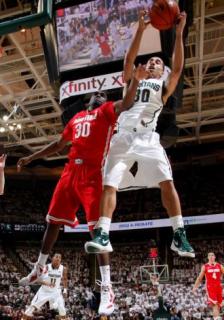 3 minutes, 30 seconds. 7 points, 2 rebounds, and an assist. I don't know if when he came in for a Sully in foul trouble the 6 foot 8 Junior yelled YO IT'S EVAN RAVENEL SHINE TIME but man he picked one hell of a time to do something he hasn't done all year.
Next up is Deshaun Thomas, who had a relatively unremarkable game by his standards, only going 5-12 from the floor and scoring 12 points. Still, as with Ravenel, timing is everything. Thomas started the game going 1-8, before hitting his last four attempts from the floor, and all of them were made with under 11:41 left in the game. Though he didn't get the final, winning shot, he was open and had every chance to be the hero himself.
The guy who did end up getting that distinction, William Buford, also had an unfortunately unusual game (for him, anyway). Willy B went 8-14 for 25 points, making more field goals then he had in the prior two games combined. Also weird: whatever curse that had seemingly afflicted him on weekends was temporarily lifted. Buford had been 18 for his last 63 from the field in his previous 5 weekend games. More telling might be that in 7 games against ranked Big Ten opponents, Buford was averaging about 9.7 points per game. Not yesterday afternoon. In fact, had he not missed 5 of his 12 free throws, he might've easily tied or surpassed his season scoring high.
The win in of itself was a weird one too. Michigan State hadn't lost at home all year. According to Rob Kuntz, OSU hadn't beaten an AP top 5 team on the road since 1991. And, in the foulest tasting cherry on top that anyone could ever envision, this was a thing that happened. Good stuff. Good, weird, unexpected, stuff.
So this is the part where I tell you that this win will catapult Ohio State into the Big Ten tournament and beyond, and that William Buford will finally realize to great effect his inherent talent, that Jared Sullinger will power through whatever obstacles stand in his way, that Aaron Craft will be Aaron Craft, and hell, maybe Lenzelle will throw in a 25 point game or two to keep things fun as the Buckeyes roll toward the Final Four. Or, conversely, this is the part where I tell you that this past game was a blip, an aberration on a statistical downward slope, where Ohio State blows it in the B1Gs against Purdue and then bows out early in the NCAAs as a 13 or 14 seed takes them to the woodshed...
You know what? Screw it. There's no prognostication here, no foresight, no way to have any chance of knowing what comes next. It's March, baby, and the only way to properly react is to give up completely, go ham, and let Barney to be your guide: