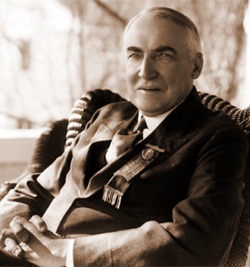 Marion, Ohio, is an interesting place to grow up. Sure, Marion has an evaporating tax base, an uneducated workforce, an impressive drug habit, failing schools and lack of 21st century jobs, but I wouldn't choose anywhere else to have grown up. Though sometimes hard and other times unorthodox, the gold-bricked streets of the City of Kings, in their own way, taught me a lot of invaluable life lessons. 
One of those life lessons the City of Kings bestowed upon me was training my eye on how to tell who is tough and who isn't. Not that I'm "tough" per se; there are cripples out there who would give me my teeth back in a tiny jar (and then charge me $100 as a bottling fee). I am your run-of-the-mill, middle-class white kid typing things into the internet. The cool thing about growing up in a modern day Gomorrah, however, is I got to associate with real rough-and-tumble chaps. 
I've learned, tough people don't have much use for words. That's why, if there is ever a scuffle at a place like a bar, you should never be concerned by the short guy wearing leather elf shoes screaming things like, "WELL, COME AT ME THEN, BRO." It's all empty posturing. That's why, whenever I see two gaggles of angry bros at the bar holding Bud Light bottles and screaming at each other for more than 30 seconds, I tell both crews to take the L and go home to their bowls of Ramen Noodles and stories about their "epic" night. 
It's also why I've come to have such disdain for that little butterball stuffed up into Satan's Mitten, and why I have a quiet confidence about Urban Meyer's impending dominance over Brady Hoke and his Temple of Blown Wind to the North.
The word games began early in Brady Hoke's tenure. To Rich Rodriguez, Ohio State was just another name on the schedule. (Michigan fans indicted Rodriguez for this, years after trying to tell people Michigan State was their biggest rival. I'd like to think Jim Tressel drinks a glass of these people's tears every night before he drifts into a deep sleep in his rocking chair.) Brady Hoke, much like Muggles in their fear of Lord Voldemort, refused to call Ohio State by its government name. I've never understood Brady Hoke's disdain for Ohio. It would seem to me the Michigan football program wouldn't be much without people from Ohio. (Perhaps Hoke is like fellow UM Alumn Robert Quarles on Justified, and has a bit of a masochist streak?)
Speaking of Michigan Men with Ohio blood, do you think they buried Bo Schembechler's Gold Pants with him when he died? (Wasps these days are ruthless, it seems.)
Granted, Mike "0-4" Hart set the gold standard when it came to empty shit-talk years before Brady Hoke rode his white Vespa through the war-torn gates of Ann Arbor, but it appears Hoke's inferiority complex is trickling down to players who Hoke only had under his ward for a single season.
David Molk has been affiliated with the Michigan program since 2006. He committed to the ruins of Lloyd Carr's program, sat through the Rodriguez nightmare, and his redshirt senior season was capped off with a win over a shitty ACC team in a game which was down 18% in ratings from the year pryor. I've watched every Ohio State-Michigan banger for as long as I can remember, and yet, I didn't know David Molk's name until this week, when he popped off against Mike Brewster and Wisconsin's Peter Konz and said it was "stupid" for anybody not to have him rated as the best center in the draft.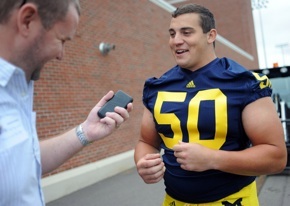 Undersized for an NFL lineman, Molk is basically The Little Engine Who Thinks He Can, which is always admirable. But it's not like he's some unheard of underdog fighting for his place in the NFL. He is going to get his chance -- and that's all anybody can ask for, right? -- so why is David Molk taking time out of his day to make sure people have David Molk ranked properly in their arbitrary draft rankings which aren't worth the paper they're printed on? 
If I were a General Manager of a Professional Football Team, and make no mistake, there's a reason why I'm White Guy In His Sweats Banging On His Internet Keyboard, but I would think I would want my draftee's motivation to come from a deeper place within themselves than just "the haterz, dude." (Urban Meyer wanted Tim Tebow after watching him play left field in a high school baseball game.)
Molk went 2-5 against Ohio State and Wisconsin during his playing years at Michigan, so I can understand where the bitterness comes from; however, the time for talking has long since passed. He he acts as if he's the first person to feel slighted by how they're projected by NFL pundits. (People who weren't ranked second-best at their position by Mel Kiper have been slighted by less, I suppose.)
It's not hard to see Brady Hokes' intent on playing bullyball. His stockpiling of beefy dudes is testament to this. I'm sure Urban Meyer, who wrote the book on what speed can do to size, is probably licking his lips in anticipation. I know I certainly am. 
More troubling for Michigan fans, I would think, would be the attitude of some of their incoming recruits. First it was Ondre Pipkins going out of his way to put Tommy Schutt's name in his mouth. Erik Magnuson, a 6'6" 275 OT from Carlsbad, California, had this to say about a state he's probably never visited:

Teenagers saying dumb things isn't new. "They're embracing the rivalry," the Michigan Men acapella groups will hum, without even a hint of irony about how these types of actions would be called "thuggish" if their perpetrators were wearing the Scarlet and Grey. (Search "Terrelle Pryor" on Twitter next time you're bored on the internet.) Yet it shows the mindset some of these kids will be arriving to Ann Arbor with. Judging by his tweet, Erik Magnuson may have been 10 months old when he wrote it. I can't help but chuckle at the naivety. 
Urban Meyer had some talented dudes with swollen egos at Florida, to be sure. But his teams won two national titles. David Molk won one game against Ohio State... and that's more than the senior class which preceded him. Erik Magnuson hasn't played a snap, and he's already prophesying the continuance of dominance, as if they weren't a Braxton Miller Overthrown Touchdown Pass away from having their hearts ripped out at home by a team which ultimately went 6-7.
Talk. Talk. Talk. Words. Words. Words. There's a time and place for them. Then, there are times for action. With the arenas David Molk, Ondre Pipkins and Erik Magnuson are stepping in to, they'd be wise to shelve their words. The lions waiting for them don't have much use for those.