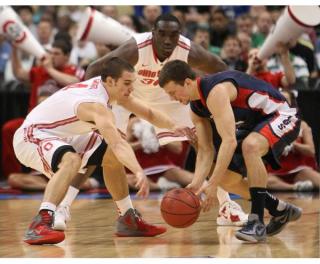 Last month, most of us were predicting that Ohio State had maybe a 50/50 chance of getting to the Sweet 16, where they were likely to be dispatched by a Big East team riding the hot hand of a gangly looking white guy who had been scoring 9.7 points per game but decided to hit 10 threes in a row or something equally infuriating.
And I think we had made our peace with that! I mean, look, March Madness is a fickle mistress. Even the greatest coaches of all time rarely win more than one or two championships over the course of careers that span decades, and so what if this year wasn't the year? February, when the Buckeyes lost three games in just over two weeks (including two at the Schott), had put the nail in the coffin that was Ohio State's NCAA hopes, as Jared Sullinger bemoaned the team's lack of maturity and Thad Matta had to throw the team out of practice. It sucked, but if the past year in college sports has taught us anything, it's that life isn't in any way fair.
Of course, now it's March 26th and the Bucks are in the Final Four, having achieved a successful season and playing with house money.
So really the lesson that I think I'm starting to learn is that once March starts, pretty much nothing that came before it matters. Ask Louisville. The Cardinals lost 4 of their last 6 regular season games, but find themselves the winners of the West Regionals after getting luke warm and finding ways to win ugly game after ugly game. On the other hand, don't ask Kentucky, who has been straight up dominant, aside from a loss against Vandy they seemed more than a little disinterested in. But you can ask Kansas, who lost to Baylor in the Big 12 tourney and then eeked out games against Purdue and NC State before blowing out a hobbled UNC team.
In any case, though all four teams took different paths to the Final Four, the do share a number of commonalities; as we'll see today, defense rules (and is pretty much the only reason why Louisville was even invited to the party), but that isn't the only statistical item of importance between these teams. Because of that, the Final Four games may get extremely ugly, which should put a smile on your face.
Let's go back to Louisville. Ken Pomeroy has them ranked as the number 1 defensive team in the country, which is good because he also has them ranked as the 101st offensive team in the country. The Cardinals' stifling D allowed them to hold both Cincinnati and Michigan State to 44 points in March, which is not a lot of points but is also a little like telling a lactose intolerant guy he can't eat cottage cheese anymore.
Their secret is that they contest everything. Louisville is a relentless team on defense, and that constant pressure can lead to a lot of mistakes by their opponent. This is important, because unlike a number of other teams that rely on their defense for success, Louisville doesn't strive to shorten the game by limiting possessions. In fact, they average slightly more possessions per game than the NCAA average, but their defense forces so many bad shots (which effectively become the same thing as a turnover), that they are able to stay in games despite an often crappy offense. An example: remember that four of six they lost to finish the season? In none of those games did they give up more than 60 points.
Offensively they really have issues; only two players average more than 10 points per game, and one, Russ Smith, takes over 35% of UL's shots with only an overall .359 field goal percentage to show for it. It's rough.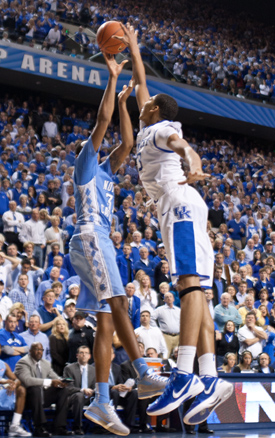 On the other hand, Kentucky has a ridiculous 6 players who average over 10 points per game, and five of them have scored more than 20 points at least once this year. The one who hasn't, Darius Miller, has scored 19 points four times this year, including in both of the last two games in the tourney. With the exception of Doron Lamb, who hits about 47% of his threes, they aren't an amazing perimeter team, but their inside presence with Anthony Davis is completely ridiculous.
And inside is where their defense shines. Davis averages 4.6 blocks per game, and at least in part because of this, Kentucky was probably the best team at defending 2 point shots in the country this year. Offensively Kentucky doesn't really need Davis, but he really is their identity on defense. With him hobbled, Baylor was able to make (something resembling) a run at Kentucky in the second half of their regional semi-final game. It should be noted that as tough as UK is on the inside, they don't cause a lot of turnovers; a team that can rebound, especially on the offensive glass, has a shot against them, as does a team that can attack them on the perimeter. Louisville isn't particularly good at either of those things, but if Davis is hurt then that changes the entire complexion of that game.
Kansas, OSU's opponent, is alike the Buckeyes in a lot of ways. Thomas Robinson is very similar statistically to Jared Sullinger, and typically carries the load with regard to rebounding for the Jayhawks. Tyshawn Taylor is a terrific guard in his own right, averaging 16.6 points per game, but in the first matchup against OSU he only managed 9 points. Craft and Taylor should be at each other all game.
But again, Kansas wins on the basis of their excellent defense. Pomeroy lists their Effective 2 point FG% at 40 percent, the best in the country, and they have done very well in the NCAA tourney in terms of allowing points overall. They average around 7 steals per game, the same as Ohio State (!), and also manage a block on nearly 15% of their opponents' possessions (compared to 9% for OSU). It should be pointed out that Ohio State is at this point a vastly underrated offensive team, but in the upcoming game it is definitely going to be strength on strength, as OSU is only slightly a better three point shooting team than Louisville, who flat out sucks at it.
There are a ton of stats that you can go through for the next few games; blocks, points per possession, effective defensive FG%, dollars per inflated SAT score, etc., but in my opinion, the teams that will win are the teams that have consistently shown their ability to be dominant defensively in the paint. What does that mean for Louisville? Well, it means they're screwed.
But more importantly, what does it mean for the Buckeyes? It means they Jared Sullinger needs to play out of his mind, Deshaun needs to continue to be awesome, Lenzelle needs to keep making clutch threes, and most importantly, William Buford needs to start shooting better than the .295 he's been averaging during the tournament. If that happens, look out. If not, we start writing about spring football.