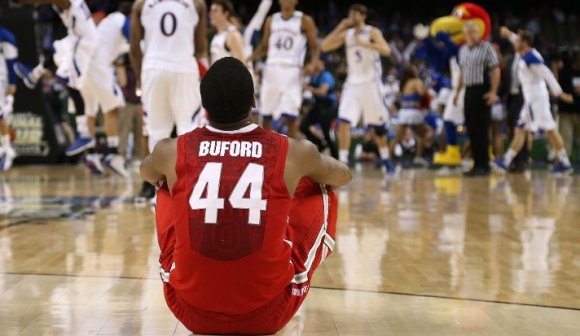 Staring at screen. Not sure what to type. 
On one hand, there's no sugar coating what was an utter collapse as Ohio State blew a 13 point lead by hitting just 24% of their shots in the 2nd half while allowing Kansas to hit 54% of theirs before completely falling apart over the final two minutes to fall 64-62 tonight in the Final Four. 
On the other hand, a team comprised of one senior, one junior and 10 freshmen/sophomores (though those soph's were battle tested) turned around what was teetering on becoming a disappointing season after losing three of five games in mid-late February by coming together to win eight of their last 10 games, to capture a share of the B1G regular season crown, a #2 seed in the Big Dance and a trip to New Orleans.
Willie Buford stepped up in his final game in the scarlet and gray with a game high 19 points to go along with seven boards but it wasn't enough to overcome a not good enough effort from both Deshaun Thomas and Jared Sullinger. The pair that had done so much allowing Ohio State to get to this point flat out didn't get it done tonight combining to miss 25 of 33 shots. 
Sullinger did put up a 13/11 dub dub but hit just 5/19 from the floor and helped Jeff Withey set a Final Four record with seven blocks. 
Thomas was saddled with foul trouble and connected on only 3/14 shots. When he was on the pine the offense was mostly reduced to running the shot clock before trying to force a one on one move from out top or else a foolishly attemped bully move from Sully in traffic as Kansas went to aggressively double teaming Jared when he received the ball in the post. 
Leading 59-56 after an Aaron Craft layup with 2:23 left in regulation, the Buckeyes surrendered an 8-3 run the rest of the way. 
After Tyshawn Taylor hit a layup cutting the lead to 59-58, Craft forced a drive on Withey and he turned the shot away leading to a fast break and two free throws by Travis Releford giving Kansas a 60-59 lead with 1:37 to play. 
The Buckeyes responded with a disjointed possession that culminated in Buford missing a makeable but off balance shot in traffic. In one of the themes of the night, the Buckeyes were then sluggish in transition defense and Elijah Johnson hit a layup giving the Jayhawks a 62-59 lead with :27 left on the clock. 
On the ensuing possession, Buford delivered a clean pass to Thomas at the top of the key but Thomas took his eye off the rock and leading to another empty possession. Kansas couldn't capitalize after a Withey walk but down three with :17 left, Thomas rushed back to back threes, the second of which Buford follow up slammed cutting the deficit t 62-61 with 9.6 left in OSU's season. 
Forced to foul, Lenzelle Smith Jr. put Taylor on the line and he drilled both for a 64-61 lead with 8.3 showing. Smith Jr. threw away the ensuing inbounds pass but KU turned it right back over with 3.8 left but it   was a moot point as the Jayhawks purposefully fouled Craft. He hit the first free throw and missed the 2nd on purpose but committed a lane violation trying to track down the rebound and that was that. 
The final two minutes were truly disgusting. I can't imagine how the coaches and players feel especially knowing it should've never even came down to those fateful 120 seconds after Ohio State led by 13 on five different occasions. 
Ohio State's 8/33 display in the 2nd half dropped the Buckeyes to 34% shooting overall (20/59) while Kansas finished at 45%. 
The Jayhawks owned the paint outscoring the Buckeyes 32-16 and Ohio State tried to counter by holding a 23-8 bulge in points off turnovers. 
Thomas Robinson abused Thomas and Evan Ravenel scoring 19 points (8/18) with eight boards, Withey threw in eight rips to go along with his noted seven swats and Johnson pulled down 10 caroms as Kansas won the glass 42-30. 
It didn't look like the story would unfold like this after Ohio State used a 14-4 run to take a 26-13 lead with 6:11 left in the 1st half. Buford keyed the spurt with back to back triples before Thomas scored the last five points on a trey and a putback of a Craft miss. 
The lead remained in the 11-13 point range for most of the rest of the half thanks to pesky defense by Craft as he held Taylor to 2/7 shooting with three turnovers while his teammates helped hold KU's virtual two man offense to 11/30 from the floor (37%) with nine turnovers. Meanwhile, Ohio State used a balanced attack led by Buford's eight points (3/3 FG), seven each from Sully, Thomas and Smith, and five points, three assists from Craft. 
The half - in a bit of foreshadowing - ended on a sour note. Leading by 13 with 42 seconds left Craft fouled Taylor leading two a pair of free throws and on the ensuing possession, Craft made a poor decision penetrating too deep against Withey and his blocked shot triggered a Releford layup just before the halftime buzzer trimming the lead to 34-25. 
Even up nine, it felt like a momentum shift was in process and that was certainly the case as the Buckeyes missed their first eight shots of the 2nd half and Kansas opened on a 13-4 run to tie the game at 38 with 14:06 left. 
At the 2:48 mark, the Jayhawks finally grabbed their first lead since scoring the opening bucket of the game after two free throws from Releford capped a 7-0 Kansas run. Following a couple free throws from Thomas and a sick steal and layup helped the Buckeyes regain the lead at 59-56 with 2:23 to play, the aforementioned sloppy finish unfolded, euthanizing Ohio State's season in the process. 
Overall, an excrutiating way to watch this team go out but reaching the Final Four is always a major accomplishment and something last year's juggernaut couldn't accomplish. A tip of the cap to these Buckeyes despite the dismal late game performance. 
And many thanks to William Buford for four years of service. He went out like a lion. It seems a foregone conclusion that Sullinger also played his last game as a Buckeye and it's a shame he went out with a lackluster effort, at least by the standard he set for himself. Now we see where Thomas is at, if anyone (JD?) plans to transfer and what changes the staff might endure with Boals and Dickerson rumored for potential head coaching gigs.