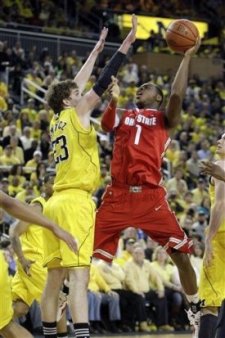 Champions of the last two B1G tournaments and winners in 14 of their last 17 games in league post-season play including last night's 88-71 win over Purdue, the Buckeyes now get down to business taking on a Michigan squad that joined OSU and Sparty as regular season conference champs. 
These two split the regular season series with each winning on their home floor, the Bucks back in late January and Michigan in mid February. 
In the first meeting, Lenzelle Smith Jr. led four Buckeyes in double figures with 17 points and 12 boards as OSU used a 14-2 run in the 2nd half to post a 15 point win. Jared Sullinger strugged to get going in a clogged lane and became frustrated on the way to 13 points. Ohio State controlled the glass 37-22 including 14 on the offensive backboard led by eight from Smith and the Buckeyes shot 14 more free throws as Michigan was overly content to shoot deep jumpers. 
The rematch in Ann Arbor was an entirely different story with Trey Burke dominating Aaron Craft in crunch time, the offense struggling to find an identity and William Buford being at the focal point of that with a 3/12 shooting night, good for six points. Sully was again frustrated by double teams at times, managing 14 and 8, and Michigan used swarming traps on ball screens for Craft to disrupt the Buckeye attack. Deshaun Thomas kept the Buckeyes close with 25 points and a career high 14 boards but OSU never led, falling out of 1st place in the process.  
If the chirping in the arena yesterday by the OSU and UM fans is any indication of how the players will go at it, today's rubber match will be a knock down, drag 'em out.
| # | Name | YR | HT/WT | PTS | REB | ASST | P | # | Name | YR | HT/WT | PTS | REB | ASST |
| --- | --- | --- | --- | --- | --- | --- | --- | --- | --- | --- | --- | --- | --- | --- |
| 4 | A. Craft | SO | 6-2/190 | 8.6 | 3.0 | 4.5 | G | 3 | T. Burke | FR | 5-11/180 | 14.6 | 3.4 | 4.6 |
| 32 | L. Smith Jr. | SO | 6-4/205 | 6.0 | 4.6 | 2.1 | G | 1 | S. Douglass | SR | 6-3/200 | 7.7 | 2.6 | 2.4 |
| 44 | W. Buford | SR | 6-6/220 | 15.1 | 4.9 | 2.9 | F | 0 | Z. Novak | SR | 6-4/210 | 9.5 | 4.6 | 1.9 |
| 1 | D. Thomas | SO | 6-7/225 | 15.1 | 4.9 | 0.9 | F | 10 | T. Hardaway Jr. | SO | 6-6/200 | 14.5 | 3.8 | 2.2 |
| 0 | J. Sullinger | SO | 6-9/265 | 16.9 | 9.3 | 1.2 | C | 52 | J. Morgan | SO | 6-8/250 | 7.5 | 5.6 | 0.3 |
Opponent
Outside of Burke's magical 30 point performance (11/14 FG) in which he played all 45 minutes, the Wolverines were largely unimpressive in yesterday's 73-69 OT win over Minnesota. Unable to gain any separation as Minnesota worked them on the glass leading to a 41-41 tie with just under nine minutes to play, the Wolverines surrendered what looked like a knockout blow as the Gophers used a 13-4 run to take a 54-45 lead with just 4:33 to play. 
To their credit, Michigan responded with an 11-2 run to force overtime via a layup from Burke, a couple threes from Zack Novak and a game tying trey from Evan Smotrycz while holding the Gophers to 1/6 shooting with a pair of turnovers. The comeback set up the culmination of the Trey Burke Show as he scored nine of Michigan's 17 points in the extra session. 
Tim Hardaway Jr. was Burke's only teammate in double figures with 20. 
Michigan was shredded on the glass 37-25 but did force 16 Gopher turnovers. In both previous matchups, the Wolverines struggled to keep OSU off the glass losing the battle 38-29 in the loss in Columbus and 34-25 in the win in Ann Arbor. 
Shooting 36% from distance on the year, Michigan connected on only 29% (11/38) in the two outings against OSU. How well the Buckeyes defend the three today will likely go a long way in determining a winner as Michigan takes 45% of the FGA's from beyond the arc. By comparison, Ohio State takes 26% of their FGA's from distance. 
Buckeye Breakdown
Thad Matta's crew earned a trip to the tourney semifinals for the fifth time in eight tries with an 88-71 decision last night over Purdue. 
The Buckeyes looked impressive for stretches but still found themselves up just three with eight minutes to play before unloading on the Boilers with a 17-3 run over the next four and a half minutes to take control of the game 79-61 with 3:32 left before cruising to the 17 point victory.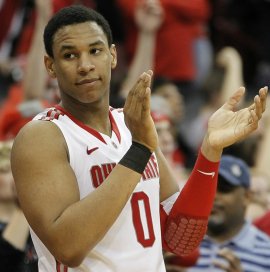 Sullinger had a nationally-quiet monster performance with 30 points on the strength of 12/17 shooting along with 12 boards and three blocks. Thomas was also a beast adding 22 points on 9/13 sharp shooting with seven boards including a couple clutch putbacks.
Buford was quiet offensively until the 17-3 spurt saw him drop in two and-1's and a trey from the right corner enabling him to finish with 11 points, six boards and five assists.
The Buckeyes surrendered 12 triples to Purdue (12/26, 42%) as the Boilers connected on 6/13 in each half. Purdue burned the Buckeyes in Columbus with an 11/19 night from beyond the arc (58%) as Matta employed a fight over the ball screen strategy so last night he flipped the script having the OSU defenders switch on such screens. Neither scheme worked overly well but OSU won both games and it will be interesting to see how Matta opts to try and slow Michigan's long range attack.
In conjunction with a focus on defending the three, the another major deciding factor today will obviously be the Craft/Burke matchup. Burke looked like this should be his last season in college yesterday and will no doubt be oozing confidence. Craft had an excellent overall floor game yesterday with the only real defect being some struggles with staying in front of Lewis Jackson in the 1st half. If he can't stay in front of Burke and take away the dribble drive, forcing him to give Burke space on the perimeter, things could get sticky. 
With Sully yet to really find his rhythm against Michigan, it will be intriguing to see if the guards can duplicate what they did yesterday, finding him in scoring spots with entry passes just as he flashed open, allowing Jared to start his offensive moves immediately thus keping keeping double teams at bay. 
Etc
The Buckeyes are 18-8 all-time in the B1G Tourney and are currently riding a seven game win streak.
Sullinger averaged 16.3 points and 14.0 boards in last year's BTT championship run despite only 66% foul shooting.
Craft was just one of three B1G starters in regular season play to make more than half of his FGA's (54%). 
Under Matta, Ohio State is 200-6 when leading with 5:00 to play.
Matta has won at least 26 games in five of eight seasons at Ohio State.
In conference play, Shannon Scott has 16 made FG's against 41 fouls. He's 1/16 from three point land (6.3%). 
The Buckeyes have won 15 of the last 18 against Michigan. Word.