"Amir! Amir! You've got to dunk that (expletive)!"
The five Buckeyes on the floor were heading toward their bench for the under-eight minute TV timeout in Saturday night's Eastern Regional Final against Syracuse following a missed bunny by third-string center Amir Williams. He had to be as disappointed by his miss as he was surprised to be even playing in that first half.
Williams could not have imagined more tenuous circumstances for his entry into a Final Four play-in round. Jared Sullinger had collected his second foul (or more appropriately - "foul") at the 13:43 mark, promptly sending Ohio State's star to the sideline for the balance of the first half.
Backup Evan Ravenel came in to bridge the Buckeyes into the break, but exactly five minutes later he too was carrying a pair of fouls.
That left the duties at the five to the freshman Williams, whose benchwarming resume this season includes notching a Trillion vs Purdue and squandering another against the Boilermakers in the Big Ten Tournament with a block in the waning seconds of the blowout. He had seen either scant or no playing time in 20 of Ohio State's 30 games.
Yet there he was on the court early in the Elite Eight; Ohio State's third center off the bench and in the center of the Buckeyes' scoring strategy.
Thad Matta's offensive plan against Syracuse was to respectfully decline their 2-3 zone defense's invitation to hoist distant threes in favor of squeezing the ball into the high post, goading the Orange defenders to collapse before moving it inside to what should have been Ohio State's two-time All America big man for a high-percentage finish.
The plan worked well on Williams' first offensive possession and he found himself with the ball in position to make a Sullinger-like play on the basket. Instead, he turned it over.
After an errant Syracuse jump shot at the other end, the Buckeyes came down and ran the same play. The blueprint worked once again, however this time instead of losing the ball Williams went up with hesitation and failed to finish, but not before being fouled.
He would be shooting free throws coming out of the timeout. He walked back to the bench with his head down before hearing his name, which lifted his stare from his shoes.
"Amir! Amir! You've got to dunk that (expletive)!"
That wasn't his head coach shouting him down. It was his cheeky point guard, arms raised above his head simulating a thunderous finish, smiling genially as if he was on the verge of laughter.
At the exact moment that Aaron Craft was playfully soothing his younger big man's anxiety, his older brother and army infantryman Brandon was a mile over the Pacific Ocean en route to a mission in Afghanistan as part of his first deployment. If the sophomore guard from Findlay was nervous, disquieted or uneasy, he wasn't showing any of that.
And that demonstration wasn't out of character, either. This was vintage middle-child Craft in the throes of any basketball game: Relaxed yet still poised for maximum disruption and constantly enabling and encouraging his teammates to finish what he starts.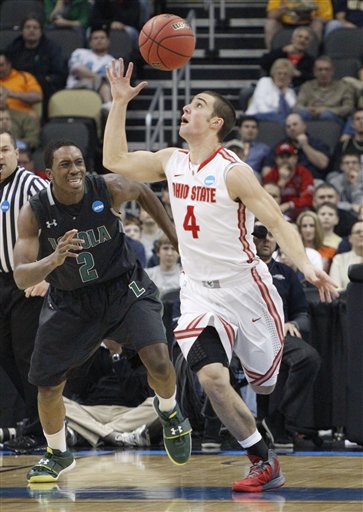 Ohio State's sophomore leader keeps the four other big fish operating as a single, unfragmented unit at both ends of the court. Sullinger, his long-time AAU teammate (who literally begged Thad Matta to reserve a roster spot for the then-Tennessee verbal commitment) has long been accustomed to Craft's methods. His other teammates have learned quickly.
He's good for almost nine points each game, which might actually seem high for a lineup already stocked with prolific scorers. Regardless, Craft isn't regularly called on to make baskets.
He works much further up in the basketball supply chain, turning his opposing guard inside-out, manufacturing the transition and constructing the set before relinquishing control to those that finish Ohio State's goods, like Sullinger. Or in this case, Williams.
Craft initiates everything the Buckeyes do. Sure, he's also happy to finish, but that's outside of the scope of what has made him into that enigmatic player that opposing fans rue with excessive self-loathing because they fully realize if he was on their team he would easily be everyone's favorite player.
Pundits love to characterize players into convenient, bite-sized definitions either through statistics or stories that tug at the human condition: Craft can effortlessly solve the Rubik's cube in about a minute. Craft is a first team Academic All American.
Craft is the Big Ten's Defensive Player of the Year. Craft is [lazy euphemisms traditionally reserved for modestly-sized caucasian athletes].
While all of that is true, Craft's most important contribution to his team is his self-appointed hybrid role as a precocious coach on the floor, on-court therapist and archetypal curator of unrelenting effort that is both contagious and inspiring. That value cannot accurately be measured with stat sheets.
He is the catalyst who starts everything the Buckeyes finish. On Saturday he started his third-string center.
"Amir! Amir! You've got to dunk that (expletive)!"
Twenty seconds following that under-eight TV timeout, Williams aggressively snatched away a rebound from Syracuse forward CJ Fair. On the Orange's next possession he blocked center Baye Keita's layup. A minute later he swatted forward Kris Joseph's shot into the fourth row. Then he collected another defensive rebound and Craft started the transition.
At the other end of the floor the Buckeyes broke that 2-3 zone once more, and Ohio State's third-string freshman center found himself at the basket with the ball in his hands yet again.
This time there was no hesitation: Williams elevated with purpose and scored with a thunderous finish that immediately brought the fans in scarlet to their feet in uproarious approval.
Amir had done as he was told. He dunked that (expletive). The stat sheet shows that the final pass to Williams was delivered by DeShaun Thomas, who had slipped inside the zone to set the big man up for a high-percentage finish.
However, the assist to Williams came from the Buckeyes' cheeky point guard, who was already getting back on defense and smiling genially as if he was on the verge of laughter.
You can still get into the game for $260. Partying a win away on Bourbon Street is a pretty awesome feeling.