It already seems like a long time ago, but it's only been a little over four weeks since Thad Matta, frustrated by a lack of effort in practice, shut things down and told the team to vacate the gym.
That Buckeye team was mired in a late-season slump, dropping three of five conference games just as the race was heating up. Instead of finding ways to win, a squad with 11 underclassmen was still coming of age and painfully discovering that 40 minutes of effort, not 30, or even 35, was needed to be great on a consistent basis.
The Ohio State team that finds itself in New Orleans, one win away from a shot at national championship, appears to have learned what it takes to finish. It's a leap you see so many good but young teams make and it's not possible unless everyone embraces the commitment needed to go from a team that had to claw its way into a tie for the conference championship to one that will still be playing ball on the last day of March.
Jared Sullinger has returned to his freshman year form, no longer willing to let the lack of calls take him out of his game. Aaron Craft continues to play the role of team leader and spark plug, setting the tempo at both ends of the court. Deshaun Thomas is the tournament's leading scorer, while Lenzelle Smith Jr. has emerged as a surprising and much needed source of points.
Even William Buford, struggling through a frustrating senior season, is contributing in ways that aren't always obvious. It was Buford, the team's lone senior, who refused to let the team leave after Matta had attempted to cut that February practice short.
During the grind of the season, especially with unexpected losses popping up, we don't often appreciate just what we have in this team, but with time quickly running out and the NBA beckoning, we're running out of opportunities to do just that.
I'm going to miss this crew, but before I do, I'm going to enjoy a Saturday night treat against one of college basketball's blue bloods.
With any luck, we'll get a chance to do it one last time on Monday night. It won't be easy getting there, but the last big game played by a Buckeye team in the Superdome wasn't either, and that was as much fun as you can pack into a night.
AS IF YOU NEEDED ANOTHER REASON TO LOVE AARON CRAFT. As part of the banquet and awards circuit that accompanies the Final Four, Aaron Craft was named the Elite 89 award winner by the NCAA for being the student athlete with the highest "cumulative grade-point average participating at the finals site for each of the NCAA's championships".
Craft, an exercise science major with a 3.88 GPA (!!), will have to find a home for this award next to the Big Ten Defensive Player of the Year and Academic All-American and All-Big Ten awards he's picked up in recent weeks.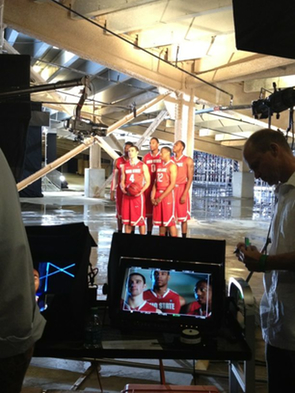 THAD MATTA THINKS YOU'LL DO JUST FINE AS A BEST MAN. Pete Thamel of The New York Times has the story of how Thad Matta, faced with squeezing a wedding in before taking his first coaching gig, managed to lock down his new boss, Western Carolina Coach Phil Hopkins as the best man at his wedding.
Barb Matta unintentionally summarized her husband's ascent by explaining why he could not wait a week to give his family more time to travel to North Carolina for the wedding.

"Thad had to go out recruiting," she said with a laugh.
Oh, and the sweating? It's always been a problem.
"There was sunshine coming through the stained glass windows," Barb said. "It was a nice warm day. He was so hot in the church I had to wipe his face before we could kiss."
It may not be the most romantic tale ever told, but it sure beats thinking of Bret Bielema leering across the craps table.
JERRY LUCAS WOULD HAVE MADE AN EXCELLENT AMBASSADOR. Collegehoops.net recently caught up with the Buckeye great and he shared a pretty entertaining story about his first Olympic game, played while a sophomore at Ohio State.
In the 1960 Olympics you were the leading rebounder and co-leading scorer for the U.S. team that won the gold medal, and you were a perfect 14-14 from the field in a game against Japan (84 FG% overall during the Olympics). Was that the best team you ever played on, and what are your memories of the Japan game?

JL: It was obviously an incredible team and the best Olympic team the USA had until the pros started playing. I remember the Japan game very well. They were not very big, and being my first Olympic game it was important to me. I had learned a few Japanese phrases so at the start of the game I said "Good morning" to the Japanese center. He looked at me, backed out of the mid-court circle, and bowed to me. He ended up speaking Japanese to me during the whole game and I just kept saying "Ohio", which is ironic because my home state is the Japanese word "good morning"!
Ohayou to you all.
THAD MATTA'S COACHING TREE, IN FULL BLOOM. Illinois made things official yesterday, announcing John Groce as the school's replacement for Bruce Weber.
Groce, who coached under Matta at Ohio State and helped reel in the "Thad Five" in 2006, becomes the latest part of Matta's coaching tree to take root at a basketball-crazy school. Arizona's Sean Miller and Butler's Brad Stevens all cut their teeth under Matta, as did Dayton's Archie Miller and Charlotte's Alan Major.
With current Buckeye assistant Jeff Boals being the hot name to take over for Groce in Athens, look for this tree to keep growing.
ETC: Kentucky's John Calipari, doing his best to prevent overconfidence from seeping into his team, says it's ridiculous to think that his Wildcats could beat an NBA team... Bowling Green will play Buffalo at Columbus Crew Stadium on the night before the Ohio State-Michigan game... UNC's Harrison Barnes, Kendall Marshall and John Henson declare for the NBA draft... Texas Pro Combats are pretty ugly... Michigan and Notre Dame, veritable talent black holes... Haha. Poison, son... DERP.