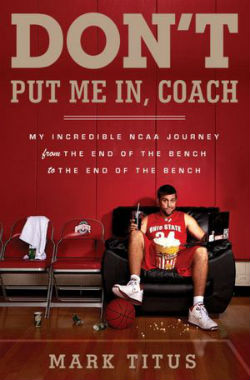 [Note: This review, like the book it's based on, is not exactly PG material. You've been warned.]
Do you like Ohio State basketball?
Do you like humorous, well-written books?
If you answered yes to either of those questions, you'll want to pick up a copy of Mark Titus' Don't Put Me In, Coach, which hit store shelves today.
We were fortunate to have received an advance copy of the book and while reading it over the course of the past week, I would constantly find myself marveling over a tidbit that shed light on the personality of a member of the team and then doubling over in laughter at how it was delivered by Titus.
This book is every bit the Ball Four of Ohio State basketball and is written in the same hilarious and offbeat manner of Jim Bouton's classic. Though not as salacious and it (hopefully) won't burn as many bridges with teammates as Bouton's work did, Don't Put Me In, Coach is every bit revealing (Pro Tip: don't share a room with Ivan Harris).
As the reader, you're taken on a journey that starts with Titus meeting Greg Oden, Mike Conley and his other AAU teammates through his career at Ohio State, ending with a senior day in which his father realized "his crying son is an enormous vagina".
You'll learn of Thad Matta's (and to a lesser extent, Jeff Boals') great sense of humor that meshed nicely with Titus as the consummate jokester. You'll get the inside scoop on several of Titus' former teammates including:
Greg Oden (oh, so white)
Daequan Cook (robbed Titus of AAU glory)
Jamar Butler (T'd up a record four times in one practice)
Othello Hunter (hated to fly)
Kosta Koufos (despised by teammates and spent the entire night at a house party delivering a lecture on how drinking was bad for you until Matt Terwilliger -- MATT TERWILLIGER! -- dumped a beer over his head)
BJ Mullens ("essentially just a 12-year old trapped inside an 18-year old's body")
Noopy Crater (completely nuts)
Will Buford (loved it when white guys quoted rap songs and ultimately comes off looking pretty chill)
And of course, Evan Turner.
Turner, nicknamed "The Villain" by Titus, gets a lot of run in the book and the two did have a brotherly relationship in the sense that they could fight like cats and dogs and but ultimately end up okay. Turner, in fact, that honored Titus by wearing a "CLUB TRIL" shirt on senior night (which would also be Turner's last home game).
While Titus took pride in making fun of all of the underclassmen, Turner was by far his favorite target because "he made it incredibly easy to get under his skin". Turner had arrived at Ohio State with a huge chip on his shoulder and was convinced "that everyone was either trying to piss him off or keep him out of the NBA". He quickly become known as the guy that would kick a ball across the gym in practice after missing a couple of shots and Thad Matta eventually became fed up with this and gave Turner an ultimatum after the Tennessee game his freshman season:
"I've scheduled this practice for an hour and a half. That's only 90 minutes. Today we're going to see how long it takes before Evan loses his mind. I've got the countdown on my watch and if Evan lasts the entire 90 minutes without a meltdown, the team won't run today. But if he freaks out, we'll run a suicide for every minute left on the countdown. So, for example, he loses it an hour into practice, everyone will run 30 suicides. Evan, the entire team's fate lies in your hands. Don't let your teammates down."
With 10 minutes remaining in practice, Turner had held his cool and the team was breathing a sigh of relief until Matta told the players to break out for free throw shooting to end practice. At this point Matta instructed Turner's chief tormentor, Titus, to pair up with Evan for the drill. You can guess what happened next:
When I walked over to Evan's basket, he smacked his lips and said, "What are you doing over here, walk-on?" while in the middle of one of his free throws. (Yes, he called me "walk-on.")

I explained that Coach Matta had asked me to shoot with him and that we were supposed to shoot five free throws at a time before we switched. He seemed cool with this, shot his five free throws, and then stepped off the free throw line to switch spots with me without any trouble. And that's when, to put it eloquently, shit went down.

Before I go any further with this story, it should be noted that I faced up to 10 suicides if Evan lost his cool, so it's not as if I was actively trying to piss him off. But as I soon found out, I didn't have to try with Evan. As we switched spots, I handed him the ball and asked him to toss me a bounce pass once I got lined up, just like a referee would do if I were shooting free throws in a game. But he apparently interpreted this as "roll the ball on the ground before I even get set so it hits my feet, makes me bend over, and completely destroys my rhythm." I picked the ball up and got situated at the free throw line before I gently tossed it back to Evan and again asked him to throw me a bounce pass. This time he fired a chest pass at me.

Now, I admit that I probably should've taken the high road at this point and just shot the free throws, but my pride kicked in and wouldn't let Evan get the best of me, so I threw the ball back and once again asked him to simply throw me a bounce pass. As soon as the ball hit his hands, he rocketed it right back and yelled, "Just shoot the fucking ball!" so loudly that he got the attention of everyone in the gym, including Coach Matta. But instead of blowing his whistle and making us run, Coach decided to sit back and watch everything unfold.

I shot my free throws and switched spots with Evan, who had been standing underneath the basket rebounding for me (and throwing passes back to me as hard as he could). As we walked past each other, Evan called me a bitch under his breath and threw his shoulder at my face, connecting square with my chin. Coach Matta instantly blew his whistle and yelled, "There it is! Everyone on the line!"

And with that, Evan had finally had his meltdown.
I could honestly cite a hundred different passages from this book. It was that insightful and entertaining.
But instead of doing that, I'm going to encourage you to pick up your own copy. We'll hold a book club in the site forum in two weeks.
Also, be sure you're sitting down and not drinking anything when you get to the part about Greg Oden and his Nerf gun.