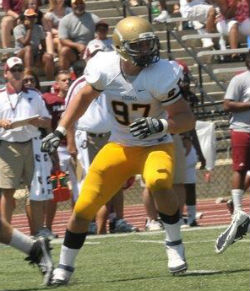 St.Thomas Aquinas High School in Fort Lauderdale, Florida has been home to many outstanding football players in the last decade, but hasn't been that friendly to Ohio State in recent years.
The Buckeyes did land Nate Salley and Duron Carter, whose stay in Columbus was short lived, but they haven't been able to land a single player from the school other than those two. They have struck out on or not offered players such as Major Wright (Florida), Leonard Hankerson (Miami), Brandon Linder (Miami), Giovanni Bernard (UNC), Phillip Dorsett (Miami), James White (Wisconsin), Keion Payne (Miami), Cody Riggs (Florida), and others.
That trend could definitely be changed under Urban Meyer, who has ties to one of the top programs in the Sunshine State, and it may start with the Raiders' best player in the 2013 class, DE Joey Bosa.
The 6-5/260 Bosa is a terror for offensive linemen to handle and gives nightmares to opposing quarterbacks. This past year he recorded 52 tackles (18 for loss) with 8 sacks playing mostly defensive tackle, but has the frame and athleticism to be able to play both inside or outside at the next level.
While all of the top schools in the nation are in pursuit of one of Florida's best and the 14th ranked player in the Rivals 250, Bosa has sorted things out a bit when it comes to his recruitment, recently naming a top five list that he will focus on. We caught up with Joey to hear who those five schools are, what ties he has to the Ohio State program, what his plan on a decision is, and more.
Join us after the jump to hear the latest on one of the nation's best defensive linemen, Joey Bosa.
How did your junior season go? How did your team do and how did you perform individually?
The season didn't go as well as we had hoped. Of course, at a top high school like St. Thomas Aquinas, we try to get to states every year, but it just didn't happen this year. Individually, I had a pretty good season and definitely got my name out there.
How is recruiting going for you right now?
Recruiting is starting to get crazy, but I have a top five right now. Included in that list is (in no order) Florida State, Florida, Alabama, Ohio State, and Wisconsin.
What visits have you taken already? What visits do you have planned in the future?
I have been to Alabama, Florida, Florida State, and Wisconsin already. I have plans to go to Ohio State, Alabama, Michigan, and Wisconsin this spring. 
When are you going to be visiting Ohio State?
I am going up there April 20-22 for the Spring Game. I can't wait to get up to Ohio State and see everything up there.
Your mom graduated from Ohio State and your uncle (Eric Kumerow) played there. How big of a factor will that play in your recruitment?
I would say it's definitely something to think about, but I wouldn't say it is a big factor. They don't pressure me to go there or anything like that.
What coaches have been recruiting you for OSU?
I talk to all of the coaches really, but mainly Luke Fickell, Mike Vrabel, and Urban Meyer are recruiting me.
When do you expect to make a college decision?
I expect to make a college decision whenever I am ready and feel a school is the right place for me.
What are the most important factors for you when picking a school?
The most important thing will be which school is the best fit for me. It's not just the school that wins the most or has the best facilities, but just the program that all around fits me the best.
What are your strengths on the field? What are some things you need to work on?
I would say my strengths are my power and speed off the ball. I need to work on improving everything because it is important to continue to work on all parts of my game.
HIGHLIGHTS: