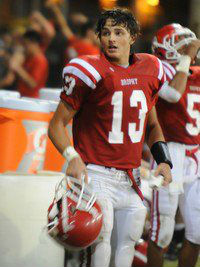 In the middle of the NCAA Tournament it's one of the only times of the year it's difficult to keep track of what's going on in the football world at Ohio State, but right now there's plenty of madness going on for Urban Meyer and his staff as they prepare for spring football while continuing to try and put together a top notch class of 2013 prospects.
Something that has become apparent for Meyer when assessing his 2012 football team is that they lack multiple players with true play maker ability. In Meyer's system those types of players are coveted and he has made it his mission to build depth at the spot, mainly at wide receiver and running back.
One of the players that has gotten attention in this area is Devon Allen of Phoenix (AZ) Brophy College Prep. Allen is a 6-1/190 wide receiver who not only has the speed Urban covets (clocked in the 4.4's in the 40-yard dash), but also has ties to Ohio State, with his father being a former Buckeye baseball player.
Allen had been talking to the OSU coaches for a while and the legacy recently picked up an offer from the Bucks, one of many he has collected so far in his recruitment. While things are still far from a done deal, Allen is certainly interested in seeing what his dad's alma mater has to offer and will be making a visit to Columbus in the near future.
We got to sit down with Devon to hear the latest on his recruitment, what his plans are for visiting Ohio State, when he might make a decision, and more. Join us after the jump to hear about one of Ohio State's newest recruiting targets, Devon Allen.
How did your junior season go? How did your team do and how did you do individually?
My season went well as our team went 11-1 and lost in the quarterfinals of the playoffs. I played good too, catching 44 passes for 844 yards with 17 touchdowns. I also ran for 228 yards on 26 carries and averaged over 33 yards on kick-off returns and over 13 yards on punt returns.
How is recruiting going? Who has offered and who is interested and close to offering?
Recruiting is going great. I have offers from Arkansas, Nebraska, Oklahoma State, UCLA, Vanderbilt, Mississippi State, Michigan, Notre Dame, Oregon State, Arizona, Washington, Purdue, Arizona State, Colorado State, Duke, Utah, Stanford, and Ohio State. The schools showing interest that may be close to offering are Texas A&M, USC, Oregon, and California.
What visits have you taken so far? What visits are you planning to take in the near future?
I have taken visits to Arizona State, Washington, Stanford, and USC so far. I am planning on visiting a lot of the other schools that offered me sometime during the spring and summer.
I saw Ohio State recently offered you. How did that go down?
They had been talking to me for a while and then one day when I was talking to Coach Tom Herman he told me that the coaches all really liked my skill set and that Ohio State would love to be the school that gets to use that skill set.
What coaches are you talking to at Ohio State? What are they telling you?
Coach Herman is my recruiter and basically he is just telling me they'd really like me to come there.
Do you plan to visit OSU any time soon? What are you most looking forward to about that?
Yes, I will definitely be visiting Ohio State over the summer. A lot of my family is from Columbus so I'm really excited to get back there and see what the school is all about.
Your dad went to high school in Columbus and played baseball at Ohio State. What factor, if any, does that play in your decision?
It will definitely play a little bit of a factor in my recruitment, but not enough for me to make a decision based on that right now.
Do you have any favorite schools at this point?
I don't have a favorite school just yet. I am very interested in looking into what all the schools that I have scholarships from have to offer me.
When do you expect to make a college decision?
I'm not sure right now, but hopefully within a reasonable time before National Signing Day.
What are your strengths on the football field? What do you need to work on?
I believe that I run the best routes and block the best out of any recruit in the nation. I also think my speed, size, ability to make plays, and my understanding of the game put me in an advantageous position. I need to work on and improve all aspects of my game, both mentally and physically. 
HIGHLIGHTS: