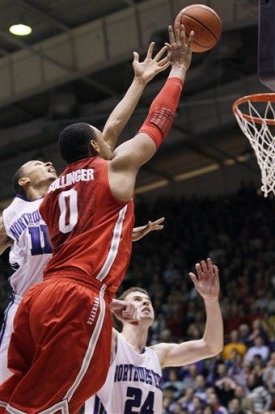 The headline should've read "Buckeyes Kick Northwestern's Glass" thanks to a ridiculous 44-18 rebounding edge including a 20-6 advantage on the offensive backboard yielding a 20-7 gap in 2nd chance points...
But Ohio State blew a 12 point lead with 5:39 left surrendering a 15-3 Wildcat spurt before a well designed play saw the Buckeyes go the length of the court to score the game winning bucket with 3.1 seconds left allowing the Buckeyes to prevail 75-73 tonight in Evanston. 
Having to go the length of the floor, the game winning bucket was a display of beautiful execution as Lenzelle Smith inbounded to Aaron Craft around the opposing three point line who took a few dribbles before lofting a perfectly placed pass to Sullinger just off the right block enabling him to catch, spin to his right and launch a soft bank shot from eight feet, all in one motion. 
The quick score gave Northwestern time to inbound and 11th year senior John Shurna almost pulled off a stunner as his 30 foot runner was on line but drew front iron and caromed to the floor giving the Buckeyes a chance to play for a share of the regular season conference title in East Lansing on Sunday afternoon. 
Though winning is the bottom line at this point in the season, the late collapse is still very concerning. Leading 70-58 after a great look from Deshaun Thomas to Smith for a layup, the Buckeyes hit just one of five shots before Sully's game winner while turning it over five times. The lone bucket during Northwestern's 15-3 run came on a Thomas triple that shouldn't have counted as Craft clearly walked in the lane before kicking the rock out to Thomas on the left wing. 
Of course, that shouldn't give Northwestern fans reason to whine considering Smith was called for a phantom travel call with :41 left as the Buckeyes led by three at 73-70. The Wildcats failed to capitalize on the gift from the zebras thanks to a missed shot by Reggie Hearn but Thomas - as we've seen the OSU bigs often do - grabbed the rebound but brought the ball below his waist allowing JerShon Cobb to steal the ball setting up an Alex Marcotullio triple from well beyond the top of the key to tie the game at 73 with 7.3 seconds to play setting up Sully's game winner. 
Sullinger led the Buckeyes with 22 points and 18 boards, 11 of which came at the offensive end, giving him a 12th dub-dub this year and the 30th of his career. In other words, Sully pulled down as many rips as the entire Northwestern roster. 
Thomas was also a monster with 19 points and 10 boards (4 Off) and Craft, despite four turnovers, turned in a very necessary 14 point night going 5/7 from the floor including a career high four triples in five attempts. 
Craft's offensive outburst was key as William Buford scored just six points on 3/10 from the field. Buford never got into the offensive flow thanks to two early fouls that forced him to the pine for the final 11:45 of the 1st half. Buford did pull down six boards with four dimes against just one turnover but if he's not the most frustrating player in the Matta era then I don't know who is. 
Smith also helped pick up Buford's slack with 12 points and a career high seven assists in a sturdy 33 minutes. 
The bench turned in another janky performance with a combined 23 minutes, two points, 1/3 shooting, three boards, three assists, four turnovers and four fouls. Speaking of fouls, Shannon Scott continued his hackish ways with two fouls in less than a minute which got me curious as to how many fouls Scott has this year versus field goals made. Get this: For the season, Scott has 16 made field goals against 41 fouls. In conference play, he had four made field goals against 27 fouls. Unreal. I mean, I'm not trying to hate, I'm sure he'll get better but damn, can he get much worse? 
I'm still amazed this was even a game over the final five minutes based on how things were going early. The Buckeyes took a 39-29 lead at the half thanks to 59% shooting, an eye-popping 21-5 rebounding edge and an 11-0 bulge in 2nd chance points. Sully and Thomas combined for 25 points as OSU built a 20-8 lead in points in the paint but the Buckeyes couldn't shake the nerds thanks to eight turnovers leading to 11 Wildcat points and a lax perimeter defense that allowed seven triples in 16 tries.
Craft also helped the NW cause in the opening 20 minutes with three turnovers against zero assists albeit with five points before hitting three big bombs from distance in the first seven minutes of the 2nd half. Before his final play precision on the pass to Sully, he struggled at the end of the 1st half failing to get a shot on the iron after overdriving. Better clock awareness and he could've easily pulled up for a 17-20 foot jumper. 
The Buckeyes shot 50% from the floor on the night but hit just 32% from distance (6/19) and 69% from the stripe (11/16). 
Northwestern also shot 50% on the night including a healthy 48% from beyond the arc (13/27). 
Shurna (22 pts, 7/19 FG) and Drew Crawford (23 pts, 9/11) did all the damage for the Wildcats. 
Though the team continues to frustrate with their wildly inconsistent play, they now sit at 24-6 overall and 12-5 in conference. I can't say I'm confident they can win on Sunday but that's why you play the games. See you Sunday at 4pm. Then, whatever the outcome, it's time for tournament basketball where all that matters is whether you survive and advance.