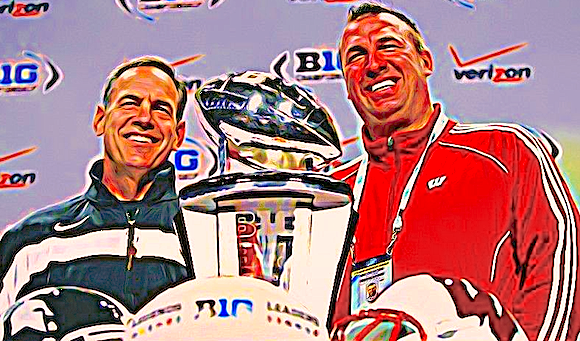 The interpretations began flying in from all directions almost immediately after Bret Bielema's unnecessarily public sour grapes moment. Accusing Urban Meyer of illegal recruiting - while providing no specifics to the allegation - is impossible to do quietly, so Bielema couldn't have expected no one to notice.
He also shouldn't have expected any sympathy, though it's hard to read what his intentions might have been. If they were to appear pedantic and bitter, he succeeded.
Consensus opinion was that Meyer was simply planting the flag for the new one-team SEC North. He was just more aggressive and ruthless than the crotchety B1G coaches were accustomed to. Bielema alleged that it had long been customary to back off of recruits once they verbally committed to a fellow conference member, and Meyer was not making nice with the other children.
Any notion of a legitimate gentleman's agreement is fly-covered crap, regardless of what Mark Dantonio also said about such a fantasy. A coach who concedes a recruit he actually wants to a rival is a coach that loves to lose, regardless of conference.
Those alibis are all fine only if you begin with the caricature of B1G coaches as a group of provincial aristocrats content to being the champions of farmland, versus recent SEC coaches like Meyer who prefer to go Alexander the Great over all time zones. There's a degree of truth to that. At least there has been.
However, lost in what turned into universal scorn toward Bielema were some crucial backstories. As has become customary for Ohio State stories floating around the media, important information was missing; details that provide additional tips into Bielema's frustration.
This time, however, the verdict didn't require those clues: The only thing the court of public opinion hates more than a snitch is a whining snitch.
Meyer had shown up at Ohio State during the 11th hour of the recruiting season and flipped lifelong Buckeye fan and Ohio native Kyle Dodson from an already-wavering Wisconsin pledge into a bellicose Ohio State commitment. For anyone familiar with Dodson prior to last week, his commitment did not fit the normal profile of recruiting theft. It was more of an inevitability.
This wasn't Florida native Stanley McClover abruptly flipping from Ohio State to Auburn for what turned out to be the right price. Dodson was always destined to be a Buckeye. In fact, were it not for the typical gross negligence of former OL coach Jim Bollman, Bielema would have never had the chance to complain.
Dodson is an offensive tackle from Cleveland. Bollman left the Ohio State roster virtually absent of tackles for 2012, marking the ninth straight offseason where line depth will be a concern. The Buckeyes could literally lose all of their tackles with any game experience to injuries on one single, grotesque play this September.
Bollman apparently couldn't be bothered to go all the way to Cleveland to recruit Dodson. He was a fit for Ohio State in every single category, yet he was categorically ignored until it was too late: He committed to Wisconsin hours after finally being acknowledged by Ohio State in the wake of Tressel's departure.
It wasn't as though Dodson was unique in being blown off by his favorite school: During the Tressel era, Ohio high school football produced 23 eventual NFL offensive line draft picks. That's nearly two dozen professional blockers from the Buckeye state.
This embarrassment of homegrown riches - in a state where most of the kids, like Dodson, grow up dreaming of becoming Buckeyes - sent exactly two guards and two tackles to Tressel teams.
The rest went elsewhere, as Bollman's OL depth charts throughout the decade routinely featured players slated as both starters and backups elsewhere on the line. Either his talent evaluation or recruiting effort was a failure. The truth is that both should have been deemed unacceptable many years ago.
For all of Tressel's triumphs, his largest failure - outside of his aversion to acquiesce with petty yet devastating compliance issues - was keeping the company of his cronies. Bollman did everything but steal from Ohio State, commanding the team's biggest liability throughout the decade without the risk of termination.
He had no pressure to perform, and that entitlement was passed down to the sprinkling of linemen he brought in. There is a reason the Buckeyes had so many three and four-year starters during his tenure: Necessity. Lack of competition and depth have a negative impact on options.
Contrast Tressel's cronyism with Meyer's edict to his coaches that they would have no value to Ohio State unless they could recruit and you have a terrifying new reality for the Big Ten that is much bigger than Dodson ever will be: The Buckeyes were a colossal pain in the ass over the past decade, at partial strength. That was good enough to win the conference, which is no longer the trophy for Meyer's Buckeyes.
Tressel kept a combination of young and hungry position coaches that carried the water for dead weight like Bollman and absurdly ridiculous promotions like "QB Coach" Nick Siciliano. Being casually late to recruit, settling for Plan D guys, casting a small net - yet still running roughshod over the conference suggests two possibilities: One, the B1G is just as lousy as everyone says it is, and two, the Buckeyes might have been underachieving during the best run it has ever had.
Most B1G athletic directors are content with hiring cute little night watchmen for their big stadium revenue producers. The fear and loathing emanating from Madison and East Lansing is a product the new, conspicuous reality: The days of the B1G being preoccupied with provincial championships are over. The bar is now higher, especially with Meyer in the fraternity.
Similarly, the era of Ohio State sending farmers out onto the recruiting trail instead of killers has officially expired. Collecting talent annually that includes a significant portion of players who always wanted to be Buckeyes worked fine for Tressel.
Under Meyer, there won't be any sanctuary for coaches apathetic toward recruiting. He made that clear immediately.
Farming the Ohio State brand to fill the pipeline worked for the first six months of each recruiting cycle under Tressel. Each class predictably staggered to the finish once actual hunting became necessary to win. Meyer's arrival late in the season created a force rarely if ever seen in December and January: Buckeye coaches aggressively hunting for their future stars without the benefit of a large spring cache of elite verbals.
The success of his schemes and game day strategies remain to be seen, but the attitude toward recruiting aggression is one element that Buckeye football has sorely lacked since the Cooper era. The conference title, on hold for a single year in purgatory, is still a checkmark en route to something bigger. Beating Michigan, as was the case under Tressel, shouldn't be considered a variable either.
There isn't a whole lot for Meyer to upgrade from where Tressel left the program after 2010, but what requires improvement is getting it, and with urgency. Bielema - as well as Dantonio, who temporarily had Se'Von Pittman in his clenches exclusively on account of Ohio State's turmoil - now have a full understanding of what they're up against during the offseason, and it looks nothing like what they're used to seeing from Columbus.
Dodson's flip won't be the last time Bielema loses to Meyer because he was unprepared for what Ohio State was bringing to the table. Unless he enjoyed the universal backlash, it should be the last time he accuses Meyer of cheating to to beat him.