It's a Monday in February and that can only mean one thing: it's time for another Buckeye basketball group therapy session1.
What until recently looked like a team headed for a one seed in the tournament has now dropped three of its last five games, the latest in a come-from-ahead finish against the Badgers yesterday at the Schott.
Is it any wonder that Matta had to toss this team out of practice Saturday? The chemistry problems on this team have reached a point where you finally do have to ask whether Matta has lost the team.
Will Buford, who had 15 points in a losing effort on Senior Day: "It's very concerning leading up to March. We should be together by now."
Deshaun Thomas spoke of maturity and the need for someone to step up shortly before taking to Twitter to defend his final shot and point out the team's poor free throw shooting.
The loss dropped Ohio State to 11-5 in the conference, tied with Michigan for second place and two games back of Michigan State. The loss also clinched a share of the Big Ten title for the Spartans, though the Buckeyes can earn a tie for the crown if Michigan State loses at Indiana on Tuesday and Ohio State wins at Evanston on Wednesday and then in East Lansing in the final game of the season Sunday.
If Ohio State bottoms out and loses to both Northwestern and Michigan State, the worst they can do is a three seed in the conference tournament as they hold the tie-breaker over Wisconsin if the Badgers win out2 they will fall to the four seed.
Forget a one seed in the NCAA Tournament. Just keep us out of Kentucky's bracket as the four seed.
SO THAT'S WHY CHIP KELLY WAS SO INTERESTED IN THE NFL FOR 18 HOURS. Oregon's Chip Kelly caught a lot of people off guard when he briefly flirted with the top job in Tampa last month. Now, the dalliance makes a lot more sense.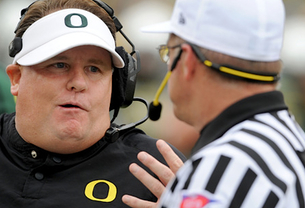 The NCAA has been looking into Oregon's recruiting practices since March of last year when Yahoo! first reported university payments to trainer/adviser Willie Lyles. Last September, Oregon officials announced that the NCAA had officially notified the school of its inquiry into possible violations involving Lyles, but things didn't get real until Friday night, when Oregon released a heavily redacted Proposed Findings of Violations (PDF).
Seven violations are spelled out, although Oregon, citing FERPA3, redacted all but three of them:
The football program paid for subscriptions to at least three recruiting or scouting services [REDACTED]
The institution's football program exceeded the permissible limit on the number of coaches by one when [REDACTED] engaged in recruiting activities
From 2008 through 2011, the scope and nature of the violations set forth ... demonstrate that the athletics department failed to adequately monitor
An Oregon spokesman said that, as of Friday, the school had not received a Notice of Allegations, which would come next. At this point, given the early stage of the process and the redacted state of the released document, it's anyone's guess as to what kind of trouble Oregon is in.  
It is worth pointing out that LSU is also tied to Lyles, so right about now would be a great time to hit them up with FOI requests.
AN UPDATE FROM THE MEAT MARKET. Former Buckeyes Mike Adams, Michael Brewster, Dan Herron and DeVier Posey completed their work at the NFL Combine in Indianapolis over the weekend.
Adams, considered a mid-first rounder by some services, turned in a disappointing 19 reps on the bench press to go along with a useless, but interesting 5.40 mark in the 40-yard dash. Brewster put up 29 reps on the bench and clocked a 5.35 40 at 6-2/312. For comparison, Michigan's David Molk put up 41 reps on the bench.
Herron clocked a 4.66 in the 40, which is good but not great for a running back. He added a 4.04 in the 20-yard shuffle, which was good enough for the 2nd-best time at the combine in that event behind Florida's Chris Rainey.
Posey turned in a 4.50, which puts him about 15th in terms of wide receivers at the Combine4. He measured 6-2/211, matching his listed height and weight at Ohio State.
Look, it's easy enough now to say that Eric Lichter was not a great S&C guy. In fact, Ohio State had been missing a difference-maker at this position since Dave Kennedy left in 2001. With Mickey Marotti, the Buckeyes now have someone that can help these kids take their strength to the next level. It will be interesting to measure the results at future Combines.
DIVERSIONS: Urban Meyer, making it rain for cancer research... Mike Adams on why he sold one of his rings... Boom Herron shares his side... It makes too much sense... Found outside a Meijer in Michigan... Devastation on the Missouri bench... Florida hit with the rare pre-game technical foul... Ah, the 70s... Wut?
1 This is a rather intense group therapy session. In addition to the men losing to Wisconsin yesterday, the Lady Buckeyes dropped a game at Nebraska, men's hockey dropped two to Miami and the baseball team dropped the opening series to Georgia Tech, 2-1.
2 Both Ohio State and Wisconsin would be 0-2 against the league's top team, Michigan State, but the Buckeyes would be 1-1 against the league's second team, Michigan, while Wisconsin would be 0-1.
3 Paging the firm of Berman & Berman.
4 Don't ever change, Miami. The Hurricanes had the Combine's fastest player (wide receiver Travis Benjamin, 4.36) and running back (Lamar Miller, 4.40). Miami's record last year? 6-6.