Good morning and welcome to your Monday Skull Session. On the agenda for today: finding a secondary coach (again), figuring out what Ohio State team will show up in March and making sense of the Wolverines' weekend haul on the recruiting front.
Urban Meyer struck gold when he filled the position on his staff left open by departing secondary coach Taver Johnson. Bill Sheridan, the man Meyer brought in, was fresh off a gig as the Miami Dolphins inside linebacker coach and just two years removed as the New York Giants defensive coordinator.
Here's hoping Meyer can do it again, because a mere three weeks after becoming official in Columbus, Sheridan is off to become the defensive coordinator for Greg Schiano in Tampa Bay.
Ohio State is a gold star on any coach's resume, but you can't blame a guy for taking a DC job in the NFL. Even if he didn't stick around long enough for his medical and dental to kick in.
As Meyer looks to replace Sheridan Johnson, expect Chuck Heater's name to surface again. Temple's defensive coordinator coached with Meyer at Utah and Florida and the two have an excellent working relationship.
The relationship is so good, in fact, that I can't imagine Heater as a candidate because he was likely approached about the spot -- and passed on it -- before Sheridan accepted the job. Meyer has harped on the importance of staff alignment and Heater gives him that in spades, so you can bet he's already been offered and taken his name out of the running.
Sheridan was a bit of a surprise, so we'd be wise not to expect a big name, but boy does Ron Zook as defensive backs coach sound intriguing. Zook already has a stint in Columbus (1988-1990 as defensive backs coach) under his belt, is from Ohio (Loudonville) and loves to recruit. The downside: seeing Meyer and Zook on the same staff will cause Spencer's head to explode.
JUST ANOTHER MANIC MONDAY. Another Monday, another postmortem on a lackluster hardcourt performance. Is this still the team that hammered Duke?
While the enemy is gleefully pointing out the exploits of a "Columbus native that Ohio State coaches didn't feel was good enough to justify a scholarship offer," Chris gets to the heart of the problem and points out William Buford's struggles against ranked conference opponents.
Date
opponent
LOCATION
FG
FG %
Result
DEC 31
#15 Indiana Hoosiers
Bloomington, IN
3-7
42.9
Loss (70-74)
JAN 15
#8 Indiana Hoosiers
Columbus, OH
5-12
41.7
Win (80-63)
JAN 29
#22 Michigan Wolverines
Columbus, OH
5-13
38.5
Win (64-49)
FEB 4
#20 Wisconsin Badgers
Madison, WI
4-15
26.7
Win (58-52)
FEB 11
#12 Michigan State Spartans
Columbus, OH
2-12
16.7
Loss (48-58)
FEB 18
#19 Michigan Wolverines
Ann Arbor, MI
3-12
25.0
Loss (51-56)
 
22-71
30.9
3-3
Now, the Big Ten is a fantastic basketball conference, so I'm not quite ready to hit the panic switch, but this team will only go as far as Buford will take them, even with Sullinger and Thomas contributing every night (which isn't a given, either).
Get well soon, Willie Bu.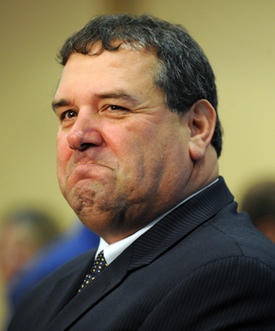 HOKE GETS IT. Right now, B1G football recruiting consists of one staff in Columbus and another in Ann Arbor putting forth the effort to sign elite classes while the rest of the conference stands back, mouths agape.
Late Saturday night, Wolverine fans were celebrating the verbals of five consensus four-star recruits: OL Kyle Bosch (IL), OL Chris Fox (CO), OL David Dawson (MI), CB Jourdan Lewis (MI) and TE Wyatt Shallman (MI), handing Hoke four of the top five players in the state of Michigan.
And then the second wave hit. Sunday saw the commitments of DE Taco Charlton (OH), TE/DE Jake Butt (OH) and OL Logan Tuley-Tillman (IL).
Eight four-star recruits in the span of two days and nearly a year ahead of signing day. Even Nick Saban approves (though he, like us, is probably puzzled at this algorithm).
More importantly for Hoke, the coach snapped some of Meyer's momentum on the recruiting front. Shallman and Tuley-Tillman, both holding Ohio State offers, snap a streak of 12-straight Columbus-bound recruits with offers from Ohio State and Michigan.
Hate is still a centerpiece of this rivalry, but there's a time for respect and some has to go to Team Hoke's recruiting efforts over the weekend. That's a pretty solid offensive line he's putting together.
(Before we get too carried away in our praise of Hoke, it's worth pointing out that Meyer is doing just fine and on his way to locking down the Ohio kids he wants. Michigan's jump out of the gates really hurts Michigan State the most.)
WOO, POLICIES: As this site continues to grow like Steve Rehring at a Golden Corral, it's become more and more important to work with each other to keep things awesome. As such, we've implemented a new commenting policy.
Please take a minute to read it. We're doing a great job of keeping things sane and 99.9% of commenters are probably in the clear, but it's now codified, so we can point to it when pulling out the banhammer.
DIVERSIONS: Texas asking fans for patience with the LHN... Kiper likes Mike Adams at #19 to the Bears ($). As a Chicagoan, I can get behind this... Pure hypertext terrorism... Wonder how long this video will remain online... Karl Hess, OG.