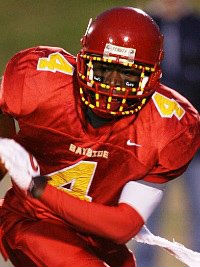 Running back is certainly not a position of need heading into recruiting season for the class of 2013, but that doesn't mean Urban Meyer and Stan Drayton aren't trying to bring in more play makers at the position.
Recruiting fans are familiar with names such as Ty Isaac, Derrick Green, DeVeon Smith, and others at running back in the class, but another player that joins those players among the wide list of players offered by the Buckeyes is Virginia Beach (VA) Bayside's Taquan Mizzell.
Mizzell is the 87th ranked player in the class of 2013 according to Rivals and it one of the more highly sought after backs in the nation. The 5-10/180 back, who is nicknamed "Smoke", has been clocked in the 4.4's in the 40-yard dash was recently offered by Ohio State, giving him his 10th offer at this point in time.
We got a chance to sit down and talk to Mizzell to discuss his recruitment, see how his junior season went, talk about a potential Ohio State visit, and more. Join us after the jump to learn about one of the best running backs in the class of 2013, Taquan Mizzell.
How did your junior season go? How did you do and how did your team perform?
My junior season went OK, but not exactly how I wanted it to go. I got injured and missed some time, but still had over 1,000 yards rushing with 22 touchdowns. My team went to the playoffs and did well, but didn't win it all.
How is recruiting going right now? Who has offered?
Recruiting is going well. I have offers from Boston College, Illinois, Ohio State, Purdue, Vanderbilt, UConn, East Carolina, NC State, Virginia, and Virginia Tech.
Do you have any favorites at this point in time?
At this point I don't have any favorite at this time and I am just going to let things play out a little.
When do you expect to make a college decision?
I'm not sure. All I know is I am not expecting to make a decision any time soon and will visit schools and check things out.
You recently spoke to Ohio State. Who did you speak to and what did they say?
I did speak to Ohio State recently. I spoke to the wide receivers coach, Zach Smith, who recruits my area. I also spoke to the head coach, Urban Meyer, one time. They spoke to me about getting out there for a visit and also told me what they liked about my game.
Do you have any plans to visit Ohio State?
I definitely plan to visit Ohio State, I'm just not sure when I'm getting out there exactly.
Any other visits planned?
I definitely am going to visits a couple of schools in the near future, I'm just not sure of which ones yet. I have to figure that out.
HIGHLIGHTS: