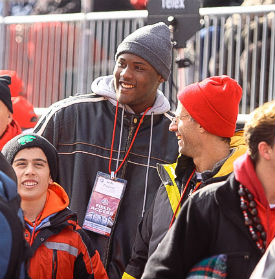 Kyle Dodson grew up always wanting to become a an Ohio State Buckeye. That dream appeared to fade fast though, as Jim Tressel and Jim Bollman slow played the Cleveland Heights star, forcing his hand a bit early which lead to the 6-6/300 offensive tackle making a verbal pledge to Bret Bielema and the Wisconsin Badgers.
Ever since I spoke to Dodson the night he committed to Wisconsin, I always felt there was a possibility Ohio State could get back in the hunt. While he continued to say throughout the summer and during his football season that he was solid to the Badgers, many began to speculate that might not really be the case, and I thought that once the dust settled with the OSU coaching situation that Dodson would easily be a Buckeye. What I didn't realize was it wasn't going to be as easy as I thought.
Dodson began to take visits, including trips to Auburn, USC, and Michigan State, in addition to those to Wisconsin and Ohio State. While it looked good for the Bucks in December, talk of the USC visit being a home run started to circulate and as recently as last night, chatter was flying high that Dodson was going to be a Trojan.
Those reports started to subdue as Dodson's 12:15 PM EST announcement drew near, but viewed of the Cleveland Heights press conference were delayed again, as the infamous Meg made her decision to attend Stanford over OSU for lacrosse and some of Dodson's teammates made speeches and their commitments before Cleveland Heights head coach Jeff Rotsky introduced his prize lineman, who eventually announced for Urban Meyer and the Buckeyes, in what may have been one of the coolest ways of all time to announce such a decision.
We caught up with Dodson a little while ago to get his feelings now that things are official, see how close he was to committing to USC, talk about Sunday's trip to campus, and more. Join us after the jump to catch up with the newest Buckeye, Kyle Dodson.
Kyle, you are officially a Buckeye. How does it feel?
Oh man, it feels great. It's a great relief and it just feels great to have made my decision.
You were committed to Wisconsin for so long. Why did you decide to change to Ohio State today?
At the end of the day it just came down to wanting to stay home and be somewhere I was comfortable. My family can watch me play here all the time and Ohio State is just home to me, as I have grown up as a Buckeye.
When did you tell Urban Meyer and the coaching staff you were going to be a Buckeye? How did they react?
I called Coach Meyer about five minutes before the ceremony at my high school began. I told him I had some bad news for him, then I paused, and said I was going to be a Buckeye. It was funny getting him a little scared but once I said I was going to be a Buckeye he went crazy and told me he was really excited.
It was rumored that USC was a very serious competitor for your services. How serious were they in this race?
I gave USC some serious consideration. I liked my visit out there a lot and there were definitely times where I thought about going there.
You took a trip to Ohio State last Sunday. What was the purpose of that trip?
I went to Ohio State to get one last look at the school and get one more chance to sit down with the coaches before I made my decision. I went in liking the school, but after I sat down with Coach Meyer and we just talked about my life and nothing about football, I got a really good vibe and liked the school even better.
You tore your labrum and just had surgery. How are you feeling and when will you be able to train again? Do you think you'll have to redshirt.
My shoulder is feeling alright as of now. My timetable to return is 4-5 months and then I will start rehab and training to get to Ohio State. I am not sure if I'll have to redshirt yet, but I'm hoping I can be ready to go by fall camp.
Finally, what do you want to say to Buckeye Nation now that you are a member?
I'm just really excited to be a Buckeye and want to thank them for their support. I'm coming home baby, I'm coming home!
DODSON COMMITS TO OHIO STATE: