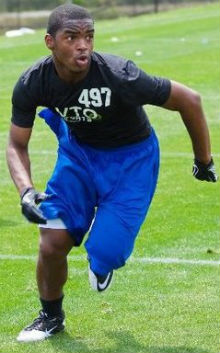 There was an abundance of talent at the RAW Talent Sports Combine in Cleveland this past weekend. We already brought you news of talented 2014 WR Demarre Kitt out of Georgia who starred at the event. It appears the Peach State ruled the combine, as another player who stood out amongst onlookers was 2013 Fairburn (GA) Arlington Christian CB Demetrius Monday.
Monday, a 5-11/185 coverage corner, had quite the performance on Saturday and was named as one of the events top performers. Facing some of the top receivers in the Midwest, he was in lock-down mode all day long and if any balls thrown his way were caught, yardage after the catch came few and far between.
Following his big day Saturday, Monday decided to take a trip down I-71 to check out Ohio State and Cincinnati while he was in the Buckeye State. While he doesn't hold an offer yet, OSU had been in communication and getting in front of the coaching staff was definitely a smart move on his part.
We got the chance to sit down with Monday to discuss his performance at the combine, his trip to Columbus, the latest on his recruitment, and more. Join us after the jump to learn more about one of Georgia's fastest rising prospects in the 2013 class, Demetrius Monday.
How did your season go? How did your team do and how did you perform individually?
My season went very well, although we lost in the first round of the playoffs. I ended the season with 40 tackles and 4 interceptions on defense and 19 receiving touchdowns on offense.
How is recruiting going? What offers do you have and what schools are showing interest?
Recruiting is going pretty well. I just got my first offer from Akron upon returning home from the RAW Talent Sports Combine up in Cleveland. Schools like Tennessee, Georgia, Florida, and South Carolina are showing the most interest in me right now.
You were just up at the RAW Talent Sports Combine in Cleveland. How was that experience and how did you perform?
The experience was awesome. I loved competing and definitely showed my skills while I was there, locking down all of the receivers. 
You then followed that combine up with a visit to Ohio State. How did that visit go?
My visit to Ohio State was amazing and I loved it there. The campus was really nice and the school had a great atmosphere.
What coaches did you get to speak to while at OSU? What did they tell you?
Urban Meyer was in Florida, but the rest of the coaching staff was there. They told me they wanted me to come back up for camp in the summer so they can see how I play up close.
What did you like most about the trip to Ohio State? Think you may get back there at any point?
I liked the coaches and faculty we met, as well as the facilities the most while on my visit. I think I will definitely visit again for camp this coming summer.
Do you have any other visits planned in the future?
I just visited Cincinnati while in Ohio and will be visiting Western Kentucky this coming Saturday and I have visits to Middle Tennessee and Vanderbilt coming up in the near future as well. 
When do you expect to make a college decision? Do you have a list of top schools?
I plan to make my decision when more offers come in and I can evaluate all of my options. My list of top schools right now would be Georgia, Florida, Cincinnati, and Ohio State.
What position will you play in college? 
I will definitely be playing corner back at the college level.
What do you feel are your strengths on the football field? What do you need to work on improving?
I think my strengths are playing man to man coverage, being able to jam the receiver at the line of scrimmage, and being a vocal leader on and off the field. I think I need to work more on my technique this off-season.
HIGHLIGHTS: