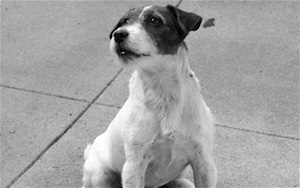 Welcome to the penultimate episode of the regular season Big Ten Hoops Recap. As we enter the final week of league play until the B1G Tournament, we're starting to see how certain story lines will play out. Since it's almost March, how can you not be romantic about basketball1?
While this may have been an overall weak year for movies, the same cannot be said for this conference.  Like this year's Best Picture winner, The Artist, Michigan State went from under-the-radar to the front-runner in the race. Yesterday, MSU clinched at least a share of the Big Ten title. Similarly, just as Jean Dujardin2 took home the Oscar for Best Actor, the star of the Spartans, Draymond Green, is a shoo-in for B1G Player of the Year.
On the other hand, teams like Illinois and Minnesota have almost surely cost themselves a bid to the Big Dance, barring a run in the conference tournament. At this juncture, they have gone from a middle-of-the-pack contender like Moneyball to the "will it ever end?" level of The Tree of Life.
Michigan State, Indiana, and Purdue all posted 2-0 records, but only one can be named team of the week. And the award goes to Purdue, who for all intents and purposes, punched their ticket to the NCAA Tournament and also dealt Michigan their first home loss of the season.
PURDUE (2-0) // Beat Nebraska 83-65, Beat Michigan 75-61
Meeting for the first time since 1979, Purdue hammered Nebraska. As if he were Uggie the Dog, Robbie Hummel stole the show with a season-high 29 points. The senior led five Boilermakers who scored in double figures. Back from a one-game suspension, DJ Byrd was 5/8 from the three-point line for 15 points.
Ending Michigan's perfect home record, Purdue defeated the Wolverines at the Crisler Center. Terone Johnson gave the best performance of his young career with 22 points on 9/12 shooting, telling the wizards, mermaids, travelers, adventurers, magicians: Come and dream with me. Along with 9 rebounds, Hummel added 17 points, including two consecutive 3s in the last few minutes to put the game out of reach. Altogether, the Boilermakers made 50% of their field goals and 7/15 from distance. 
MICHIGAN STATE (2-0) // Beat Minnesota 66-61, Beat Nebraska 62-34
Trailing most of the second half, Michigan State rallied for the win over Minnesota. Even though Draymond Green, "with pleasure", did a little of everything (17 points, 5 boards, 5 assists, 4 steals), he was just 1/8 from the floor in the second half. Still, that basket tied the game with under 2 minutes remaining after the Spartans had been down 58-52. They went on a 12-0 run which saw Keith Appling score six of his 13 points on free throws in the last 30 seconds. That, along with 13 points and tough defense from Brandon Wood, completed the Sparty comeback. 
Staying unbeaten at the Breslin Center this season, Michigan State routed Nebraska. Green grabbed his 1000th career rebound and tap danced his way to his 8 millionth double-double (20 points, 10 boards). While the senior was the lone Spartan with more than 10 points, nine different ones scored as they made 59% of their shots and 50% (9/18) from behind the arc. With another stellar defensive effort, MSU's only flaw in the game was committing 16 turnovers.
INDIANA (2-0) // Beat North Carolina Central 75-56, Beat Minnesota 69-50
Taking a break from Big Ten action, Indiana breezed past NC Central3. Feeling nostalgic for an earlier time, the Hoosiers hitched a midnight ride with F. Scott Fitzgerald to complete the regular season with a perfect nonconference record, their first since 1989-90. The injured Maurice Creek was the sole Hoosier on the roster not to see playing time. Leading the way was Cody Zeller with 17 points and 7 boards, a stat line almost duplicated by Victor Oladiopo (16 points, 6 boards). 
On the road, Indiana took down Minnesota. Christian Watford, who had struggled after failing to make a bucket in the previous two Hoosier games, realized that "If you lose your purpose, it's like you're broken" and ended that drought with 12 points. Equaling his total were Oladiopo and Jordan Hulls, while Verdell Jones III nearly accomplished the same with 11 points. 
MICHIGAN (1-1) // Beat Northwestern 67-55 OT, Lost to Purdue 75-61
For the second time this season, Michigan topped Northwestern in overtime. Down 7 at the half, the Wolverines stormed back and the two squads traded leads. With a minute and a half left in regulation, the score was tied at 49, and neither team could close it out. In OT, the Maize and Blue connected on three straight three-pointers, ending the game with 14 out of, for some reason, 38 tries. Although he missed a shot at the buzzer, where some might have seen an insurmountable problem, Trey Burke saw a rhinoceros. The freshman guided UM with 19 points, 6 rebounds, 4 assists, and 2 steals.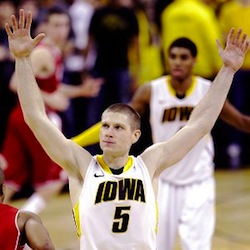 On Senior Night, Zack Novak matched the number of years he's been in school with 12 points. Burke also put up 12 points, two of which came on free throws that knotted the game at 40 with 13 minutes left. However, continuing to baffle on 32 three-point attempts, the Wolverines only converted 9, none from Tim Hardaway Jr., who was 0/6 from the outside.  In the end, Michigan finished their season at home with a blemished 15-1 record, a result for John Beilein and company that might be "a little unsatisfying because life is unsatisfying."
IOWA (1-1) // Beat Wisconsin 67-66, Lost to Illinois 65-54
For their fourth B1G win over a ranked opponent, Iowa upset Wisconsin. On Matt Gatens bobblehead night4, the senior picked up right where he left off on Sunday against Indiana. In both contests, he was a red-hot 7/10 from the perimeter. Between the two games, Gatens went on a streak of 12 made three-pointers in row, clearly channeling the 2002 Oakland A's. He bested his career high of 30 points vs. Indiana for 33 points against the Badgers, two of which came on free throws at the end that secured the Iowa victory. Even though they didn't make a field goal in the last 7 and a half minutes of the game, the Hawkeyes led the entire time. 
Against Ililnois, Gatens continued his Diebler-like shooting, going 5/6 from downtown and totaling 22 points. Despite that, he was held to just five points in the second half, perhaps taking the advice, "If you want to succeed, you can't be too good." In a sloppy match, Iowa actually won the turnover battle, committing 17 to the Illini's 18. 
ILLINOIS (1-1) // Lost to Ohio State 83-67, Beat Iowa 65-54
After dealing with the "terrible awful" of Brandon Paul last month, Ohio State served the Illini a revenge cake made with a special ingredient. 
Winning for the first time in the month of January, Illinois handled Iowa. After losing nine of ten, Bruce Weber must have broken a stereo in the locker room and asked, "is losing fun?" Coming off the bench, Meyers Leonard notched a double-double (22 points, 14 rebounds) while Paul contributed 17 points. 
WISCONSIN (1-1) // Lost to Iowa 67-66, Beat Ohio State 63-60
Regardless of shooting over 50% from the field, Wisconsin couldn't overcome Matt Gatens, who was as sweet to the visitors as Hilly Holbrook was to maids. Four Badgers, led by Ryan Evans and Jared Berggren who each posted 14 points each, hit double figures. Wisconsin was behind all game and nearly stormed back after finally playing Badger-type defense, but by then, it was too little, too late. 
Unfortunately, the same couldn't be said on Sunday afternoon when Wisconsin beat an unfathomably disjointed Ohio State, a game that annoyed me even more than the kid from Extremely Loud and Incredibly Close. 
NORTHWESTERN (1-1) // Lost to Michigan 67-55 OT, Beat Penn State 67-66
Trying to make the Tournament for the first time in history, it was the same script for Northwestern, who could have used the statement victory against Michigan. Instead, they choked it away, committing 14 TOs and managing a mere 3/16 from behind the arc. They had opportunities to win near the end, but their shots wouldn't fall, and in OT, the Wildcats mustered a scant 6 points. Although John Shurna was the top scorer for the Northwestern with 14 points, only 4 came in the second half. Reggie Hearn's double-double of 11 points and 11 rebounds didn't help the final result as they proved the exasperating Oskar Schell wrong: humans aren't the only ones who can cry tears. Wildcats can, too.
Big Ten Standings

| TEAM | CONF | OVERALL |
| --- | --- | --- |
| Michigan State | 13-3 | 24-5 |
| Ohio State | 11-5 | 23-6 |
| Michigan | 11-5 | 21-8 |
| Wisconsin | 10-6 | 21-8 |
| Indiana | 9-7 | 22-7 |
| Purdue | 9-7 | 19-10 |
| Northwestern | 7-9 | 17-11 |
| Iowa | 7-9 | 15-14 |
| Illinois | 6-10 | 17-12 |
| Minnesota | 5-11 | 17-12 |
| Nebraska | 4-12 | 12-15 |
| Penn State | 4-12 | 12-17 |
Bill Carmody must have written "ENOUGH" on his hand because Northwestern bounced back in their next game when they escaped Penn State. With two seconds left, the Nittany Lions were whistled for a questionable foul and Shurna sank his two FTs, giving him 23 points and his team the victory. Drew Crawford chipped in with 13 points and helped the Wildcats hit 15/29 treys.
PENN STATE (0-1) // Lost to Northwestern 67-66
Up by one with just over two seconds to go, Penn State was on the receiving end of a whistle that wasn't nearly as friendly as the one in War Horse. Jon Graham, who missed two free throws seconds before, was called for the fateful foul. Tim Frazier, who matched Shurna with 23 points, threw up a prayer at the buzzer that came up short. 
MINNESOTA (0-2) // Lost to Michigan State 66-61, Lost to Indiana 69-50
Blowing a 9-point lead, Minnesota turned a much-needed win into a heartbreaker when they gave away the game against Michigan State. The Golden Gophers committed 12 of their 15 turnovers in the second half, including three in the last couple minutes when the Spartans staged their comeback. Austin Hollins accounted for 17 points and 4/6 from long range, but one of those misses was an airball with 19 seconds left when Minnesota still had a chance for a tie or the lead. This team must not date any lookers because "ugly girlfriend means no confidence."
Perhaps confirming that, in their next game, Minnesota shot a season-low 31% versus Indiana and turned the ball over 16 times. As if his teammates were all injured in a surfing accident, Hollins was the only Gopher with a pulse, coming away with 14 points. Ralph Sampson III was especially comatose, going 1/11 from the field.   
NEBRASKA (0-2) // Lost to Purdue 83-65, Lost to Michigan State 62-34
In West Lafayette, nine different Cornhuskers scored, but Bo Spencer, with 19 points, was the only to hit double digits. Fourteen of those came in the second half. I'm assuming that the game felt so long for Nebraska fans that in the middle, their thoughts drifted to the creation of the universe. 
Scoring just 15 points in the first half against Michigan State, Nebraska shot a paltry 29% for the game. Brandon Ubel, with 13 points, was the top scorer for the Cornhuskers. His first-name twin, Brandon Richardson, was next with an entire 6 points. Then dinosaurs showed up and seemingly 12 hours later, the contest finally ended.  
1 Admittedly, it's been a frustrating couple of weeks for Ohio State fans. 
2 Next up for him: blockbuster villain. 
3 In attendance was Tom Crean's brother-in-law, Jim Harbaugh, who might have been a tinker, a tailor, or a soldier, but definitely not a spy. 
4 How is that even allowed for an athlete still in school? And yet, his family couldn't receive any extra ones because of NCAA rules.