Hey there everyone, welcome to your Thursday morning Skull Session.
The college football season is officially over and college basketball is providing Buckeye fans more angst and frustration than most of us would have expected. It's looking like 2012 didn't quite get the memo that 2011 was finished, and has decided to begin on as low of a sucky-note as 2011 finished.
Sure, we have the NFL play-offs to go through, but the only AFC North team left is one that most Buckeye fans can agree to hate. I suppose that some of you are masochistic enough to watch the regular seasons of the NBA and NHL, but I don't have the stomach to handle that. 
For me, it's a countdown to pitchers and catchers reporting to Goodyear, Arizona to begin the "Year of the Reds". Yes, 2012 is the year of the Reds. We're going to party like it's 1990.
Anyway, enough rambling, man.
 DUMB-INIC CLARKE STRIKES AGAIN. Ohio State sophomore cornerback Dominic Clarke is once again in some trouble for poor decisions made on campus. If you recall, Clarke was suspended for Ohio State's 17-7 road win against Illinois after firing a BB gun outside of an on-campus restaurant in October. 
Yesterday, it was revealed that Clarke was stopped on January 7th by campus police for speeding; he was driving 35 in a 20mph zone, and for failing to provide proof of insurance. Unforunately for Dominic, that was not all, as he was also charged with operating a vehicle while impaired. The police report indicates that the arresting officer smelled "low-levels" of alcohol on Clarke's breath, and his license was taken away. He was previously stopped and paid $151 in fines for speeding last February.
What this means for Dominic and his place on the team is not yet determined, but with a new coaching staff looking to put their stamp on the roster, it's likely that Clarke's second run-in with the law will warrant some serious consideration by Meyer and his staff. With a lot of expected attrition, 
Clarke is scheduled to appear before a Magistrate this morning, and we'll update if there's any new revelations about his legal situation.
 IN OHIO? HATE MICHIGAN? SUPPORT THE PUCKEYES. Usually we reserve hockey talk for Around The Oval, but as the #2 Buckeyes ready themselves for this weekend's two-city showdown with TSUN, it seems appropriate to turn the focus back to the ice for a moment.
On Friday, the Buckeyes host Michigan at Value City Arena in a 7:35 Friday night tussle that will be televised live on the Big Ten Network. After a travel day Saturday, the two teams will give it another go on Sunday evening at 5:00pm at Progressive Field in Cleveland. As a part of the Indian's "Snow Days" festivities, the game will be played outdoors under the lights in what should be a very memorable experience for everyone who makes the trek.
#13 Michigan is currently in the midst of a seven game unbeaten streak, and have dominated the Buckeyes historically, owning a 68-33-11 mark against the Bucks. Ohio State swept Michigan in a two-game series in November, 2-1 and 6-5, and the last seven games between the two squads have been decided by one goal. 
It may be the only chance you ever get to see "Script Ohio" on a hockey rink in the middle of a baseball stadium in Cleveland, so there's that.
Last hockey note: you can help Ohio State's Cal Heeter as he attempts to win the Hobey Baker Award, given to the country's best collegiate hockey player. Heeter, Ohio State's senior goaltender is 12-2-3 on the year with a 2.02 GAA, good for ninth in the nation. He currently sits 4th nationally in save percentage (.932) and winning percentage (.794). You can help Heeter by voting here.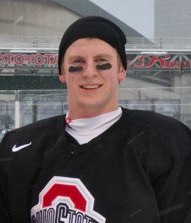 NEWTON'S THEORY OF D'UH DERPY DERP.   "We fixed...the glitch..." Poor Milton won't get his paycheck anymore.
After the NCAA so grievously erred in their decision to rule Cam Newton's "amateur" career at Auburn as rule-abiding, due in large part not to Newton's adherence to rules and regs but rather ridiculous loopholes, it was assumed that those loopholes would quickly be closed. 
That assumption became a reality yesterday, as the association tightened up their definitions of agents yesterday to include parents and other family members. It's a move that should have been made years ago but wasn't, and the NCAA's ignorance about the issue combined with a lack of subpoena power led to Newton's Heisman and Auburn's national title. 
ROAD WOES FOR BUCKEYE HOOPSTERS. Fear not, Buckeye fans, for not every Buckeye basketball game is played on the road.
Thankfully.
The now 15-3 Buckeyes are a dismal 2-3 on the road with losses at Kansas, Indiana and Illinois. Of course, life is often about how you look at it, and it makes it a bit easier to swallow when you consider that each of those teams is undefeated on their home court. 
Winning on the road has not only been a Buckeye problem this season, it's plagued much of the current top 25. In fact, the current top 25 is 60-34 on the road for the entire season, or 64%. When you look at how the current Top 25 has fared against ranked teams on the road, that winning percentage drops 30%. Only Michigan State has two road wins against teams that were ranked in the Top 25 at the time of the game (Wisconsin and Gonzaga).
The Buckeyes next road trip will be to Lincoln, next Saturday for their second meeting of the year with Nebraska. If they lose that one, then put me firmly in the corner of "concerned about the inability to win on the road".
QUICK SLANTS. Some ideas are too incredible not to share... Tim Beckman finds a new OC from LSU... Russell Wilson says no to baseball... This should be something you enjoy... Pictures may be worth 1000 words, but they can also be very misleading.