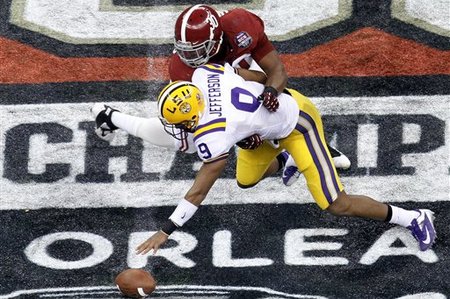 College football has been around long enough to have revisited more than a few of its familiar plot lines.
Last Monday's BCS title game - the deliberately-manufactured encore of a matchup we had just witnessed before Thanksgiving - produced a script that was intimately familiar to anyone who has paid attention throughout this BCS era.
No, it was not the offensive futility of two evenly-matched, grossly oversigned teams whose liposuctioned depth charts annually enable them to have starter-caliber benchwarmers.
The deja vu of 2011's finale was the very public and shocking suicide of a previously revered and unblemished champion. LSU ran out of greatness all at once, on the most inconvenient stage imaginable. The Tigers seemed to have sprung a leak sometime between its conference title game and its arrival in New Orleans.
What happened to the SEC champion, largely by its own hand, gave Buckeye fans a glimpse back into what it must have been like for outsiders to witness Ohio State's own self-disembowelment back in the early days of 2007.
Those were not the same Tigers we had seen throughout the fall, crushing Oregon, West Virginia and the rest of its conference (as well as both Northwestern State and Western Kentucky, because money is so awesome).
LSU looked nothing like the team that had punched out 38 ppg against a formidable schedule. It had the same uniforms, helmets and capricious head coach, but unlike its twin from the regular season it was unable to impose its will - normally through its rushing attack - or by the thievery via its defense (30 turnovers) - on the Crimson Tide for a second time.
The team that Ohio State had put on the field in Glendale back in January 2007 wouldn't have beaten Northern Illinois that night, let alone the array of bowl teams and the pair of number twos that it bested during that regular season. That team wore the same uniforms but in no way resembled the juggernaut that had come in on a 19-game winning streak.
That Buckeye team certainly wasn't beating Florida, and once the fervor of Ted Ginn's kickoff return died down it was abundantly clear that if the Gators felt like scoring touchdowns on every single drive, they probably could.
Ohio State's previously-scheduled coronation was abruptly cancelled and the whole world felt like it was crashing down in slow-motion, as it probably did for LSU fans last Monday.
LSU provided all of the uncomfortable disbelief without the shock or grief that accompanies such punishment when it's your own team. It was the difference between seeing flashing police lights directly behind you on the highway and seeing some hapless stranger getting pulled over instead.
While this year's BCS finale wasn't the same flavor of outright slaughter Florida unloaded on Ohio State in Glendale, it delivered two very similar lessons: 1) Listening to everyone telling you how great you are for several months destroys adrenalin, while 2) listening to everyone telling you how disrespected you are fosters it.
Like Florida, Alabama played terrific defense that was aided by an absolutely horrendous game plan. The Tigers were slow off the snap offensively, ran that same handful of futile, failing plays and executed without any urgency or purpose, coming off of an undefeated campaign that had seen them flipping a switch and devouring opposition regardless of scheme or setting.
Alabama was visibly more energetic and determined from the outset, having been handed a second title chance despite losing at home in November by virtue of "looking like one of the two best teams in the country" which annihilates the notion that college football's regular season carries any purpose relating to its postseason.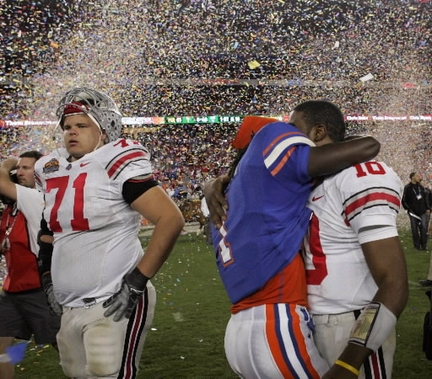 LSU had already achieved coronation by virtue of having won the Game of the Century as well as the SEC championship, which is easily the most prestigious among the major conferences. The Tigers strung together 13 straight wins with what could most kindly be called an unsophisticated passing game. This fed into the idea that their guys were simply better.
A month off didn't make LSU hungry for one more. The Tigers showed up in New Orleans to shoot baskets and drink juice boxes. The Crimson Tide arrived with the urgency and determination of Liam Neeson trying to get his daughter back from an Albanian gang of human traffickers.
That was LSU's second 1 vs. 2 matchup of the season; granted, it was Alabama's too, but losing one of those leaves a much different appetite for a Part Two than winning does. Five years earlier, Ohio State was in Glendale participating in its third such Game of the Century that season.
Snowflakes aren't identical, but they sure as hell look alike, especially if you squint.
The top-ranked Buckeyes that bested the second-ranked Wolverines to close the 2006 regular season looked nothing like the team that arrived in Arizona to play in its fourth BCS game there in five seasons.
Try and imagine how the 2006 Buckeyes would have fared against the 2006 Gators had they also played during the regular season. Ohio State won at #2 Texas, at #13 Iowa under the lights and against an 11-0 #2 Michigan team that had suddenly lost its modern-day program patriarch hours prior to kickoff.
There were a couple of other cosmetic 2007 repeats in the 2012 BCS title game as well: Ginn's leg bending the wrong way following his own great play was replaced by Alabama linebacker CJ Mosley's hip, which was dislocated seconds after receiving a Stanley Jackson-like handoffterception from Jordan Jefferson.
Moments after handling the present, his gift horse was ripping him to the turf, converting his previously-straight leg into something resembling a misshapen pipe cleaner.
Similarly, while nobody would ever confuse LSU Honey Badger and Heisman Finalist Tyrann Mathieu with Jamario O'Neal, Alabama showed no fear of the safety, repeatedly throwing right over the diminutive star's head.
Florida also realized something Ohio State's opponents had not fully-exploited: O'Neal was very easily confused. Put enough receivers on the field and O'Neal would be part of Ohio State's defensive package. Forty days of disrespect and scouting changes the complexion of what a matchup between these two teams might have looked like had they played sooner.
That is also true in Alabama and LSU's case as well. We actually saw what happens when they play sooner. That's how those teams match up in the proper context: In the continuum of a college football season, not after an entire month away from competition.
They're virtually even teams in that context. They were far from even last Monday night.
For decades college football had a truly mythical title that was frequently shared among teams that never met. In retrospect, that was only mildly frustrating but it was exponentially more tolerable than what the postseason has evolved into.
As long as college football insists on having a title game while wrecking it with the BCS, we're never going to have a true championship game. Navigating through a playoff - even if it only takes a couple of games to get to the final - is the only valid way to measure the true championship grit of a team.
That's why every other level of college football and every single other team sport on the planet does it that way.
Until the BCS is killed off, we'll continue to gauge champions mainly by how well they stay focused in navigating through the holidays and postseason banquet circuits. That's a familiar plot line that needs to be retired forever.