It's been a week and I still don't know what happened to the Les Miles-led war caravan. It lies in shambles somewhere in the chasms of Alabama... a cackling Nick Saban -- wearing a Honey Badger pelt as a hat -- lording above it while picking his teeth with his victim's bone splinters. I haven't seen somebody get their ass kicked like that since Florida dumped some team from the Big Ten. Thankfully it was an SEC team getting whipped this time, though. Just sucks for non-Southerners that it happened to be an SEC team that was also doling out the whipping. Still, Alabama won a neutral site game forty-some days after the regular season against a team that had already beat them... CLEARLY THEY WERE THE BEST TEAM IN 2011! 
Whatever. The Southerners can have their crystal football trophy as they descend back into their pit of type sixteen diabetes and NASCAR fumes. They're willing to shamelessly game college athletics to gain that extra edge, and I guess I have no choice but to respect it. They are kings of the Sewer! Congrats, Alabama!
Albeit unbeknownst to the South, the world continues to revolve outside of college football season. I have the NFL playoffs, the NBA and European soccer to keep me occupied until at least the middle of June. After the NBA play-offs, it's just matter of surviving on the rotting corpse of the broke-ass Dodgers until late August. Then it'll be time to watch Urban Meyer bang hammers on the entire Big Ten in the name of Ohio and in 1080p! 
You know, being a sports fan in the 21st century isn't too shabby. 
STACKIN' RECRUITZ, ACQUIRIN' CURRENCY. While another midwestern program was asleep, another recruit was plucked from the hen-house by the crafty recruiting fox known to authorities as "Urban Meyer". After raiding Penn State for Tommy Schutt and Michigan State for Se'Von Pittman, Meyer has stolen 4* offensive lineman Taylor Decker from Notre Dame. This has to make Notre Dame head coach Brian Kelly even saltier, considering Urban has also taken assistant coaches Ed Warinner and (100% Marionaire) Tim Hinton off Notre Dame's doll as well. (Quick aside: While Tim Hinton is not my biggest fan, I am elated to have a touch of Marionaire chutzpah added to Meyer's council. Where are the future bets on Ohio State winning a national title under Urban Meyer? Somebody direct me to the person giving out free money to the peoples.)
Even the casual Ohio State football fan would realize what big news this is for Ohio State, considering its need for offensive linemen. Once Urban Meyer was installed as supreme leader of the football program, I'm sure it didn't take Decker long to come to his senses. Now let us all hope he possesses the cognitive ability to be able to handle a snap count other than "on one."
TAVER JOHNSON IS GETTING PAID. It was a big weekend for the Ohio State secondary. Yesterday, it was announced Ohio State cornerbacks coach Taver Johnson will be heading to Arkansas to join Bobby Petrino and former OSU assistant Paul Haynes. Johnson will become Arkansas' co-defensive coordinator and linebackers coach, which one would assume brings a nice pay raise as well. Can't fault any man for taking an honest pay raise in today's age.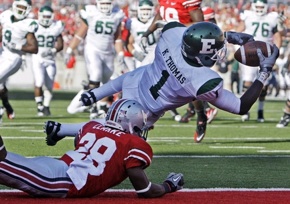 CASH, CLARKE AND GAMBRELL... GONE. Jeremy Cash, a safety for the Ohio State football team, has told coaches he intends to transfer after only one year in the program. (He's the second player to seek a transfer since Urban Meyer's regime came to power in Columbus.) This decision came before news broke of Urban Meyer releasing cornerbacks Dominic Clarke and DerJuan Gambrell for "off-the-field issues." Clark, the famous BB gunslinger and Duron Carter's go-to punching bag on Twitter, was recently arrested for suspicion of drunken driving. (He's plead not guilty.) DerJuan Gambrell, the Toledo Rogers product, was let go due to the ominous "violation of team rules."
These moves, obviously, are probably meant to show the football team there's a new sheriff in town and he doesn't suffer shenanigans lightly. Does this show Meyer, who had some disciplinary problems at Florida, plans on using a heavier fist in Columbus? We will see. Although, it is funny to watch haterz hate before the facts are laid on the table. 
DONTE WHITNER KILLED A MAN OVER THE WEEKEND. That might be a bit of hyperbole, but I honestly thought the 49er's Donte Whitner might end up in handcuffs when I watched what he did to the Saints' Chris Ivory Pierre Thomas on Saturday:
The hit, for what it's worth, was clean. It was one of many big hits Donte Whitner made on the day, before missing a 4th-quarter tackle on Saints' tight-end Jimmy Graham, which would have cost them the game hadn't Alex Smith's golden arm bailed him out. (The sentence made sense until that last part.)
 BUCKEYE BASKETBALL BACK ON TRACK. Ohio State's men's basketball team paid Tom Crean's team back in kind for an earlier season loss yesterday. I didn't watch but a few possessions of the game -- the game long in Ohio State's hand -- but does Tom Crean always look like an asshole? . 
POGZ. A Saints fan shot two 49ers fans at an Applebee's in Georgia... CUSA, MWC may dissolve and form a new conference... Anxiety at Arrowhead Stadium... Corporate Twits... Ohio State's football program is worth 520 million dollars (but we can't pay these kids!)... The best Urban Meyer photoshop yet... How "Seven Nation Army" conquered the sports world...