Good morning, fellow citizens of Buckeye Nation! 
Somehow, a random sidenote about my In-N-Out craving last week sparked one of the greatest comment-reactions I've ever seen on a Friday Skull Session. In fact, it may have even rivaled the reaction to the news that a special delivery, by the name of Urban, was Columbus-bound.
So, if you must know, I'd give up Ohio State's 2012 season bowl game for some jalapeño poppers from Jack In The Box right now. You're all thinking "Yuck, Jack?! How could you, Elika?!" I know, I know... but I'm a sucker for things that have jalapeños, are stuffed with cheese, deep-fried, or come with a side of ranch. You could pretty much do all those things to a tennis shoe, and I'd eat it. I wish I was joking (and, if my mom is reading this, she's officially ready to disown me)... but, few things in life can beat an option that fulfills all four of those requirements. (Even without a side of ranch, Urban Meyer is definitely one of them.) 
And, as we always do (eventually...), let's get to it.
THE SENIOR BOWL-FOUR. The 2012 Senior Bowl in Mobile, AL kicks off tomorrow at 4pm EST. Ohio State will be well represented in the game with four players participating (Wisconsin has the most players in the game, with five), including: Mike Adams, DeVier Posey, Dan "Boom" Herron and Mike Brewster. 
For Adams, Posey and Herron this game will allow them to showcase their skills that they had to sideline for much of the season this year (five, ten and six games, respectively). Posey, who needed it most of all, has had a pretty good week down in Mobile. Here's a brief interview with Posey from the Senior Bowl yesterday, where he discusses a variety of issues, including his trouble at Ohio State. If you prefer reading, to listening, there's this interview as well. Many Buckeye fans aren't too pleased with Posey, given his hand in the recent violations, but it's nice to hear his thoughts on the whole situation and where his head is at now.
Adams in particular has really turned some heads, particularly with the way he carries his massive size on the field. Here's an interview with Adams, if you're really getting into the spirit of Friday, and putting off your work until Monday.
For a more in-depth look at how these guys have fared throughout the week, check out Alex's post on the Senior Bowl. To see the results of all these practices and workouts, tune in tomorrow.
SHERIDAN TO JOIN OHIO STATE STAFF. In case you missed the gray box announcement yesterday (don't worry, it wasn't bad news), The Lantern reported that Urban Meyer is adding former Miami Dolphins linebackers coach, Bill Sheridan to the coaching staff, most likely to fill Taver Johnson who is now at Arkansas. Ohio State has yet to make any official announcements, though it should be coming shortly. 
Sheridan just completed his second season in Miami, having joined the Dolphins after five seasons with the New York Giants, first as a linebackers coach for four seasons, and eventually as a defensive coordinator. Sheridan was fired after his fifth season with the Giants.
Perhaps the most striking thing about Sheridan's hire, is his ties to that school up north. Not only did Sheridan coach at Michigan for a few years under Llllllloyd (I actually counted out 7 L's... the things I do for you guys!) Carr, but he also fathered an actual Wolverine QB, Nick Sheridan.
Not that I would expect anything less from an Urban Meyer hire, but Sheridan apparently has a good reputation for his recruiting skills, as he was the recruiting coordinator for the Wolverines in '02 and '03, when Michigan pulled top 10 recruiting class both years.
This Sheridan guy has to be a good hire for Ohio State, I'm convinced it's some sort of peace offering from the college football gods for having built an entire program at Michigan on legends from the state of Ohio... right?! That's what I'm going with.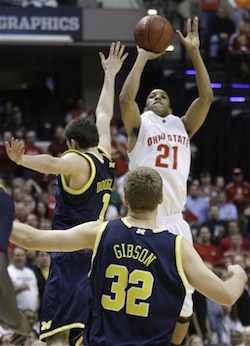 WHILE WE'RE ON THE SUBJECT... The first installment of the 2011-12 hoops-version of THE GAME happens this Sunday at 1pm EST, when the 22nd ranked Michigan Wolverines head to Columbus, to take on the 3rd ranked Ohio State Buckeyes. The Buckeyes' trip to Ann Arbor will take place on February 18th. Two basketball wins would cancel out a football loss, right? (I still need something to get me past that... I feel funny. Is this real life? Why is this happening to me?)
The Buckeyes go into the game with a three game winning streak (Indiana, Nebraska, and Penn State- following the loss at Illinois), while the Wolverines just followed up their 66-64 loss to Arkansas with a win over Purdue of the same score. This puts the Wolverines at 16-5 overall, with a 6-2 record in the B1G.
Want to help the Buckeyes get at least one win over Michigan? Check this out, and vote. It's your civic duty.
RIP D.C. KOEHL. It was a sad day in Buckeye Nation yesterday, as longtime Ohio State Sports Information Director to the men's and women's volleyball teams, D.C. Koehl passed away at the age of 61.
Men's volleyball coach Pete Hanson had the following to say about Koehl:
I am so thankful that D.C. had the opportunity to be with us in State College this past May to witness our finest hour as a program. I really feel like he probably was out there playing every moment on the court with our kids. Though he would probably never show outwardly how much he enjoyed that night, I believe that deep down it might have been one of his best Ohio State moments. Those thoughts make me very happy for D.C.

 

He will be missed greatly for his professionalism and support.  I have never met a finer BUCKEYE. He truly was a dear friend and colleague.
 PATERNO'S MEMORIAL. I'm not exactly a bundle of sunshine this morning, am I? But, regardless of your thoughts on the roller-coaster of Penn State and Joe Paterno news over the past few months, a sports related post would be remiss not to acknowledge the memorial of Joe Paterno, the winningest coach in major college football, that took place at Penn State yesterday.
For two and a half hours, approximately 12,000 gathered to pay tribute to the life of Paterno. The event included a variety of speakers, including a player from each decade of Paterno's career, the dean of the college of liberal arts, Phil Knight, chairman of Nike, Paterno's son Jay, and several others. Not surprisingly, nobody from the Board of Trustees spoke.
Phil Knight and Jay Paterno made the most memorable speeches of the event, but Phil Knight definitely stole the show, in his defiant defense of Paterno, asking "There is a villainous tragedy that lies in that investigation, not in Joe Paterno's response to it. . . . It leads me to this question: Who is the real trustee of Penn State University?"
YOUR LINKS FOR THE DAY. A good read... Your weekly Lindsay Lohan Art Schlichter update... Confused by all the math, leading up to Signing Day? Lesmerises breaks it down for you... Well, this wasn't in good taste... Back to the future... I was a sucker for this one.